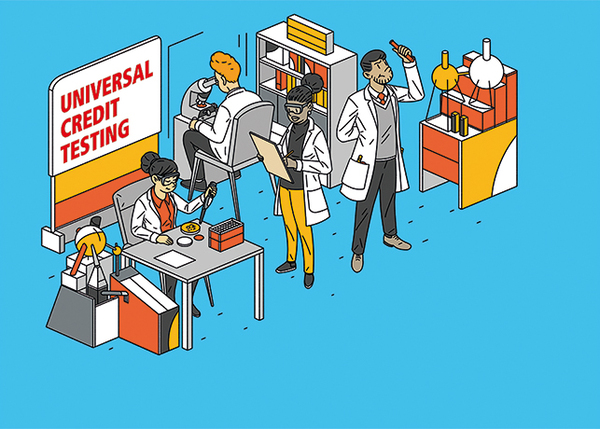 Well we did, finally find one Labour politician speaking about Universal Credit this week.
Newcastle was chosen for an experiment with Universal Credit and it was a disaster
Chronicle. 
Leader of Newcastle City Council says the rest of the country will be in for a shock when Universal Credit is rolled out
And he said the rest of the country would be "in for a shock" when Universal Credit is rolled out across the rest of the country.

Speaking at an event during Labour's annual conference in Brighton, council leader Nick Forbes said most people on Universal Credit in Newcastle were behind on their rent payments.

And in some cases this put them at risk of becoming homeless.

Universal Credit is a new benefit created by the Government to replace a range of existing payments including housing benefit.

It has been introduced gradually, with some places moving onto the new system before others.

Mr Forbes, who is also leader of the Labour group in the Local Government Association, said: "We are the first whole city to be a pilot area for the rollout of Universal Credit.

"And if Universal Credit is rolled out in the same way as it's affected my city, the country is in for a hell of a shock.

"Because we've found that the vast majority of people on Universal Credit in Newcastle are in rent arrears.

"And if the are in rent areas in the social rented sector then we can deal with that, because we can work with them and provide them with support.

"But if they are in rent arears of sometimes 16 to 18 weeks in the private rented sector, that is causing havoc with homelessness and making sure that people feel secure in their own homes."

Your Homes Newcastle, which manages homes on behalf of Newcastle City Council, told an inquiry by MPs that it was helping struggling claimants to try to prevent them becoming homeless.

Donna Gallagher, Universal Credit Implementation Manager at Your Homes Newcastle, highlighted the difficulties as she gave evidence to the Commons Work and Pensions Committee at a hearing in Westminster.

She said: "In terms of rent arrears, we've got over £1.1m additional rent arrears as a result of the cohort, which is just shy of 3,000 that we know about, that is claiming Universal Credit full service."

Newcastle City Council said delays in sending the first payment to claimants was "frequently referred to as a fundamental problem with Universal Credit".

In a written submission to the inquiry, the council said: "We think that Universal Credit can place some vulnerable residents at risk of destitution and homelessness."
It is right for the government to slowly roll out dramatic changes such as universal credit.

But when problems with it are exposed in that gradual introduction the government must stop and listen.

The criticisms of this benefit change are not coming from one political party but from a range of MPs, tenants, landlords and charities.

Those affected by the reform are best placed to say whether it is working – not a civil servant in Whitehall.

It is unusual for Citizens Advice to take such a strong position on government welfare changes as it does in today's article.

We have seen evidence from Great Yarmouth, where it was introduced last spring, that universal credit in its current form is causing huge problems.

People in need of benefits can not wait a minimum of six weeks for payment. Asking them to wait that length of time causes added misery for those already in a desperate situation.

Universal credit should be there to help them, not plunge them into rent arrears.

It is also very worrying that landlords are refusing to take tenants on universal credit. This again adds to the problems faced by those who have just lost jobs.

Before it is introduced anywhere else delays around paying it must be fixed.

When problems with a system have been exposed, it is irresponsible of the government to continue regardless.
End the Benefit Freeze!