Archive for the 'Cuts' Category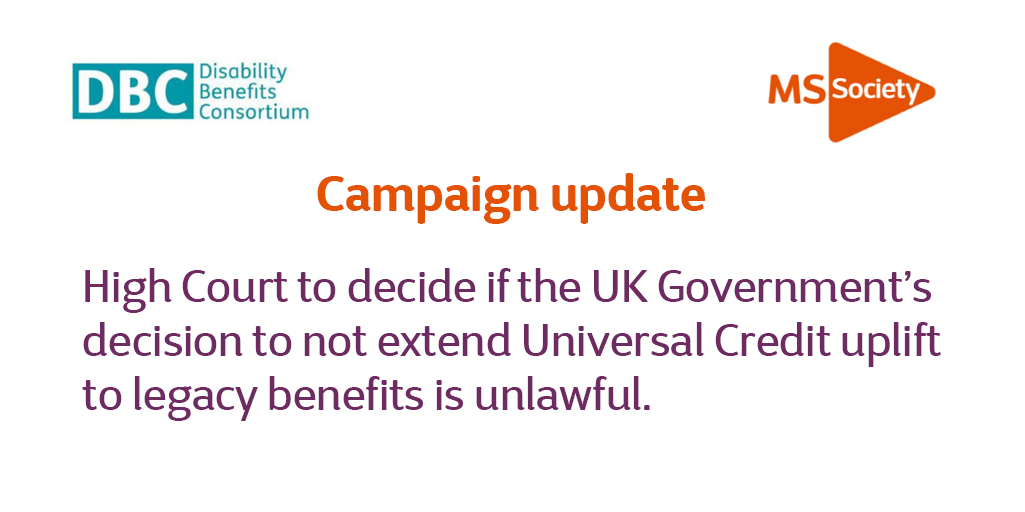 Case Continues.
Were it not for some of our eagle-eyed contributors this case would be ignored even on this site.
It is an injustice, not just for disabled people but for those on " Income-based Jobseekers Allowance, Income-related Employment and Support Allowance, Income Support, Housing Benefit, Child Tax Credit and Working Tax Credit."
Those claimants did not get the uplift when people on Universal Credit got the extra £20 a week.
There was an Early Day Motion in the House of Commons, (February 2021)
That this House recognises the financial effect that the covid-19 outbreak has had on disabled people; further recognises that research from the Disability Benefits Consortium found that over six in 10 disabled people in the survey had gone without essentials such as food, heating or medication since the pandemic began; is concerned that no uplift was provided to people on legacy benefits such as employment and support allowance, jobseeker's allowance and income support; calls on the Government to implement a £20 uplift for legacy benefits to reflect the additional costs disabled people have faced; and further calls on the Government to commission research to assess the adequacy of benefits for disabled people.
And a debate in the House of Commons, on the 15h of September 2021 which mentioned this injustice,
Opposition Day Debate: Universal Credit and Working Tax Credits
On Wednesday 15 September there will be an Opposition Day Debate on the motion 'That this House calls on the Government to cancel its planned cut to Universal Credit and Working Tax Credit which from the end of September 2021 will reduce support for many hardworking families by £1,040 a year.'
This uplift, however, did not apply to any other benefits, such as contributory benefits or extra-costs disability benefits such as Personal Independence Payment (PIP). It also did not extend to means-tested benefits which are being replaced by Universal Credit, but are still being claimed by many low-income families of working age. These are known as 'legacy' benefits and include: income-related Employment and Support Allowance (ESA), income-based Jobseeker's Allowance (JSA), and Income Support.
There were some protests and a petition protesting against this injustice.
Government responded
This response was given on 11 March 2021
The Government has now confirmed the temporary £20 per week increase to Universal Credit remains in place for a further six months. There are no plans to extend a benefit increase to legacy benefits.
But the only avenue left now seems to be this important court case.
A disabled man from Milton Keynes is to make history with a judicial review in the High Court that could help two million other benefit claimants in the UK win a backdated amount of cash.
Ian Barrow is one of four people nationally to challenge the decision of the government not to give legacy benefit claimants an extra £20 to help them during the Covid pandemic.
All Universal Credit claimants were given the weekly 'uplift' but those on legacy benefits received nothing extra.
Legacy benefits are Income-based Jobseekers Allowance, Income-related Employment and Support Allowance, Income Support, Housing Benefit, Child Tax Credit and Working Tax Credit.
He is in receipt of Jobseekers Allowance and has been assessed as having limited capability for work-related activity (LCWRA).

At the beginning of the pandemic the Chancellor announced the £20 per week increase to the standard allowance of Universal Credit, but this increase was never extended to those on legacy benefits, the majority of whom are disabled, sick or carers.

A spokesman for Osbornes said the legal argument is that this action is discriminatory and unjustified. The High Court has agreed it is arguably unlawful and will decide the case later this year. The claimants have asked for the trial to be heard before the end of July 2021.
Claimants return to court for third battle with DWP in fight for universal credit justice
The high court has this week heard the latest stage in a long-running battle to secure justice for thousands of disabled benefit claimants who lost out financially after being forced onto universal credit.
The hearing, due to end today (Thursday), concerns policies that left many claimants worse off when their circumstances changed and they had to move from legacy benefits like employment and support allowance onto universal credit (UC).
Two of the three claimants taking the case – known as TP and AR for legal reasons – have already twice defeated the Department for Work and Pensions (DWP) in the court of appeal in connected cases.
Their first legal case challenged rules that meant they lost out on about £180 a month in the move to UC, because they were no longer receiving severe disability premium (SDP) and enhanced disability premium (EDP).
DWP responded by temporarily stopping other claimants in similar positions from migrating onto UC and introducing payments of about £80 month for those already affected.
TP and AR then had to take another legal case – which they also won – because this payment failed to bridge the gap between what they were now receiving and what they would have been receiving if they were still claiming ESA.
Despite the two victories, they were forced to take a third legal action after DWP announced that the level of compensation for disabled people who had been receiving EDP and SDP and had moved onto UC before 16 January 2019 – when another set of regulations came into force to protect other claimants in similar situations – would be set at a lower rate than the £180 a month they had secured through the second case.
They have been joined in the third case by another disabled claimant, AB, who has a partner and a child, and has lost out by even more.
TP and AR are currently losing out by £60 a month and AB and her partner by nearly £400 a month.
TP said last month: "It has been entirely frustrating and exhausting having to exist on an overall unreasonable cut in financial assistance brought about by a move forced upon me into universal credit, whilst at the same time battling debilitating illness during a most challenging period of increased expenditure during this pandemic.
"The principle of a fair transition into universal credit has already been upheld by the courts on numerous occasions now, yet the government has been dragging its feet for a prolonged period of time to my detriment in abiding by these rulings both in letter and spirit."
AR added: "Yet again I am having to go to court and fight for what is fair.
"Over the last years I should have had much needed support in place to help me get through the challenges I face on a daily basis as a result of my disabilities, but instead I have had to put time and energy into fighting for that support.
"I hope this is the last time we have to fight the secretary of state for support that is so obviously needed."
Their solicitor, Tessa Gregory, a partner at Leigh Day, said last month that it was "difficult to believe that our clients have been forced to bring a third set of legal proceedings against the government in order to ensure they and thousands of other severely disabled persons are not unlawfully discriminated against following their move on to universal credit".