The Feckless Poor, The Stigma of Welfare. Mary O'Hara
Tory Pick-Pockets Idea of Poverty.
There is a theory, a well-attested theory, that the key to the  government 'welfare reform' is that they intend to make life for claimants as unpleasant as possible. This will not only reduce the number of people willing to apply for benefits, it will compel them to take whatever work they can get. Over the years they have tried to a variety of schemes, The Work Programme, and now (for a more limited group), the Work and Health Programme, that are intended to guide people into employment.
Over the years 'nudges' (this is not a joke, they tried at one point with this daft plan, "Jobcentres try 'nudging' the workless" 2013), were replaced with pushes, sanctions.

Some would say that the massive increase in rough-sleeper numbers, a result of housing crisis and the fact that these days the down and out get not benefits  is – for the more hard-line Tories – a welcome 'nudge', a constant reminder of where you could fall if you do not pull yourself up by your bootstraps and get work.
Now Universal Credit looks set to cause a lot more misery for a much wider group of people.
Not to mention this:
A lot has to do with the cock-ups of those who created the system, and the way its run.
But the message about the feckless poor keeps on and on.
Mary O'Hara is the author of Austerity Bites,
After coming to power in May 2010, the Coalition government in the United Kingdom embarked on a drastic programme of cuts to public spending and introduced a raft of austerity measures that had profoundly damaging effects on much of the population. This bestselling book by award-winning journalist Mary O'Hara chronicles the true impact of austerity on people at the sharp end, based on her 'real-time' 12-month journey around the country just as the most radical reforms were being rolled out in 2012 and 2013. Drawing on hundreds of hours of compelling first-person interviews, with a broad spectrum of people ranging from homeless teenagers, older job-seekers, pensioners, charity workers, employment advisers and youth workers, as well as an extensive body of research and reports, the book explores the grim reality of living under the biggest shakeup of the welfare state in 60 years. with a new Foreword by Mark Blyth, Professor of International Political economy and International Studies at Brown University, USA, Austerity Bites dispels any notion that "we are all in this together" and offers an alternative to the dominant and simplistic narrative that we inhabit a country of "skivers versus strivers".
This is a review of the book,
Mary O'Hara, Austerity Bites: A journey to the sharp end of cuts in the UK, Policy Press, 2014, xiv + 320 pp, 1 4473 1560 5, hbk, £19.99

During 2012 and 2013 Mary O'Hara travelled the UK to find out what effects the Coalition Government's public sector cuts were having by interviewing some of the people affected by them: both those suffering directly from the austerity measures and those working with them to try to mitigate the measures' effects.

The introduction describes in broad terms the ways in which wages have fallen, poverty and debt have increased, new sanctions have been imposed on jobseekers, and public services have been cut – and all this in the cause of an austerity that further damages the economy.

O'Hara's visits and interviews reveal the depth of the crisis: increasing food poverty (and hence the rise in the number of food banks); mounting pressure on household budgets as costs rise but incomes – both in and out of work – stagnate; the disruptive effects of the bedroom tax; and the rise of personal debt and of high-street high-interest lenders. They also reveal the increasing stigma imposed on people who cannot find employment, and on people with disabilities and long-term health problems; declining wages and job security; cuts in local authority services on which some of our most vulnerable citizens depend; and rising rents and homelessness.

This is in many ways a familiar story, but what gives this particular telling of it an added authenticity are the excerpts from the interviews. Here we find the voices not of statisticians, journalists, or politicians, but of those suffering the effects of cuts in services. In the concluding chapter, we hear the voices of those voluntary sector workers who are coping with increasing demand, disappearing grants, and staff redundancies. The concluding chapter ends with a description of the way in which the Government and the tabloid press have succeeded in persuading us that the previous Labour Government and the poor are responsible for the country's financial problems, and therefore for austerity; and with a description of small-scale resistance to that austerity – as if local pressure groups can defeat the Government- and media-driven prejudice to which we have been submitted for the past four years. They can't.

Perhaps for our readership the most significant finding from O'Hara's visits and interviews is that 'the social security system that had protected much of the population from the worst vagaries of inequality was being ripped from its foundations'. She goes on:

I saw at first hand how destabilised and fearful it was leaving people. What I observed during my travels was a society in deep existential as well as economic and political flux. It seemed to me that austerity was generating social and economic schisms faster than they could be tracked, never mind adequately countered. There was a sense of an expanding segregation of the rich and poor, the entrenchment of a 'them and us' view of the world that produced not only a lack of social contract but also a political gap so wide as to seem unbridgeable. (p.15)

As a society we need to take to heart what is being said here, and determine to build a new social security system that will protect everyone from 'the worst vagaries of inequality' and will heal our 'social and economic schisms'.
Today she writes in the Guardian.
Let's tell the truth about poverty – and stop this assault on welfare
When the Department for Work and Pensions last week decided to issue a Valentine's message to people on benefits – clearly implying that recipients lie about their "living arrangements" to fleece the state – it was the latest attack designed to blame and shame. It is a well-worn pattern, especially for people who qualify for benefits.

Since the emergence almost a decade ago of the poisonous rhetoric of "skivers and strivers" that has helped to prop up the fiasco that has been Tory austerity, a culture of dismissing poor people has become well and truly entrenched. The despicable idea that being poor is somehow the byproduct of personal flaws rather than bad policy, and that strong welfare systems should be rejected, is pervasive.

How else to explain the fact that food banks have become normalised or that the repeated denial of benefits – and dignity – to people with disabilities has failed to provoke a nationwide revolt? How else to compute that a homeless person dies on the doorstep of the Houses of Parliament and registers only as a temporary blip on the national consciousness?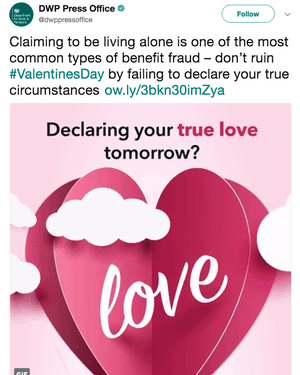 I am not entirely convinced that O'Hara is right to refer exclusively to the USA.
In France there's been political and media attacks on unemployed 'spongers' – if not on the UK scale (France has no Daily Mail, no Express and no Sun for a start)  – for some time.
Presidential Macron announced at the end of last year something that looks to me a 'job seeker's agreement' for the out-of-work on benefits complete with a sanctions regime if you don't look hard enough for employment (Le gouvernement va renforcer le contrôle des chômeurs.  27.12.17).
I could extend this to other European countries.
But her overall points are well taken.
99 Responses