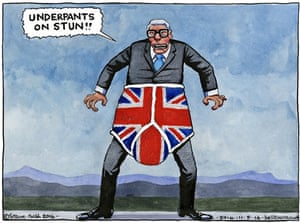 Major to the Rescue!
Back in the old days we all used to laugh at John Major.
Rory Bremner did a great impersonation.
There was also his affair with Edwina Currie, (BBC)
Former Prime Minister John Major has admitted he had a four-year affair with the former Conservative minister Edwina Currie.

Mr Major described it as the most shameful event of his life, but said his wife Norma had long known of the relationship and had forgiven him.

Mrs Currie made the disclosure in her diaries, which are being serialised in the Times newspaper.

The affair began in 1984 when Mrs Currie was a backbencher and Mr Major a whip in Margaret Thatcher's government.

Mrs Currie – who later became a health minister – said the affair ended in early 1988 after his swift promotion to the Cabinet as chief secretary to the Treasury.
What the wags of the Internet could make of that today is …a happy thought.
Now Major is an elder statesman.
With Boris and Rees Mogg around – preceded stage right by Iain Duncan Smith, not to mention David Gauke – you could feel a big nostalgic for those days.
Major obviously has more than a grain of sense left.
John Major calls for Tory review of 'unfair' universal credit
reports the Guardian.