Posts Tagged 'Work and Health Programme'
Programme that's Not Working.
The Work and Health Programme (WHP) aims to provide support to help people find and keep a job. It is
available to the following groups:

The Disability group is voluntary for disabled people as defined in the Equality Act 2010. This is the
main group that the WHP is aimed at.
The Early Access group is voluntary and aimed at people who may need additional support to move
into employment and are in one of a number of priority groups (e.g. homeless, ex-armed forces, care, leavers, refugees).
The Long-term unemployed group is mandatory and is for Jobseeker's Allowance or Universal Credit claimants who have reached 24 months of unemployment
Disability Rights  noted in 2019,
9 out of 10 of Work and Health Programme participants do not have a job outcome

9 out of 10 of Work and Health Programme (WHP) participants (88%) have not obtained a 'job outcome'.

A 'job outcome' is work with earning above a threshold of 16 hours per week for 26 weeks at the National Living Wage, London Living Wage or Real Living Wage) or having completed six months in self-employment.
This week's Private Eye, under the title, "Doleful Result"  carries the story's latest turns.
They state that 15% of the people who began the welfare to work scheme, the Work and Health Programme from its  start in late 2017 till February 2019 (the latest available figures)  found a job.  That is "at least six months of self-employment of employment of 16 hours a week at, at least, the minimum wage.
They conclude, "Around two-thirds of participants haven't earned a penny within a  year of joining the scheme, and half never do."
This is from the latest DWP statement and  figures (next release of statistics in August 2020).
Work and Health Programme statistics to February 2020
The WHP predominantly helps disabled people, as well as the Long-Term Unemployed and the Early Access group (which is made up of certain priority groups) to enter into and stay in work.

People are referred by jobcentres to work with organisations known as providers, from the public, private and voluntary sectors. The providers are paid a service delivery fee as well as outcome-related payments when a person reaches either:
Here are the outcomes:
Since the WHP began there have been:

166,160 referrals for 138,330 individuals
103,300 starts
13,710 job outcomes

Note: those starting more recently have had shorter time to achieve a job outcome, therefore it is not meaningful to divide the number of job outcomes by the number of starts or referrals.
Note how low the job outcomes look in this table: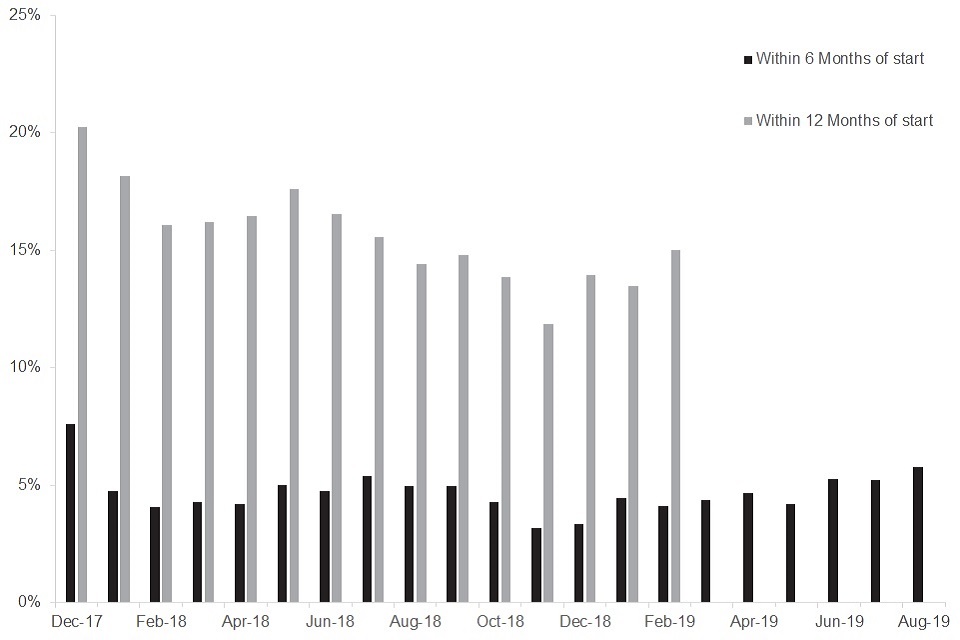 Another statistic:
69% of all individuals referred by August 2019 have started the programme, and of these, so far 15% have reached the job outcomes earnings threshold or 6 months of being in self-employment by February 2020.
If you wish to, you can read the list of failure in the rest of the document.
Meanwhile the Civil Service News reports,
Nearly two-thirds of families on Universal Credit forced to borrow money during pandemic
The Department for Work and Pensions is facing calls to give an "urgent lifeline" to recipients of Universal Credit, after a study found six in ten families claiming the benefir have been forced to borrow money since the beginning of the coronavirus crisis.

The latest study from the Joseph Rowntree Foundation and Save The Children found families have been increasingly forced to rely on payday loans or credit cards to ensure they can afford food and pay bills during the pandemic.

It came as the latest official figures released on Monday showed the UK's "claimant count" – including both those on Jobseeker's Allowance and Universal Credit – had soared to 2.8 million in May.
Don't forget!
More on the reports: