Posts Tagged 'UNITE Community'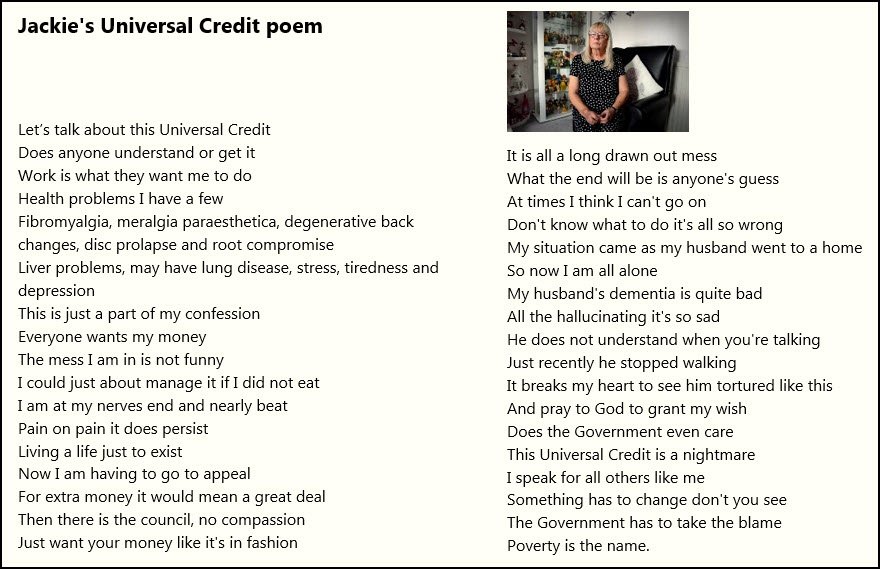 The Mirror reports,
Thousands of are facing a "very bleak Christmas" after a new survey found three quarters of people on botched benefits system Universal Credit said they had been left saddled with debt.

Three in five claimants said they had been pushed into struggling with housing costs because of the new welfare system.The survey of over 1,000 Universal Credit claimants was carried out by Unite the Union.

Other respondents raised the fear of eviction, and many reported problems with monthly budgeting on a low income.

The Department for Work and Pensions blasted the study as "completely unscientific" and said some of those questioned might not even be on UC.

Yet the DWP's own research shows three quarters of those who moved onto UC struggle with bills constantly or "from time to time."
Here is the UNITE Press Release:
Universal Credit pushing people into debt and housing problems reveals survey
More than three quarters of respondents in a survey of over 1,000 Universal Credit (UC) claimants said they had been put into debt, or pushed further into debt by UC with some forced to use foodbanks to survive as well as borrowing from friends and family. Shockingly 60 per cent of respondents said that they had been pushed into housing cost problems.

Thousands of people will face a miserable Christmas as a result of having to claim UC according to the new survey by Unite the Union published to coincide with a national day of action against UC on 1 December 2018 (see notes to editors).

During six weeks of October and November 1,141 people responded to the survey. The findings make grim reading and identify a number of issues facing a significant number of people claiming the benefit.

Rent arrears were raised by a number of people and the fear of eviction was evident in the responses. Many claimants reported the problems of monthly budgeting on a low income. Disabled people and those who are sick reported a huge drop in income as a result of moving on to UC.

The vast majority (82 per cent) have a negative view of the new benefit and a significant number had problems either claiming the benefit on-line or maintaining their claim through an on-line journal.

Unite is using the evidence collected from the survey to lobby politicians and is calling for a stop to the controversial new UC system.

Unite has called for Universal Credit to be scrapped before more damage is done.

Unite head of Community, Liane Groves said: "Universal Credit is causing misery and suffering as the survey results clearly show. Despite knowing this, the government is still intent on ploughing ahead regardless, while claimants are descending into debt, relying on food banks and getting into rent arrears and in some cases being evicted from their homes.

"Evidence from voluntary and community organisations as well as unions and local authorities seems to be ignored as the government presses on with the implementation of Universal Credit.

"Access to the benefit has been devised for the benefit of administrators not the recipients of Universal Credit. The damage done by forcing people into debt, far from helping people into work, as the government claims, is driving people away from the job market as spiralling debt impacts on people's mental and physical wellbeing.

"As we head into winter, many claimants cannot afford warm clothing for themselves or their children and don't have enough money to heat their homes. It will be a very bleak Christmas for thousands of families who are being abandoned by this government."
"The survey was conducted outside job centres by volunteers and was also completed on-line. Unite will be submitting the raw data from the survey to independent academic researchers with a view to further analysis of the responses."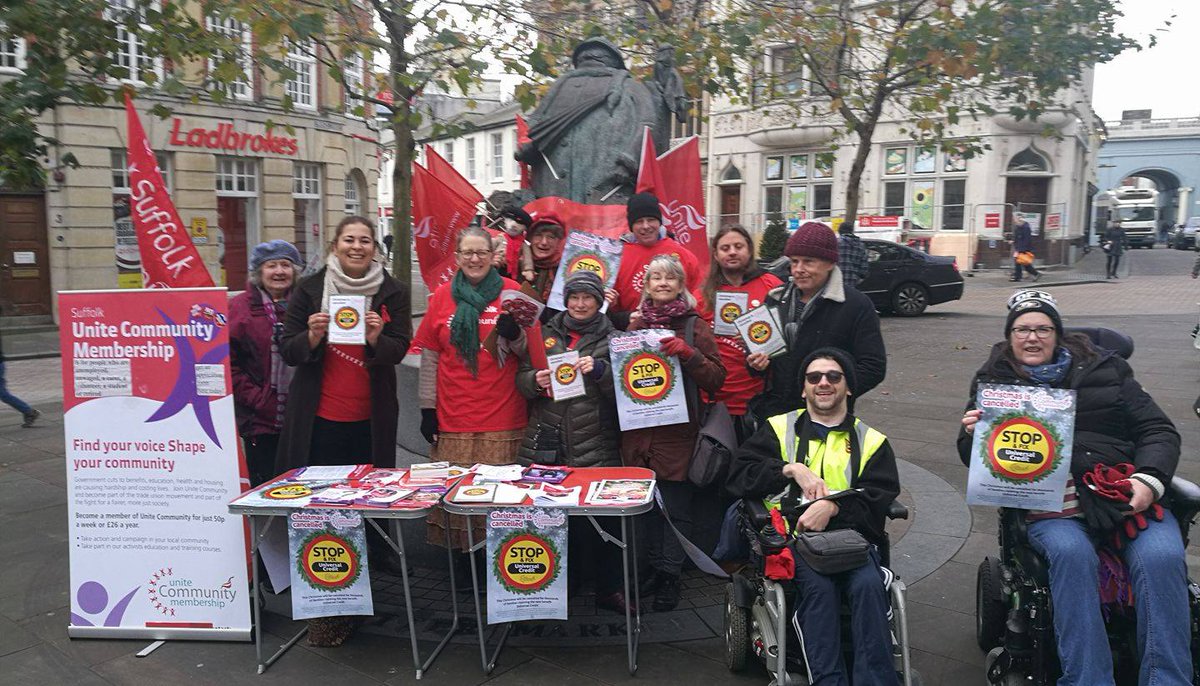 Stop and FIX Universal Credit day of action Saturday 2nd of December: Ipswich, Giles Corner.
There was a really good atmosphere, and people came to give support.
It was helped by this, even without mince pies!
The Mirror notes:
The government has consistently refused to "pause and fix" the scheme which has seen families pushed in to debt and rent arrears – despite losing a vote called by the Labour Party to do so.

The document titled "Universal Credit Transition Rollout Schedule" was published on the DWP website the day after the budget, replacing a previous version.

It lists the point at which UC will be rolled out in each JobCentre.

However, an analysis of the new timetable for, comparing it to the previous rollout schedule, showed that Maidenhead, Ashford, Hemel Hempstead, Walthamstow and Redbridge Job Centres Plus will all now delay the roll out by three months.

These cover the bulk of the constituencies of Maidenhead, Ashford, South West Hertfordshire and Chingford and Woodford Green.

Last week the Government caved in to pressure to cut the waiting time for first payments from six to five weeks.

But it will be too late for struggling families at Christmas as the change will not come in until February.

The move means that all three Work and Pensions Secretaries who designed and implemented the Universal Credit across much of the country will all see it delayed for their own seats – until the reduced waiting time and other reforms are in place.

Only South Oxhey, a small, working class and generally Labour-voting area of David Gauke's constituency will continue to have Universal Credit imposed on time.

The other Job Centre Plus in the London Borough of Waltham Forest, which serves Labour seats rather than Iain Duncan Smith's seat, will implement UC earlier.

When questioned on the decision in parliament David Gauke told MPs: "We are rolling out Universal Credit in a way that is safe, we are making adjustments as and when we need to but I am pleased to say the date on which UC will be fully rolled out remains unchanged March 2022 if it could be earlier I would make it earlier but that is the safest point at which we can do it."

Stephanie Peacock had asked the minister: "I note in his department's recent statement last week the right honorable gentleman postponed the rollout of Universal Credit in his constituency and those of the prime minister and the first secretary of state."As he's in the mood to reconsider the policy, can he do the same and pause the rollout of Universal Credit for the people of Barnsley East
There are more reports on the protests  circulating. Here are some.