Posts Tagged 'Unemploment'
Tossed by the Waves We Will Not Sink: We Stand Together By Our Banner.
I Million Hits for Ipswich Unemployed Action.
Today we have reached a watershed: 1,000,097 hits (16.15 Tuesday).
Ipswich Unemployed Action was founded in 2009.
The Site was created by two people, myself, and a young chap from Ipswich.
The intention was to describe what it's like being unemployed, and to criticise the various "schemes" put in place to to deal with us.
The aim was to let out of work people say what they think about the way officials and the 'unemployment business' treat us – not what we're told to say.
A bit like the alternative community newspapers of the 1970s,
We have always considered the comments to be the most important part of the Ipswich Unemployed Action site.
We also link to numerous Blogs, notably the always essential reading, the Void.
And a range of people on Twitter, such as I'm a JSA claimant @imajsaclaimant
Welfare Weekly has become important as well.
Apart from the fact that many posts come from people writing here – as well as from people I know in Ipswich – it's the kind of open and up front things people come out with, the information we exchange with each other, that have given this site its special flavour.
Ipswich Unemployed Action has featured in Private Eye, the Sunday Times, and on Radio Suffolk.
We  have been asked by countless other news organisations for information.
My mate from one of the Ipswich estates – produced some of the best posts ever.
But we think that it's our readers and commentators who matter most.
We have participated in the protests organised by groups such as the  DPAC (Disabled People Against Cuts), and more recently UNITE Community.
I urge everybody to join UNITE Community – it's there for the unemployed, for all of us.
This was an important one (2014): Iain Duncan Smith Greeted with Shouts of 'Murderer' as he visits Ipswich.
We support the great Boycott Workfare campaign.
Always with strong links to the Unemployed Workers' Centres we have attended national meetings at the TUC – the most recent being in 2015, the TUC Welfare Conference: Action on Sanctions and Workfare!
We back this: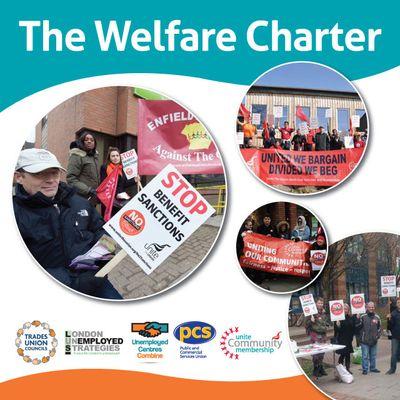 The Charter promotes:
A Political commitment to full employment achieved with decent jobs..
A wage you can live on for all and a social security system that works to end poverty.
No work conscription – keep volunteering voluntary.
Representation for unemployed workers.
Appoint an Ombudsman for claimants.
Equality in the labour market and workplace; equality in access to benefits.
And end to the sanctions regime and current Work Capability Assessment – full maintenance for the unemployment and underemployed.
State provision of high quality information, advice and guidance on employment, training and careers.
This what we said on our founding (May 2009)
Who is sticking up for the Unemployed? Not many. Who is the best placed to do so? Those out of work.  Ipswich Unemployed Action is a group of out-of-work local people determined to stand up for our rights.

What are we up against?

The abuses of the 'New Deal' scheme. Those who sign-on here know that the YMCA is getting paid to lock up over 150  people in a shed – 'Dencora House', doing 'job search' all day. They know the conditions they have to endure – treated like children, no proper facilities (computers, even enough toilets).  There are no placements. If they complain they are threatened with being 'exited' – losing all benefits.
The coming 'Flexible New Deal' will be even worse. We intended to expose the company who's won the local contract A4e – its links with shady senior politicians (step forward David Blunkett), and its record of abusing New Deal participants.
Workfare will be a con – forced labour for our dole with private contractors coining it in.

What do we want?

We want the minimum wage for any 'voluntary' work they make us do.
There should be an independent appeal and monitoring system – open to all – for anyone on the 'New Deal'. Not the present shambles,
We want real training, not the YMCA etc sham.
Above all we want to be treated as human beings – not things the DWP and Government Ministers can claim rights over. We should have rights, and we want them now!
And now, we want the Dencora House  detention centre closed down!

Any suggestions? Join us. All welcome.
This what happened in June 2009: Banned For Blog: YMCA Suppresses Dissent.
WARNING: THIS BLOG IS DANGEROUS!

This morning I went to Dencora House, Ipswich. For my 'New Deal' induction at YMCA Training. A little while in and I was summoned. YMCA manager and colleague. Copies of this Blog, and the Ipswich Unemployed Action's, on the table. Nervous type. Points to print-out. Picture of medieval Bastille. Legend, "Storm Dencora House". Liked he it not. Or calling it a "detention centre". Oh dear. Next, famous (hundreds of viewings), New Deal: YMCA Training, A Major Scandal.

Finally, their account of  this,

"I have placed this website as the Home Page on all computers at Dencora House today. Hopefully some of my fellow detainees here will read it. There has also been print outs of your articles left around the centre. The staff have been going round ripping them off the walls. They then get put up again.

People who merely found this site as the home page have been undertaking these actions on their own. Hopefully more people will involve themselves in such sabotage. If we make it too much hassle for them to treat us like this then they will be forced to stop!"

The upshot is I face being suspended from all benefits for exercising my (see YMCA Induction Pack), "freedom of conscience". Apparently human rights do not apply to the out-of-work on the New Deal. Still no doubt they'll find some way of justifying themselves. YMCA Mission Statement, "Motivated by its Christian faith, YMCA Training's mission is to inspire individuals to develop their talents and potential and so transform the communities in which they live and work." Needs some creative re-writing.

Oh yes, one of our many invisible supporters  tells us that they've blocked their computers' access to our Blog.
I was reinstated pretty quickly and the YMCA ended up treating me decently.

You wonder what would happen today with the rules they have brought in.
Indeed little did I realise that the YMCA turned out to be sweeties compared to what has happened since.
Particularly after the Liberal-Tory Coalition.
Iain Duncan Smith has stalked the land seeking out poor people to oppress, unelashing the DWP 'sanction regime'.
The Cameron government has lost no opportunity to let their mates in the 'unemployment business'  pick the pockets of the state and make the lives of the unemployed a misery.
These are some of more recent best viewed posts:
Is it Compulsory to Register with Universal Jobmatch? What Evidence of Jobsearch do we have to provide? 2015.
35 Hours JobSearch: We Publish the Mad DWP Guidelines. 2014.
Universal Jobmatch – List of fake 'employers' (Part 1)  2014.
This video shows what we stand for:  we stand together, we never give up!