Posts Tagged 'social security system'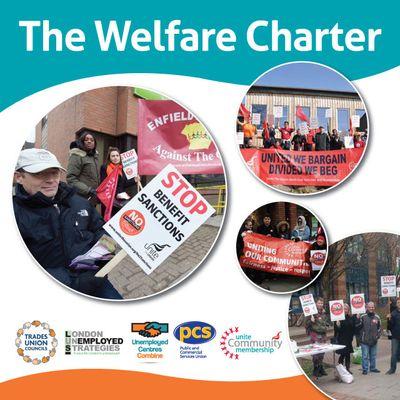 Unemployed centres, trade unions (PCS and UNITE Community), London Unemployment Strategies, and Trades Councils are due to launch a Welfare Charter soon.
Ipswich Unemployed Action has a sneak preview of this document, which sets out the basis for decent treatment of claimants and a real way of dealing with unemployment.
The Charter promotes a "social security system that enables everyone to have a safe warm home, good food, propery clothing and being able to participate in society.
The Charter promotes:
A Political commitment to full employment achieved with decent jobs..
A wage you can live on for all and a social security system that works to end poverty.
No work conscription – keep volunteering voluntary.
Representation for unemployed workers.
Appoint an Ombudsman for claimants.
Equality in the labour market and workplace; equality in access to benefits.
And end to the sanctions regime and current Work Capability Assessment – full maintenance for the unemployment and underemployed.
State provision of high quality information, advice and guidance on employment, training and careers.
These demands together should form the basis for our fight for a decent life.
One for all and all for one!
Facebook : The Welfare Charter.
Twitter: @welfarecharter
Written by Andrew Coates
September 10, 2015 at 2:50 pm
Posted in Cuts, Employment and Support Allowance, Food Banks, Government, Sanctions, Tories, Unemployment, Welfare Reform, Welfare State, Workfare
Tagged with DWP, sanctions, social security system, Trades Councils, Welfare Charter, Welfare Reform
This is a key part of Miliband's speech on Welfare,
State benefits could rise by less than inflation each year under a Labour government because of the cap on welfare spending announced by Ed Miliband.
Until now, Labour has suggested it would restore the link between benefits and inflation if it regains power. It voted against  breaking the link in April, when the Coalition Government pegged the annual uprating to 1 per cent for the next three financial years up to 2015-16.
Is this clear? Well not entirely,
Labour sources told The Independent that a decision on whether to restore the link would  not be taken until much nearer the election. It would not be financed by extra borrowing. If the party were in government now, restoring it would be funded by bringing back a 50p top rate of tax on earnings over £150,000 a year, which was cut to 45p in April.

Katy Clark, a Labour MP, warned that "some of the most vulnerable," including the disabled, would lose out if Mr Miliband's benefit cap were not set high enough. "The devil will be in the detail," she said.
Miliband also said this,
"Overcoming worklessness, rewarding work and tackling low pay, investing in the future and recognising contribution: these are the Labour ways to reform our social security system.

"We have always been against the denial of opportunity that comes from not having work. And against the denial of responsibility by those who could work and don't do so. This country needs to be a nation where people who can work, do. Not a country where people who can work are on benefits."
Now what are they going to about the failing Work Programme?

To remind us all, Richard Johnson said in the Guardian that the work and pensions select committee found this.
The committee acknowledges that the WP simplified the sector. It has shifted things to payment by results, supposedly reducing risk to the public purse. The contractors are highly variable in quality. Their performance is improving, for some jobseekers anyway, but they are running the service with massive caseloads. "Creaming and parking" (helping the jobseekers that are easier to find work for and ignoring the hard ones) is endemic. Specialist services, to address complex jobseeker needs such as disability or homelessness, are underused, and specialist subcontractors get a raw deal. The WP also fails to engage adequately with employers and has a poor relationship with Jobcentre Plus.

The fundamental flaw is laid bare in the £248m that the committee says the Treasury is clawing back for underspend on the WP in 2012-13 – money that was allocated and that contractors haven't earned.

The initial WP concept (as set out by Lord Freud, now responsible for the rollout of universal credit) was based on the simple notion that it costs a shedload of money to keep people on benefits – more than £100m a day. Surely, it is better to invest in welfare-to-work programmes to reduce the benefit bill through moving people into work. If the Treasury can't find the additional cash for extra welfare-to-work programmes, then get private sector firms to fund it and pay them back out of the benefit savings they generate.

Some people, even after years of unemployment, find their own job. Money spent helping this "deadweight" will be wasted. Some people, however, are at risk of getting stuck on benefits and never moving off them. The higher the levels of disadvantage, the more complex their needs are likely to be, and the more expensive any solutions. But the jobseekers that cost more to help will be the ones that deliver a greater return in reduced long-term benefit liability.

It appears that this link between programme investment and savings has been forgotten. The payments made to WP contractors, as noted by the committee, are ineffectively targeted. The contractors are not incentivised to risk spending on jobseekers who appear hard to help. With limited overall funding, contractors are trying to protect themselves by disinvesting in the programme, running with caseloads of up to 180 jobseekers per adviser. This creates a vicious cycle, with high caseloads meaning low outcomes, meaning further disinvestment.

The £248m underspend gleefully recouped by the Treasury represents a massively increased risk to the public purse. It indicates lower levels of "off-flow" from benefits to employment, which will push up the benefit bill in future years. With those mostly likely to be parked on the WP representing the biggest risk. The programme is applying a sticking plaster, counting the unused splints, and leaving the patient crippled.
We would add that that
The Work Programme is simply not finding people jobs.
It offers no real training.
The companies that run it form a lobby to grab more public money regardless of results.
It creates an army of people unhappy with their treatment (sanctions, bullying, absence of courses).
It is bloody useless.
The worst thing that Labour could do is to offer a new version of the Work Programme.
We need work creation, not another system of outdoor relief for the unemployment business.
Written by Andrew Coates
June 8, 2013 at 3:25 pm
Posted in Campaigns for Unemployed, Cuts, David Freud, Incapacity Benefit, Liberal Tory Coalition, Unemployment, Universal Jobmatch, Welfare Reform, Welfare State, Work Experience, Work Programme
Tagged with Ed Miliband, social security system, Unemployment, work and pensions, work and pensions select committee, Work programme