Posts Tagged 'public interest lawyers'
Boycott Workfare states,
As things currently stand following the ruling by three judges in the Court of Appeal on 12th February, our understanding is that:
1) If people are currently under sanctions from the unlawful schemes, these sanctions should be lifted immediately and they should be put back to first tier sanctions. If you are currently under sanction from one of the unlawful schemes but it has not been lifted, please get in touch.
2) Unless people have been sent updated notices under reg 5 of the new regulations then there cannot be a requirement for them to attend any of the schemes they have been sent on (except Mandatory Work Activity). As Public Interest Lawyers put it:
"The DWP made it clear in submissions to the court that the immediate effect of the judgment was that they would be unable to require people to attend affected schemes and that must be the case. Until lawful Regulations are passed and new notifications are sent out I struggle to see how attendance can be required on the affected schemes."
3) Unless the government wins the right to appeal to the Supreme Court and wins that appeal, then people who were sanctioned on any of the unlawful schemes should be paid the benefits that were withheld. However the government has indicated it will not consider paying this until the appeal decision has been made. We will make sure people know how to get their money back as soon as we find out.
So, for anyone say on a 6 month sanction that sanction should be immediately lifted, their benefits reinstated and they should then go back to the first tier of sanctions (they cannot impose the longer sanctions until there has been the repeated failure to participate).
Ipswich Unemployed Action adds,
Some people have tried to find ways out of Manadatory Work Activity (MWA)
This appears to be the position regarding MWA,
Freedom of Information request for MWA guidance dated 13 January 2013:
 http://www.whatdotheyknow.com/request/mwa_guidance

"Claimant ceases to claim JSA between point of referral and start date of MWA placement
52. In this scenario the Advisory Team must ensure that the provider is aware of the claim closure reason and updates PRaP accordingly. The Advisory Team may also wish to record the circumstances of the case (e.g. as an LMS Conversation) so that should the claimant return to JSA, consideration can be given to returning them to MWA. Read the rest of this entry »
Museum volunteer told to work unpaid at Poundland
By Kaye Wiggins, Third Sector Online, 12 January 2012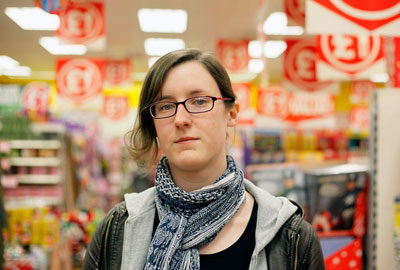 Cait Reilly [David Sillitoe/Guardian]
Cait Reilly was told she otherwise would lose her Jobseeker's Allowance
A university graduate was told she had to stop volunteering at a local museum for four weeks and do unpaid work in a Poundland store in order to continue receiving Jobseeker's Allowance.
Cait Reilly, who graduated from Birmingham University in 2010, was regularly volunteering part-time at the Pen Museum & Learning Centre in Birmingham because she hoped to pursue a career in museums.
But last autumn she was told by her local Jobcentre Plus that she had been placed on a "sector-based work academy", a four-week programme made up of two weeks' employability training and two weeks' unpaid work at Poundland.
Reilly has this week launched proceedings to seek a judicial review of the Jobseeker's Allowance (Employment, Skills and Enterprise Scheme) Regulations 2011, which include a power to compel JSA claimants to carry out work.
Her solicitor, Jim Duffy of Public Interest Lawyers, said Reilly had been volunteering at the museum since May. He said she was placed on the work academy programme by her local Jobcentre Plus and agreed to do it after being told about the scheme in "vague and inaccurate terms".
Duffy said when Reilly found out more about the programme, she told staff at the Jobcentre Plus that she did not want to take part, but was told that it was mandatory. She did the Poundland placement in November.
Brian Jones, another volunteer at the Pen Museum, a registered charity, said Reilly was not able to give much notice that she would have to stop her work for a month. "She is a valued volunteer here, so to lose her in that period was very difficult for us," he said.
A spokeswoman for the Department for Work and Pensions said: "Working in retail is perfectly good experience for a career in a museum. There are very similar transferable skills involved."
Here.
Comment.
The Daily Mail seems to think that working for your dole in Poundland is a good idea.
Someone calling herself Dominique Jackson writes, "We should be grateful that Poundland has signed up to the scheme to provide work placements, training and a guaranteed interview for kids trying to improve their employability." (Here)
I suppose anyone under 25, who gets a reduced JSA, is a "kid".
To be treated as such.
The idea that Poundland have found a nice little earner – getting workers for free – seems to have escaped her attention.
Or that it is indeed a human right to be able to choose your job.
As in, the Universal Declaration of Human Rights,
Article 23
Everyone has the right to work, to free choice  of employment, to just and favourable conditions of work and to protection against unemployment. (Here)
Naturally for those who want to see the unemployed forced to clean the streets (and why not with Toothbrushes – there was a Pilot Scheme in Vienna in the late 1930s) this right does not exist.
On the Background to Workfare and details of how Private Companies, Local Government, the Third Sector and Charities are going to exploit this Harpy Marx is highly recommended – here.