Posts Tagged 'Low Pay'
During the week this story hit the headlines:
1.5 million people are 'destitute' in the UK. The 'I' (the well-informed Claimant's Daily read).
The figures are startling: an estimated 1.5 million people were destitute in the UK at some point in 2017, 365,000 of them children. This is the conclusion of a report published by the Joseph Rowntree Foundation (JRF). Campbell Robb, Chief Executive of the charity, said actions by the Government, local authorities and utility companies is leading to "destitution by design". "Social security should be an anchor holding people steady against powerful currents such as rising costs, insecure housing and jobs, and low pay, but people are instead becoming destitute with no clear way out."

..

The report blamed benefits sanctions, low benefit levels, delays in receiving benefit payments, high housing costs, pressures – financial and otherwise – facing people with poor health and disability, lack of eligibility for benefits for people such as migrants and "harsh and uncoordinated" debt recovery practices by authorities and utility companies.
Here is the full report: Destitution in the UK 2018
There is plenty to remind you of this walking around Ipswich, where people begging is a daily sight.
James Bloodworth's book,  Hired. Six Months Undercover in Low-wage Britain (2018) comes to mind at the same time.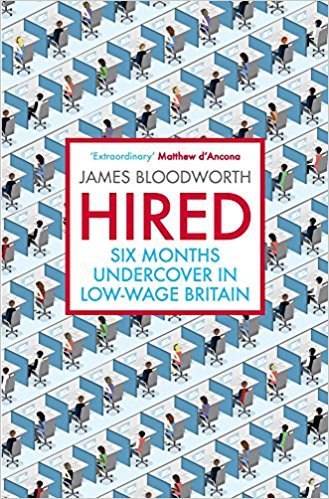 The author  worked for Amazon in Rugeley, for a Call centre in the South Wales Valleys, for Uber, and for a private care firm in Blackpool.
It was in this seaside resort that he found this,
Bloodworth comes across the homeless. He sees an old man "buried under a pile of corrugated cardboard and bin liners". In Blackpool's main library there are people "who had been sent like badly behaved children to 'job club'. There were the down-and-outs there too, "holding filthy carrier bags", some falling asleep to be thrown back onto the streets. At moments like this you realise that only a comparison with George Orwell's best writing will do.
Much of this seems to fit the way we live all over the country.
People in short-term employment, with few rights, thrown in and out of the benefits system. The down-and-outs.
One of one of the reasons we have so many young homeless wandering around in Ipswich is the closure of the Foyer last year.
Campaigner 'disappointed' as Ipswich Foyer housing scheme for young people to close in March.

Centra has failed to win a new funding contract from Suffolk County Council (SCC) to keep the Foyer, in Star Lane, running.

From April YMCA Suffolk and Orwell Housing Association will deliver housing-related support services for young people across the county.

Becki Bunn, who started a petition to save the hostel, said she was "really disappointed" that SCC had not reinvested in the Foyer.

At the age of 17 Miss Bunn lived at the Foyer for six months, enabling her to stay in education and finish her A-Levels.
Walking past it a few days ago I saw that the building, eminently suitable for the homeless, is empty and beginning to look shabby.
Thankfully Ipswich Labour has made some steps towards helping some of those without a roof over their heads.
The £2.8m investment Ipswich Borough Council is making in new temporary accommodation for people who are made homeless caught the headlines, writes Labour Leader of Ipswich Borough Council, David Ellesmere.
Ipswich Council has also reduced the Council Tax for those on benefits.
But a Borough Council does not have the funds the remedy the problems.
Some of the reasons for the massive level of destitution  began with the tough conditions to get JSA, such as the 35 jobsearch, 'courses', workfare, the sanctions regime, all of which are designed to throw people off the dole and onto the streets.
One that is bound to get worse with Universal Credit.
The must-read Bloodworth book talks of harassing bosses, poor working conditions, low-pay, snarls up in getting wages, and grasping Landlords.
Universal Credit – something people in the 'gig economy' he deals with will rely on – makes all of this a lot worse.
If levels of destitution apparently fell 25% with a loosening of sanctions between 2015 to 2017 the report says,
JRF warns more people could be at risk of destitution after Universal Credit is rolled out across the country because of the sanction rate. Universal Credit is being phased in gradually throughout the year. The roll-out schedule is here.
Here are the report's recommendations.
Solutions to destitution
In our society, no-one should be left to starve or live on the streets and everyone should have access to basic essentials and shelter.
• The Universal Credit system must ensure that benefit gaps, sanctions and freezes do not push working-age people to the brink and make them destitute by design.
• Uncoordinated debt recovery practices can leave people with practically nothing to live on. This is unacceptable, and the Department for Work and Pensions and other public authorities must
address this.
• People facing destitution need emergency relief and this should be provided through Local Welfare Assistance schemes across England, drawing on positive lessons from other UK
countries, operating to a national minimum standard.
• Social landlords must be encouraged to play a central role in preventing and alleviating destitution amongst their tenants.
This can be summarised that immediately:
The UK Government needs to:

End the freeze on working-age benefits so they at least keep up with the cost of essentials and do not create destitution.
Change the use of sanctions within Universal Credit so that people are not left destitute by design.
Review the total amount of debt that can be clawed back from people receiving benefits, so they can keep their heads above water.