Posts Tagged 'Jobsearch'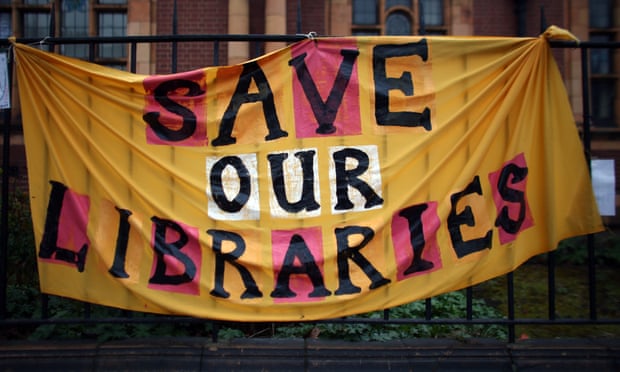 Libraries are a key resource for the unemployed.
We use them to do our Jobsearch (part of the 35 hours we have to carry out as part of our 'Jobseekers Agreement'.
We use their Internet services (where they are available) to write CVs, to upload CVs, apply for jobs and look around the web for posts.
We use them for books on how to do this, and for help from staff about the best way to do it.
This resource is under threat.
Libraries lose a quarter of staff as hundreds close. BBC.
Almost 8,000 jobs in UK libraries have disappeared in six years, about a quarter of the overall total, an investigation by the BBC has revealed.

Over the same period, some 15,500 volunteers have been recruited and 343 libraries have closed, leading to fears over the future of the profession.

Children's author Alan Gibbons said the public library service faced the "greatest crisis in its history".

The government said it funded the roll-out of wi-fi to help libraries adapt.

The BBC has compiled data from 207 authorities responsible for running libraries through the Freedom of Information Act. Our analysis shows:

Some 343 libraries closed. Of those, 132 were mobile services, while 207 were based in buildings (and there were four others, such as home delivery services)
The number of closures in England is higher than the government's official estimate of 110 buildings shut
A further 111 closures are planned this year
The number of paid staff in libraries fell from 31,977 in 2010 to 24,044 now, a drop of 7,933 (25%) for the 182 library authorities that provided comparable data
A further 174 libraries have been transferred to community groups, while 50 have been handed to external organisations to run. In some areas, such as Lincolnshire and Surrey, the move has led to legal challenges and protests from residents.
Now we have this in Suffolk.
Suffolk Libraries face £230,000 budget cut as bosses call for more public support to save all 44 branches
Anybody who uses Ipswich central Library knows the strain they are already under.
To say the least there are 'problems' about the Net service.
How people who rely on smaller libraries manage is hard to tell, it must be hard.
Tory-run Suffolk County Council seems determined to make our lives worse:
Suffolk County Council's Scrutiny Committee will be discussing the council's budget proposals on 30 November.
These proposals include a further reduction to the Suffolk Libraries budget of £230,000 for 2017-18. This follows a cut of £350,000 for the current year (2016-2017) which Suffolk Libraries accepted with reluctance.

Alison Wheeler, Chief Executive of Suffolk Libraries, said: "We recognise that public-sector funding is decreasing, and in response Suffolk Libraries has since 2011, with stringencies and economies, saved more than 30% of the original library budget without affecting local services."

"In terms of relative cost – for every £1 spent by the Council, less than 1 penny is spent on the library service. The library service actively contributes to several of the county's key priorities which include support for vulnerable people, raising educational attainment, supporting small businesses and empowering communities."

"Suffolk Libraries is now in its fifth year of operation and each year it has lived within its means and saved increasing amounts of council tax. This has only been done with the sustained hard work of library staff, help from community groups, local volunteers and support from library customers."

"With this extraordinary support, we have together ensured that all Suffolk libraries are still open, local library opening hours have been sustained and the services people enjoy, and which we know make a difference to people's lives, have continued to flourish."

Tony Brown, Chair of Suffolk Libraries Board added "Over the past year we have made it clear that it would be impossible to make further cuts without having an effect on services. We pledged to work constructively with the council on the longer-term future of the county's library service and offered them a plan in June in which we suggested ways we could save money over a longer period, and which would allow us to keep library opening hours intact."

"Five months later, it's disappointing to see that the council's budget proposals do not reflect the alternative plans we presented. The larger sums required will almost certainly mean we can't carry on providing the library service in the same way."

"However, we are still in discussion about the final sum. People will be consulted on any changes and we will strive to minimise the impact on customers, and ensure that people will still have access to the same wide range of services and activities in their community."

"Suffolk Libraries' Board is committed to keeping libraries open and for local services to flourish. The Suffolk community has shown a huge amount of support for local libraries over the past few years, and this has never been more needed, or valued."