Posts Tagged 'INcome Support'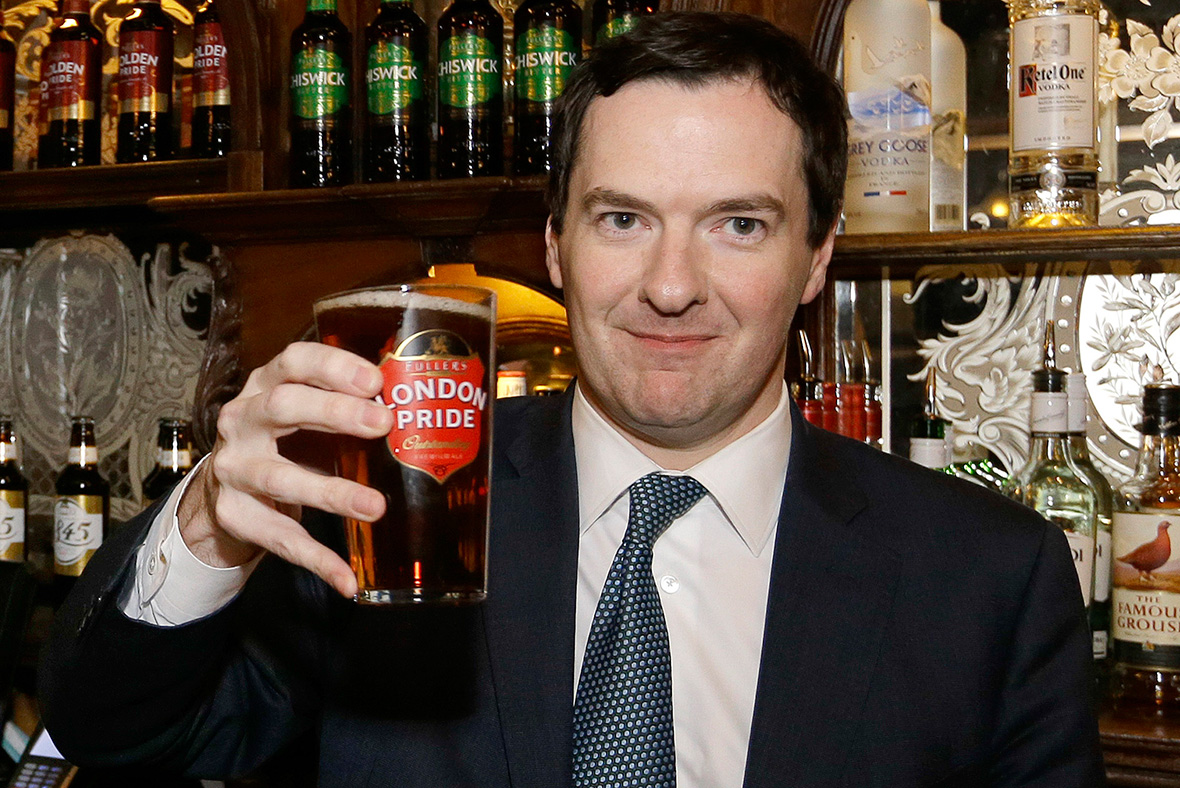 Osborne Celebrates at Pushing People into Deeper Poverty.
Effects of the Budget on the out-of-work.
SINGLE
Single, no children. Unemployed
2015-16 He receives jobseeker's allowance of £73.10 a week (£57.90 if aged 16-24). Housing benefit eligibility will depend on his property size and, if he rents, where he lives.
2016-17 Jobseeker's allowance is frozen for the next four years, so remains at £3,801 a year. Any housing benefit he may receive is also frozen for that period.
Single, one child. Unemployed
2015­-16 Income support is £73.10 a week, child tax credit is £63.98, and child benefit is £20.70. This gives an annual household income of £8,205 disregarding any housing benefit.
2016-­17 Last summer the chancellor announced he was freezing all three of her benefits for the next four years. It leaves her income unchanged, disregarding housing benefit.
Put simply as the cost of living rises – note that this particularly affects rent – the amount of JSA and Income support will not go up.
This will mean that people already in poverty will be pushed further down.
Disabled:
Around 640,000 claimants could lose out as a result of changes to the assessment criteria for PIP, which is designed to help people with extra costs associated with disabilities and long-term illnesses.

Disabled people will be badly affected with an expected 200,000 individuals set to lose almost £3,000 a year according to Labour Party analysis.
Summary of 2016 Benefit changes:
The following benefit changes are set to take place in 2016, some may be subject to change or approval.

Benefit and Tax Credit rates frozen

The main rates of working age benefits and tax credits will be frozen in cash terms for 4 years from April 2016. Pensioner benefits are excluded from the benefit freeze and will be protected by the 'triple lock'.

Disability benefits, the disability-related elements of tax credits and statutory payments including Personal Independence Payment, Attendance Allowance, Disability Living Allowance, Employment and Support Allowance (Support Group only), Maternity Allowance, Statutory Maternity/Paternity Pay and Statutory Sick Pay, will be uprated in line with the Consumer Prices Index (CPI). The CPI was announced to have fallen in the year to September 2015 so this means that the benefits mentioned above will not be increased from April 2016.

Benefit cap reduced

There is currently a benefit cap in place in England, Scotland and Wales restricting the amount in certain benefits that a working age household can receive. Any household receiving more than the cap has their Housing Benefit reduced to bring them back within the limit. The benefit cap is to be introduced in Northern Ireland from 31 May.

The cap which is currently £26,000 per year is to be reduced to £23,000 for households living in London and to £20,000 for those outside London from Autumn 2016, when exactly you will be affected will depend on where you live. For further details see our Benefit cap reduction Autumn 2016 help page.

Housing Benefit changes

Unlike other reforms the Chancellor announced directly affecting child related payments, withdrawal of the family premium in Housing Benefit (£17.45 when a claimant has one or more dependant children) will take effect from 1 May 2016, a year earlier than the reductions for children within Child Tax Credit. Removal of the family premium will affect both new claims and new births from 1 May 2016. For further details see our Family premium abolished May 2016 help page.

Housing Benefit backdating will be reduced so that new claims from working age claimants will be backdated for a maximum of one month. Currently, if you are working age, your Housing Benefit claim can be backdated for up to six months if you can show good cause for making a late claim and you would have qualified for the benefit sooner.

Tax credit allowance and taper cut

On 25th November 2015 during the Chancellor's combined Autumn Statement and Spending Review, he announced that the widely unpopular planned tax credit changes (reduced income threshold and increased taper rate), which would have meant that any working household receiving tax credits with an annual income of more than £3,850 a year would be worse off, would in fact not be going ahead.

Tax credit income disregard cut

At the moment, if your household income increases by up to £5,000 during the tax year this increase is ignored when calculating your entitlement for that year. From April 2016 this will be reduced so that any increase in income of more than £2,500 will be taken into account. According to the Treasury, it is estimated that 800,000 people will see their entitlement to tax credits reduced by an average of £200-£300 per year due to this cut which brings the 'income rise disregard' back to the same level it was when tax credits were first introduced.

New State Pension

For those reaching pension age from 6 April 2016 a new State Pension is being introduced to replace the basic State Pension and State Second Pension. This affects all women born on or after 6 April 1953 and all men born on or after 6 April 1951. The new pension is designed to be much simpler than the current system and will consist of a single amount to be awarded in full if you have 35 qualifying years of National Insurance contributions. If you don't have the contributions required for the full pension, as long as you have a minimum number of qualifying years (between 7 and 10) you will receive a pro rata amount. If you don't have the minimum number of qualifying years you will not qualify for the single tier pension. Any contributions made under the current pension system can be used toward the new State Pension.

If you qualify for the full amount you will receive £155.65 a week. For those who do gain in state pension income, for some this will be offset by reductions in means-tested benefit entitlements and if you fall under the new single tier pension system you will not be able to claim the Pension Credit savings credit. To find out more see Age UK's 'what the new pension reforms mean for you'

Universal Credit changes

The work allowance in Universal Credit, the amount you can earn without your benefit being affected, will be reduced from April 2016. For disabled people and people with children it will be reduced to £192 per month if you have housing costs and £397 per month if you don't have housing costs. The work allowance will be abolished altogether from April 2016 for non-disabled, childless claimants meaning your benefit is reduced as soon as you start earning.

The Childcare Costs element of Universal Credit currently pays for 70% of your registered childcare costs up to a monthly limit of £532 for one child or £912 for two or more children. From 11 April 2016, this will increase so that you will be able to claim back up to 85% of your paid out childcare costs up to a monthly limit of £646 for one child or £1108 for two or more children.

Other changes

National Minimum Wage increased

The National Minimum Wage will be 'rebranded' as the National Living Wage and will be increased to £7.20 per hour for those 25 or over from April 2016. It will reach £9.00 per hour by 2020.

Personal tax allowance increased

The Personal Tax Allowance, the amount you can earn before paying income tax, will be increased from £10,600 to £11,000 from April 2016. It will be further increased to £12,500 by 2020 and thereafter it will automatically be set at the same level as 30 times the National Living Wage (National Minimum Wage).

Rent changes for social tenants

From April 2016 social housing rents will be reduced by 1%, or in some exceptions frozen, for four years.
The Void also asks:Does The End of Social Security Lie Behind Osborne's Savings Hand Out?
The use of personal savings accounts as a replacement fot the social security system has long been an ambition of free-market extremists desperate to eradicate any form of social spending.  As the Think Tank Review website reminded us last year, the Adam Smith Institute proposed Fortune Accounts way back in 1995.  The suggestion was that individuals should pay into a pot of money to fund any future periods of sickness or unemployment.  More recently the right-wing Policy Exhange called for the establishment of MyFund accounts in an astonishing report that did not just call for these savings pots to replace unemployment benefits but also suggested that the money could pay for "access to private sector employment support services".  They want us to pay for our own workfare.

Government ministers are already thinking along the lines of some sort of savings or insurance based social security system.  A public sector consultant recently blogged about a meeting – sponsored by health insurers BUPA just by the way – with comedy toff Lord Fraud held at the Reform think tank.   According to the report the Minister for Welfare Reform raised the question of "why do employers insure against sickness absence and why don't individuals?" .
More on the Void.