Posts Tagged 'Iain Duncan Smith'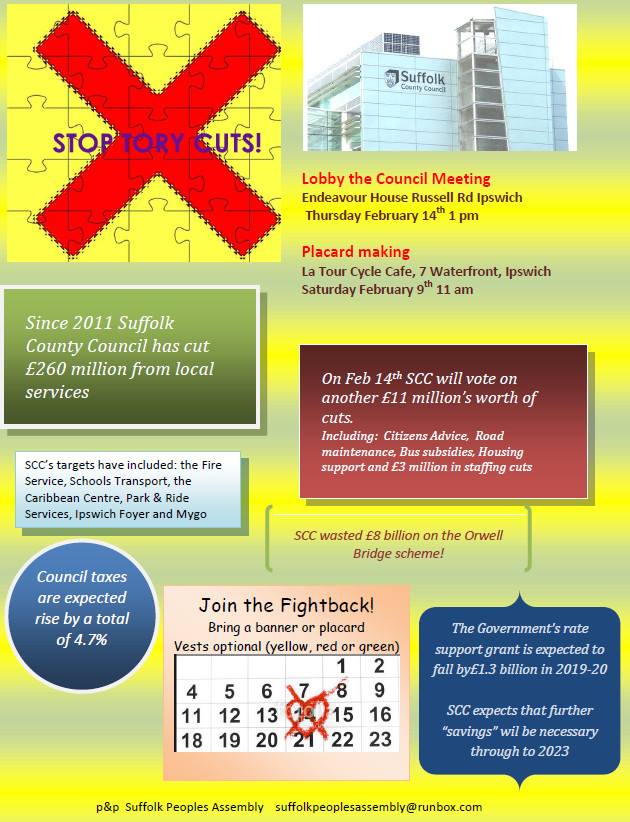 For many people Citizen's Advice is the first port of call when they have problems with benefits, starting with Universal Credit.
Here is what's happening with our Citizen's Advice Service in Suffolk.
The East Anglian Daily Times reports:
On Thursday, February 14, the final vote on 2019/20 budget proposals will take place at Suffolk County Council's full council meeting, where divisive cuts to the £368,000 Citizens Advice grant over two years has been put forward by the Conservative administration.

But the opposition Labour group, which has already called for a reversal of the cuts, has now tabled an amendment to ringfence £2,500 from each councillor's locality budget – an £8,000 pot each councillor has to spend on projects and improvements in their ward – for Citizens Advice.

With 75 elected councillors, the proposal would secure £187,500 for Citizens Advice's core funding.

It means that the £184,000 Citizens Advice is set to lose in 2019/20 is covered, while further ways to cover funding will be explored for 2020/21. Sarah Adams, Labour group leader, said the planned cuts were "a dangerous act of self-harm that will pile even more pressure on the council's beleaguered public services".
Here is the CAB's latest statement on Universal Credit.
Citizens Advice reveals half of claimants seeking benefits assistance risk being evicted

Citizens Advice has called for a root and branch overhaul of universal credit, after revealing that half of all claimants who came to it for help managing the new benefit were at risk of being evicted owing to rent arrears and hardship.

Relatively minor changes to the way the benefit operates, announced by ministers in the 2017 budget after coming under intense pressure from campaigners, have "only made a dent in the problem rather than fixed it", the charity said.

The minimum five-week wait for a first benefit payment left nearly half of claimants it advised unable to pay household bills, or forced them to go without essentials such as food or heating, it said, while 54% had to borrow cash from family and friends to stay afloat.

"Half the people we help with universal credit are still struggling to keep a roof over their heads while they wait for their first payment," said Gillian Guy, the chief executive of Citizens Advice.
Here is the CAB Press Release:
People claiming Universal Credit are still struggling to pay for the roof over their heads, despite the wait for their first payment being reduced from 6 weeks to 5, new Citizens Advice data shows.

1 in 2 people the charity helped were in rent arrears or fell behind on their mortgage payments, the same number as when the wait for the first payment was longer.

Citizens Advice also found 60% of people it helped are taking out advances while they wait for payment.

The research also found that, following changes by Government in 2017, fewer people are falling behind on their bills or going without essentials during the wait period. Payment timeliness has improved – now 1 in 6 people are not paid in full and on time, while previously it was 1 in 4.

The report, Managing Money on Universal Credit, released today, reveals new analysis based on the 190,000 people Citizens Advice has helped with Universal Credit.

Among the people the charity helps with debt and Universal Credit:

Debt problems are more common for the people we help with Universal Credit than those claiming benefits under the previous system, with 24% of the people we helped with Universal Credit also seeking debt advice.

Nearly one in two (47%) have no money left after essential living costs (such as food, housing and transport) to pay creditors, or are spending more than they take in.

More than 4 in 5 (82%) hold priority debt such as council tax, rent arrears or mortgage payments, and energy debts.

Citizens Advice is calling on the government to make Universal Credit far more flexible to fit around people's lives and to make sure people have enough money to live on.

It also wants Alternative Payment Arrangements to be more widely available, allowing for rent to be paid direct to a landlord, more frequent payments, and a payment to go to both members of a couple.

Just 3% of claimants currently receive more frequent payments, while just 20 households in the UK receive split payments to different family members.

Four in 10 of the people helped by Citizens Advice are aware of managed payments to landlords, while just 1 in 6 know payments can be made more frequently.

Gillian Guy, Chief Executive of Citizens Advice, said:

"Half the people we help with a Universal Credit claim are still struggling to keep a roof over their heads while they wait for their first payment.

"Changes to the waiting period for first payment have improved things for many people, but our evidence shows they don't go far enough.

"Universal Credit must continue to be reformed so it works for all claimants and leaves people with enough money to live on."
I watched this last night:
Life on Benefits: Universal Credit?
Brexit might be dominating the headlines – but arguably one of the biggest changes to the welfare state in a generation is the roll out of Universal Credit – which could affect over eight million people across the UK.

Tonight, Richard Bacon explores the impact of Universal Credit and meets some of those receiving the benefit.

CRITICISM

Universal Credit was announced in 2010 by Tory politician Ian Duncan Smith as a way to combine many benefits and incentivise people into work, but critics are furious that it's bringing hardship to many families.

The Trussell Trust are a nationwide network of food banks and say the use of food banks have increased by 52% in areas where Universal Credit has been introduced.
Fair enough as it went, but it could have been an hour long instead of 30 minutes.