Posts Tagged 'I'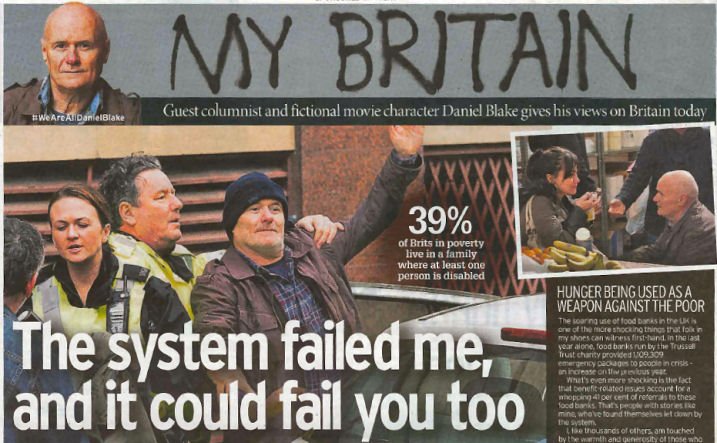 Corbyn Urges PM to See I, Daniel Blake.
During Prime Minister's Question Time on Wednesday this happened (BBC)
Jeremy Corbyn asked Theresa May why she was bringing in cuts to Universal Credit.
The Labour leader said her predecessor David Cameron had abandoned cuts to tax credits, but these changes were now being brought back via Universal Credit.

But the prime minister defended changes to benefits and she said it was "important to value work", and that struggling families were struggling to pay for the benefits of others.
The Guardian summarises,
Today's exchange was almost wholly around benefits. Jeremy Corbyn recommended that the prime minister should "support British cinema" by going to see Ken Loach's I, Daniel Blake during a series of questions about benefit sanctions, universal credit cuts and cuts to the employment support allowance for disabled people. He accused Theresa May of "imposing poverty on people" under the guise of helping them find work. In response, May said Labour was in favour of no sanctions and no obligation on claimants to prove they were unfit for work, and that the benefits system needed to also be fair to the people who pay for it. She said Labour had lost touch with its working-class support and the Tories were now the true party of the working classes.
They add,
Memorable lines

It's time we ended this institutional barbarity against the most vulnerable people in the system.

Jeremy Corbyn urges May to undo benefit sanctions.

The Labour party is drifting away from the views of working-class people. It is this party that knows how to support them.

May accuses Labour of abandoning its core supporters
The Mirror observes,
Prime Minister's Questions. She got her knickers in a twist when she somehow called an MP Jeremy Corbyn's son.

She then brazenly claimed the Tories were the party of the working class when she was told to end cruel benefit sanctions and watch hit film I, Daniel Blake.
The Guardian further reports,
Corbyn urges May to see I, Daniel Blake to gain insight to life on welfare. Heather Stewart

Jeremy Corbyn is urging Labour members to attend a series of special screenings of the campaigning Ken Loach film I, Daniel Blake, in the run-up to Philip Hammond's autumn statement, in an effort to rally support against planned cuts to disability benefits.

The film, currently on release in cinemas, details Blake's struggles with the complex bureaucracy of the benefits system, and was made after the director researched the lives of welfare claimants.

At Wednesday's prime minister's questions in the House of Commons, the Labour leader suggested May should "support British cinema" by watching the film, to give her an insight into the struggles faced by the "just managing" families she has pledged to help.

Corbyn will attend a special screening of the film on 17 November – less than a week before the autumn statement – as will a series of other frontbenchers, including shadow home secretary Diane Abbott, and shadow chancellor John McDonnell.

McDonnell said: "I, Daniel Blake was one of the most moving films I've ever seen so I'm very pleased we have teamed up with Ken Loach to urge people to go and watch it at these special screenings taking place before the autumn statement.

"We're living in an I, Daniel Blake society as a result of having the Tories in power for six years. The government should be caring for sick and disabled people, not making their lives worse.

In particular, Labour is calling for Hammond to scrap cuts to the employment and support allowance. ESA, which goes to sick and disabled people, who either can't work or are trying to find employment, is due to be reduced by £30 for some new claimants from April next year. Labour has said it would reverse the policy.

The ESA cut is one of a series of planned reductions in benefits for future years set out by George Osborne before he was removed as chancellor by May in June.

Damian Green, the new work and pensions secretary, has signalled that there will be no fresh cuts in the welfare budget; but his department have insisted they will go ahead with reductions set in train by Osborne, including £3bn a year due to be trimmed off the cost of universal credit.

Tory backbenchers have expressed concerns about the potential impact of some of the changes on poorer families, with backbencher Heidi Allen leading calls for the UC cuts to be reversed – a cause that has also won the support of Green's predecessor, Iain Duncan Smith.

Duncan Smith has called on Hammond to use his autumn statement, which will reveal the first estimates from the independent office for budget responsibility of the economic impact of Brexit, to cancel planned tax cuts, and spend the money saved on making UC more generous.

Corbyn challenged the prime minister on the various benefits cuts in the House of Commons. She responded by claiming Labour would like to see "no assessments, no sanctions and unlimited welfare" – an assertion later denied by Corbyn's spokesman
Written by Andrew Coates
November 3, 2016 at 11:23 am
Posted in Conservative Party, Cuts, Damian Green, DWP, Government, Housing Benefit, Incapacity Benefit, Sanctions, Tories, Unemployment, Universal Credit, Welfare Reform, Welfare State
Tagged with Cuts, Daniel Blake, DWP, Food Banks, I, sanctions, Teresa May, Universal Credit