Posts Tagged 'Frank Field'
Damian Green DWP Minister (who?): Still on Holiday.
I, like many of us, am in two minds about posting this: Frank Field is pretty dodgy, and Pretty Dodgy is Frank Field.
But here goes.
This story follows this:
MPs launch investigation into 'punishing' Universal Credit rollout
DWP in denial about Universal Credit hardship, says Work and Pensions Committee.

From Welfare Weekly 16th of March.
Work and Pensions Committee Chair, Frank Field MP, says the DWP have their "head in the sand" about hardship caused by Universal Credit.
The Work and Pensions Committee has accused the government of having their "head in the sand" about problems with the roll-out of Universal Credit, which is replacing a number of existing benefits with one single monthly payment.

The committee says it has heard "compelling evidence" about "serious knock-on effects" caused by the roll-out of Universal Credit around the country, including rising rent arrears and problems resulting from "a built-in six-week delay" between someone applying for the new benefit and receiving th

Recent research warned the government's flagship Universal Credit scheme is causing significant anxiety and leaving many claimants reliant on the generosity of food banks to get by.

A study commissioned by Community Housing Cymru (CHC) found that rent arrears among Welsh Universal Credit claimants was more than three-times higher than the UK average – £450 compared to £131.

Commenting on the research, Frank Field MP, chair of the Work and Pensions Committee said: "Huge delays in people receiving payments from universal credit have resulted in claimants falling into debt and rent arrears, caused health problems and led to many having to rely on food banks."

He added: "It is bad enough that UC has a built-in six-week wait between someone applying and receiving their first payment, but we have heard that many have to wait much longer than this.

"The adverse impact on claimants, local authorities, landlords and charities is entirely disproportionate to the small numbers currently claiming UC, yet Lord Freud has told us he thinks it will take decades to optimise the system.

"We have therefore felt compelled to investigate UC yet again. We will examine what its impact is on claimants and those local bodies which deal with them, and what government needs to do to ease the pressure on those worst affected."

Former Welfare Minister Lord Freud told the Committee in an evidence session that Universal Credit might take "decades to optimise".

But despite mounting evidence that UC is causing severe hardship for many people, the Department for Work and Pensions (DWP) continues to claim that rent arrears associated with UC will be short-lived and should not present an insurmountable obstacle to landlords.

Frank Field said: "Despite a growing body of evidence about the very real hardship the rollout of Universal Credit is creating for some, often the most vulnerable, claimants – and the struggles it is creating for local authorities trying to fulfil their responsibilities – it is flabbergasting that the Government continues to keep its head in the sand.

"There is no urgency in the Government's attempts to solve, for example, the incompatibility between Universal Credit and a council's duties to those in emergency temporary accommodation.

"This is affecting some of society's most vulnerable people, at a point of crisis, yet the Government appears unwilling to take the action it could to solve this and simply remove these people from the Universal Credit system."
The Report cited above:
Tenants given a platform to voice their opinions on the impact of Universal Credit
The first-ever Welsh research report into the impact of Universal Credit (UC) from the tenants' perspective will be launched in Cardiff today (Thursday, 9th March).
Community Housing Cymru (CHC), the membership body for Welsh housing associations, commissioned Cardiff Metropolitan University to carry out the research with Welsh social housing tenants as part of its Welfare Defence Programme.
Cardiff Metropolitan University worked with tenants by enabling them to design the research question and undertake the research themselves, using focus groups made up of their peers.The independent research, funded by the Oak Foundation, explores tenants' experiences of UC, barriers to engaging with their landlord and solutions to overcome these barriers.
The report found that:
There can be 4-8 week delays in payments, causing significant anxiety and forcing several people to access food banks to get by.
Tenants often rely on their peers for support and information. A huge barrier for some tenants engaging with their landlord and the DWP was due to confidence ,literacy issues and the personal cost of contacting these organisations.
 Generic rent arrears letters were not seen as effective.
Participants wanted more communication between their landlord and the DWP as they had no way of knowing if rent increase charges had been taken into account as part of their new UC payment.
The UK average for rent arrears is £131. However, this more than trebles in Wales to £450 under UC which emphasises the importance of this piece of research.
Stuart Ropke, Chief Executive of Community Housing Cymru, welcomed the report's findings. He said: "This report is the first of its kind about the impact of Universal Credit (UC) from tenants' perspectives, uniquely undertaken by tenants themselves. CHC's members are actively working to mitigate the impact of UC and, while it's heartening to read the praise for support staff from tenants, there is a lot we can learn from this research."
Stuart added: "UC has created a vacuum between tenants and landlords. Under the current system, many landlords do not know if their tenants are on UC and are therefore having to pay their rent themselves. They are often only alerted to the fact that they are on UC when they fall into arrears.
Paul Langley, Head of Business Development for CHC's Your Benefits are Changing project added:'We currently do not have automatic access to information about which tenants are on UC and we are working with the DWP on a solution to improve this. The landlord portal, once rolled out, will improve data sharing to enable a personalised approach which is essential to ensure that we support tenants moving on to UC."
Amanda Protheroe, one of the report's authors said: "Our hope is that this report reflects the experiences of tenants who are dealing with the issues around Universal Credit. Tenants were clear about issues and barriers to their communicating with both the DWP and their landlords but were most keen to discuss solutions. The overarching message was around the quality of relationships tenants had with these organisations with kindness being mentioned as something the tenants really valued."
You can read the report here.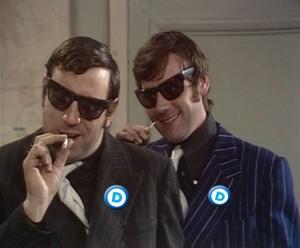 Doug and Dinsdale Piranha: 'In-work' Services for Universal Credit. 
Welfare Weekly signals new barriers for claimants, and a potential growth area for "sanctions".
MPs are to examine Iain Duncan Smith's plans for "in work conditionality" within the Universal Credit system, it has been announced today.
The Work and Pensions Committee has opened an inquiry into controversial government proposals, which would see Universal Credit claimants on low earnings required to increase their pay or hours to continue receiving benefits.

(Note: the word "required" – no the low paid will not be free to decide how much they work, but they will be "required" to undertake).

The Department for Work and Pensions (DWP) intends to begin "in-work progression" pilots in 2015/16, where benefit payments may be stopped if claimants fail to take action as required by the DWP.

(Note: has their ever been a "pilot" which the DWP has not deemed a "success?).

A range of pilot schemes will test different approaches to in-work conditionality within Universal Credit, but the Work and Pensions Committee says there is very little detail available about the schemes.

MPs will also look at which organisations are best-placed to deliver the in-work service, including JobCentre Plus and providers from the private, public or voluntary sectors.

(Note: our heart sank when we saw this: it means the Iain Duncan Smith has the intention of letting the bunch of private chancers already ready to leap at the opportunity to exploit the benefit system to their own advantage, in on this little wheeze).

The Committee's inquiry will ask which claimants should be included in the pilot schemes and which should be exempt, as well as asking under what circumstances it be appropriate to sanction a Universal Credit claimant who is in work.

(Note: the word "sanction" – a fine threat for somebody working in a low paid job).

Most importantly, MPs will investigate whether any international evidence exists on effective ways of encouraging in-work progression, and whether employers can be encouraged to help workers increase their hours.
The Committee is calling for individuals and organisations to submit evidence addressing the following issues:
DWP's plans for in-work progression pilots in 2015/16, and how they should be evaluated
Which organisations are best-placed to deliver the in-work service for DWP e.g. Jobcentre Plus/other providers from the private, public or voluntary sectors?
What should in-work progression support entail and how should it be delivered (e.g. regularity and nature of contact with claimants)?
Which groups of claimants should be included and which should be exempt?
How should employers be encouraged to facilitate progression?
In what circumstances would it be appropriate to sanction a Universal Credit claimant who is in work?
Is there any UK or international evidence on effective ways of encouraging in-work progression?
Frank Field MP, Chair of the Work and Pensions Committee, said: "The welfare-to-work strategy of successive governments has begun to crack the dependency on out-of-work benefits that had appeared to be an almost intractable problem.

"Efforts now also need to be focused on a welfare-to-work strategy that not only moves claimants off out-of-work benefit, but more importantly helps them move up the pay ladder and out of poverty.

"Too many people on low benefit incomes have been encouraged into low-paid jobs whose rewards are only brought up to a more acceptable income level by tax credits and other in-work benefits.

"I hope our Committee therefore will examine the available evidence and carefully develop an approach to in-work support which is effective, and which people accept as fair."
In other words Field considers that, "dependency" having been cracked – cruel but fair methods have to be found to 'encourage' people to fit into a "more acceptable" (acceptable to Field no doubt – there is little evidence that the people concerned are going to decide on the acceptability of the government's plans).
Field and Iain Duncan Smith, the Piranha Brothers.