Posts Tagged 'Fake News'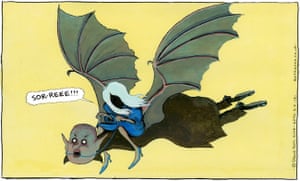 Esther Tries to Ride out the Storm.
Our Newshawks spotted this one:
Esther McVey has to go. Her downright lies are dangerous
In a world of fake news and downright mendacity, lying to parliament may seem like just another day in politics. But the work and pensions secretary Esther McVey's non-apology in the Commons on Wednesday, deliberately repeating fabrications about the universal credit (UC) disaster, takes indifference to facts to a new level of insolence.

The comptroller and auditor general, Sir Amyas Morse, who is in charge of the rigorously independent National Audit Office, has a reputation for strict propriety and extreme circumspection in his public comments. It takes unprecedented misrepresentation of an NAO report to force him to take the extraordinary step of publishing his letter of reprimand to the minister in charge of the Department for Work and Pensions. What else can he do when this minister has the effrontery to refuse to meet him? She plainly takes a Trumpist approach to inconvenient realities, so why bother meeting this annoying nitpicker?

…

McVeyism is everywhere. Duncan Smith, the architect of UC and many other calamities in one of the most disaster-causing political careers of our time, had the gall to tell parliament that Morse's report is "a shoddy piece of work". As he appears on our screens day after day propounding preposterous Brexit unrealities, broadcasters should ask if there comes a point when a politician found responsible for an act of such monumental failure is stripped of all public credibility? As for McVey, her deliberate misleading of parliament is considerably worse than the actions that led to Amber Rudd's resignation as home secretary earlier this year after she inadvertently misled the home affairs select committee. But there is no sign of any such honourable resignation from McVey.
Our friends in the Mirror report,
Esther McVey faces calls to quit after apologising for misleading MPs about benefits shake-up
Labour demanded a probe into whether the Work and Pensions Secretary broke the Ministerial Code after her humiliating climbdown over Universal Credit.
Labour Shadow Cabinet Office minister Jon Trickett demanded Mrs May investigate whether Ms McVey broke the Ministerial Code – which governs Whitehall ethics.

He wrote to the Prime Minister: "I urge you to conduct a full investigation into [Ms McVey's] conduct to determine whether she knowingly misled Parliament."

Shadow Work and Pensions Secretary Margaret Greenwood said: "The NAO report is damning about the roll out of Universal Credit, the Government's flagship welfare programme.

"If she didn't read it properly, that's incompetence. If she did read it properly and knowingly misled Parliament, then she should resign."

Lib Dem welfare spokesman Stephen Lloyd said: " Esther McVey 's contempt for inconvenient facts and independent, reputable bodies such as the NAO shows she is unfit for office. Theresa May should replace her."

Commons Work and Pensions Committee chairman Frank Field added: "I've never seen a letter from the National Audit Office like this before in the 40 years I've been in Parliament.

"It's clearly a call to end this Trumpism in British politics when you think you can stand up and say anything about what any other people have actually said."

PCS union general secretary Mark Serwotka said: "The apology from the minister will do nothing to convince those using Universal Credit, or our members who administer it, that the scheme works.

"The fact that the Auditor General has felt the need to make a public statement that the minister's claims that Universal Credit is working are not 'proven' is a damning indictment."
But who would have guessed that the far-right Mail would say this?
Work and Pensions Secretary Esther McVey is facing calls to quit after issuing a grovelling apology for misrepresenting the findings of a Whitehall watchdog.

Ms McVey has said sorry for 'inadvertently misleading' MPs by wrongly claiming the National Audit Office (NAO) had concluded benefit reforms were working.

The admission in the House yesterday came after the NAO went public with a spat over a report it published last month savaging the government's flagship benefits shake-up.
This is her last known Tweet:
If she won't resign boot her out!