Posts Tagged 'disability'
The British Psychological Society (BPS) has joined forces with other psychological bodies to call on the UK Government to suspend its cruel and degrading benefit sanctions regime.
BPS says the benefit sanctions regime, where vulnerable people can have payments docked for weeks or months at a time for failing to adhere to often unreasonable requirements, does not help people back to work and damages their mental health.

The call comes in response to the Government's 'Improving Lives' consultation and following a recent report from the National Audit Office, which found there is little evidence to prove sanctions encourage people to look for work or offer value for money to taxpayers.

Benefit sanctions can also result in destitution, hardship, widespread anxiety and feelings of disempowerment, the psychologists say.
Welfare Weekly also reports,
Welfare reform is killing people, but the Tory press don't want you to know

Rising numbers of deaths all linked to the ongoing welfare reforms remain unreported.

The manipulation of the British public is not difficult to achieve when the entire national press and media resist alerting the nation to the realities behind the ongoing welfare reforms.

The future demolition of the UK welfare state was planned long ago by a previous Tory government, and the 2008 banking crisis was simply the excuse needed to permit the demolition of the welfare state to begin.

Introduced in the UK by Thatcher, toxic neoliberal politics has swept the world where cash, not care, is deemed to be a virtue and the driver of national success, regardless of human consequences.

What remains unreported are the rising numbers of deaths all linked to the ongoing welfare reforms, numbering in excess of 100,000 chronically sick and disabled people since January 2011, as the Department for Work and Pensions (DWP) once again refuse to publish the updated mortality totals.
One aspect of the sanctions regime that is extremely cruel is its use against disabled people, which comes as part of a 'package' of regressive measures.
This article from the Guardian is a timely reminder,
The truth behind rising disabled employment: cuts, death and zero-hour contracts
 The disability employment gap is narrowing, but this is against a backdrop of sanctions, funding cuts and insecure employment.
2016 figures showed that more than half of disabled people who appealed their "fit to work" assessment eventually got the decision overturned.

"We're still seeing some really worrying things coming out of those assessments," says Ayaz Manji from the mental health charity Mind. "There's a lot of really poor decision-making. Lots of the people who make those assessments don't understand mental health.

"We've seen people who've been denied the benefit because they've been described as 'well-groomed', or 'able to look somebody in the eye'. But obviously those things aren't a good indication of whether someone has a serious mental health problem that's affecting their ability to work. Often the support that people get is quite generic and doesn't really take their mental health into account."

Employment gap

The chaos surrounding the assessments comes amid a government drive to get more disabled people into work. But although charities and activists share that ambition, they accuse the government of acting counterproductively, with a punitive agenda of sanctions and funding cuts.

In 2015, the Treasury claimed: "increasing employment levels among people with disabilities and health conditions is a key part of the government's aim to achieve full employment." Specifically, the government aims to "halve the employment gap between disabled and non-disabled people".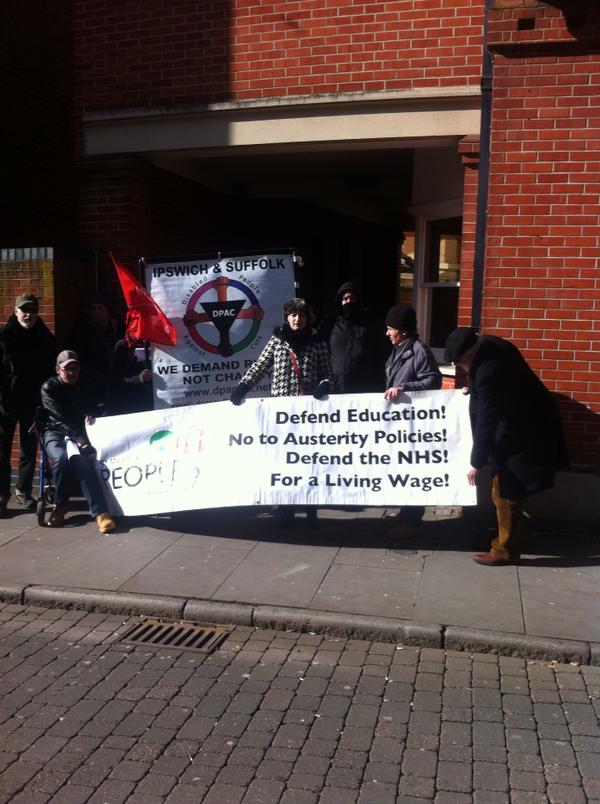 Ipswich Protest Last Year.
Somebody (okay, Martin from Disabled People Against Cuts, DPAC)  spoilt Iain Duncan Smith's Big Day Out (Friday) at Kesgrave, by Ipswich – a venue you can only get easily with your own transport.
Former minister launches Vote Leave campaign in East Anglia

Former minister and Conservative Party leader Iain Duncan Smith was the keynote speaker at the event at Kesgrave Hall – and was joined by business leaders and politicians from other parties.

Among those at the rally was UKIP MEP Patrick O'Flynn, a key backer of the Vote Leave campaign.
A protester in a wheelchair was removed from the meeting after heckling Mr Duncan Smith over his policies when he was Secretary of State for Work and Pensions.
On BBC Look East that evening their were pictures of the stewards roughly bundling Martin out of the Great Man's meeting, shouting his opposition to the hate-ridden polices which Iain Duncan Smith has inflicted on millions.
Duncan Smith was not the only horror there.
UKIP is keeping quiet about it at the moment but in 2013 these were their policies about the unemployed:
UKIP don't just loathe migrant workers.

They hate the unemployed here as well.

We are, UKIP says, "a parasitic underclass of scroungers". (The Void)

They want this policy,

Require those on benefits – starting with Housing and Council Tax Benefit recipients in private rented homes – to take part in council-run local community projects called 'Workfare' schemes. The schemes will be in addition to council jobs.

The Void comments that it is now hard to find the policy document that says this.

But more evidence keeps coming in of their views,

We have this,

"Some long-term benefit claimants would be banned from using their benefit cash to buy cigarettes, alcohol or satellite TV subscriptions under proposals due to be presented at the UK Independence party's spring conference on Saturday.

The proposed ban on paying for satellite TV comes only a fortnight after it was disclosed that Rupert Murdoch, the chairman and biggest shareholder of News Corp, had met the Ukip leader, Nigel Farage, for the first time, prompting speculation that the Sun may support the party."
Which reminds us of this on Welfare Weekly's site:
Would leaving the EU worsen or improve the lives of poor and disabled people?
Results so far: Worsen 59% Improve 21% Don't know 20%
A survey for the Institution of Occupational Safety and Health (IOSH) undertaken by "YouGovStone" returned the devastating verdict that almost three quarters of employers would not give people on Incapacity Benefit (now Employment and Support Allowance) and older people, the opportunity to return to employment. Read the rest of this entry »