Posts Tagged 'David Cameron'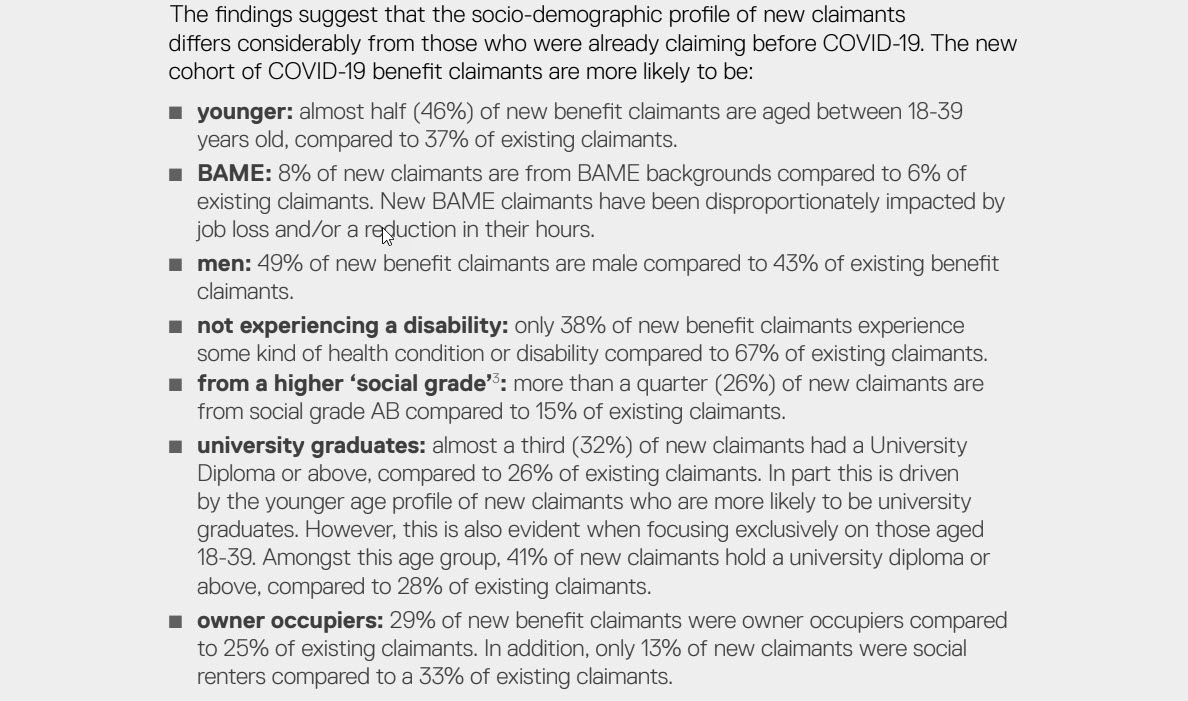 The New Wave of Claimants.
A few days ago this was the news (BBC),
The UK unemployment rate has risen to its highest level for two years, official figures show.

The unemployment rate grew to 4.1% in the three months to July, compared with 3.9% previously.

Young people were particularly hard hit, with those aged 16 to 24 suffering the biggest drop in employment compared with other age groups.
The below sheds some light on who the new claimants are,
Who are the new COVID-19 cohort of benefit claimants?
University of Salford Manchester.
Since March 2020, we have witnessed the fastest increase in the number of people claiming working-age social security benefits in the UK since records began. The incorporation of a new group of benefit claimants into the social security system has presented its own procedural and administrative challenges for the Department for Work and Pensions (DWP). Some commentators have lauded the government's response to the crisis amidst a surge in new claims. Beyond the sheer volume of claimants, recent developments present a fresh set of priorities for those working in benefit, income and employment support. These priorities stem from the considerable challenges facing the UK labour market with sizeable portions of the economy having to adapt to a 'new normal' of altered hours and working practices alongside shifting demand and capacity. Additionally, these priorities stem from a large new group of claimants who face their own unique challenges in accessing adequate social assistance and appropriate employment support during the course of the pandemic.
This is a summary:
The new cohort of COVID-19 benefit claimants are more likely to be:

younger: almost half (46%) of new benefit claimants are aged between 18-39 years old, compared to 37% of existing claimants.
BAME: 8% of new claimants are from BAME backgrounds compared to 6% of existing claimants. New BAME claimants have been disproportionately impacted by job loss and/or a reduction in their hours.
men: 49% of new benefit claimants are male compared to 43% of existing benefit claimants.
not experiencing a disability: only 38% of new benefit claimants experience some kind of health condition or disability compared to 67% of existing claimants.
from a higher 'social grade': more than a quarter (26%) of new claimants are from social grade AB compared to 15% of existing claimants.
university graduates: almost a third (32%) of new claimants had a University Diploma or above, compared to 26% of existing claimants. In part this is driven by the younger age profile of new claimants who are more likely to be university graduates. However, this is also evident when focusing exclusively on those aged 18-39. Amongst this age group, 41% of new claimants hold a university diploma or above, compared to 28% of existing claimants.
owner occupiers: 29% of new benefit claimants were owner occupiers compared to 25% of existing claimants. In addition, only 13% of new claimants were social renters compared to a 33% of existing claimants.
Anybody looking for stories about Universal Credit on the Net will notice that papers, particularly the right-wing loony bin type, are full of clickbait stuff.
They are trying to appeal to the above people who must be looking around for some way to lessen the impact of being on the dole.
Universal Credit: Are you eligible for SDP payments of over £400 a month? Check now (Express)
Universal Credit claimants could receive an additional payment of £812 – rules explained (Express)
This stuff reminds me of the junk-mail you get in your In-Box from Dogsville USA, "New Benefit for Veterans!".
Our contributors by contrast noticed this a couple of days back.
The House:
Scrap Universal Credit and replace it with a system that offers a safety net for all
Labour has long been calling for changes to social security to avoid entrenching people into a cycle of poverty they cannot escape. We have been clear that the Government must adopt five urgent social security measures to provide immediate support to people affected by the coronavirus crisis:
Convert Universal Credit advances into grants instead of loans, ending the five-week wait.
Remove the £16,000 savings limit which disqualifies individuals from accessing Universal Credit.
Suspend the benefit cap.
Abolish the two-child limit in Universal Credit and Tax Credits.
Uprate legacy benefits to match the increase in Universal Credit, providing an immediate increase in Jobseeker's Allowance and Employment Support Allowance.
In the meantime people are struck with the existing system.
This means that a lot of people, a real lot, are having to adjust to things like this:
1.6 million households hit by £60 cut to benefits in just one month
The Tory government has been told that it can no longer ignore calls to turn Universal Credit advance payment loans into non-repayable grants, after DWP figures revealed that 1.6 million households saw their benefits slashed in £60 in just one month at the height of lockdown.

Two in five households on Universal Credit had money deducted from their claim in May, almost entirely to repay loans to the Department for Work and Pensions (DWP).

The shocking figures were obtained by SNP MP and Work and Pensions Committee member, Chris Stephens, in an answer to a written parliamentary question.

Other deductions to repay historic debt and overpayments were suspended in May but now they have resumed, it is likely that more than £1 billion in total will be deducted from Universal Credit claims this year, according to Feeding Britain – who have identified deductions from Universal Credit as one of the prevalent causes of food bank demand.
Well this chap is helping out:
Our Boss is spreading joy and light in a different way:
I watched Sky Arts yesterday.
It is about as entertaining as being stuck on Orford Ness in mid-winter drizzle.
I was not impressed….