Posts Tagged 'Covid-19'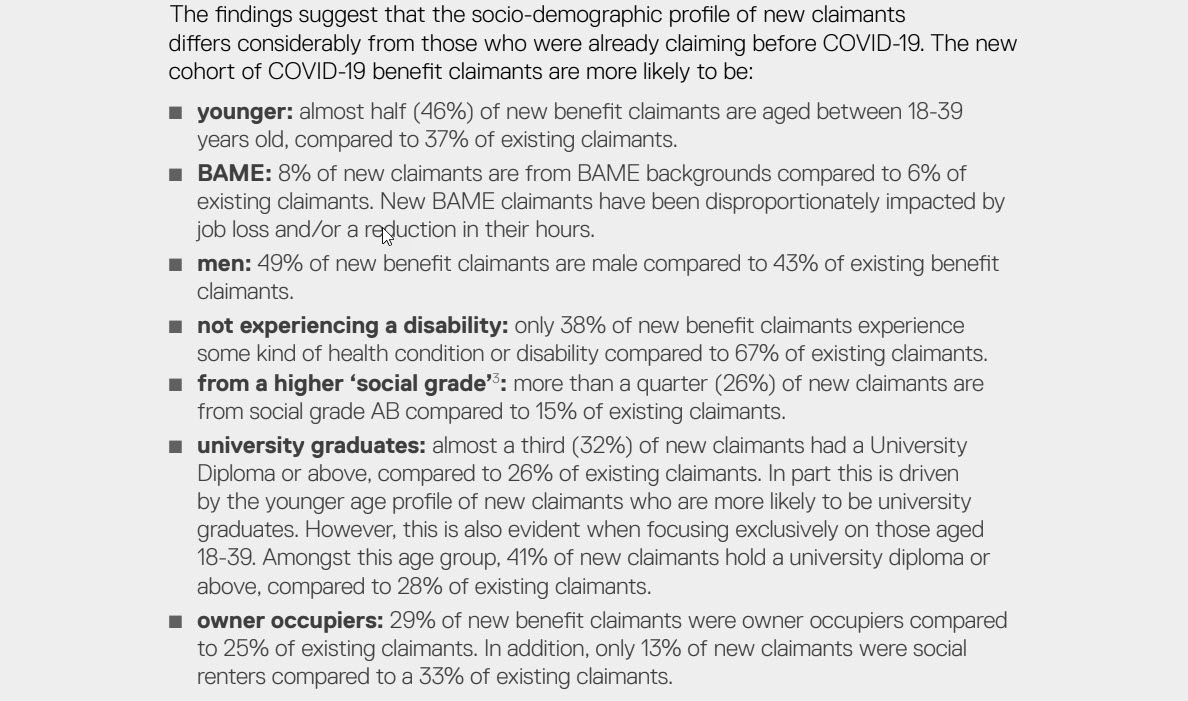 The New Wave of Claimants.
A few days ago this was the news (BBC),
The UK unemployment rate has risen to its highest level for two years, official figures show.

The unemployment rate grew to 4.1% in the three months to July, compared with 3.9% previously.

Young people were particularly hard hit, with those aged 16 to 24 suffering the biggest drop in employment compared with other age groups.
The below sheds some light on who the new claimants are,
Who are the new COVID-19 cohort of benefit claimants?
University of Salford Manchester.
Since March 2020, we have witnessed the fastest increase in the number of people claiming working-age social security benefits in the UK since records began. The incorporation of a new group of benefit claimants into the social security system has presented its own procedural and administrative challenges for the Department for Work and Pensions (DWP). Some commentators have lauded the government's response to the crisis amidst a surge in new claims. Beyond the sheer volume of claimants, recent developments present a fresh set of priorities for those working in benefit, income and employment support. These priorities stem from the considerable challenges facing the UK labour market with sizeable portions of the economy having to adapt to a 'new normal' of altered hours and working practices alongside shifting demand and capacity. Additionally, these priorities stem from a large new group of claimants who face their own unique challenges in accessing adequate social assistance and appropriate employment support during the course of the pandemic.
This is a summary:
The new cohort of COVID-19 benefit claimants are more likely to be:

younger: almost half (46%) of new benefit claimants are aged between 18-39 years old, compared to 37% of existing claimants.
BAME: 8% of new claimants are from BAME backgrounds compared to 6% of existing claimants. New BAME claimants have been disproportionately impacted by job loss and/or a reduction in their hours.
men: 49% of new benefit claimants are male compared to 43% of existing benefit claimants.
not experiencing a disability: only 38% of new benefit claimants experience some kind of health condition or disability compared to 67% of existing claimants.
from a higher 'social grade': more than a quarter (26%) of new claimants are from social grade AB compared to 15% of existing claimants.
university graduates: almost a third (32%) of new claimants had a University Diploma or above, compared to 26% of existing claimants. In part this is driven by the younger age profile of new claimants who are more likely to be university graduates. However, this is also evident when focusing exclusively on those aged 18-39. Amongst this age group, 41% of new claimants hold a university diploma or above, compared to 28% of existing claimants.
owner occupiers: 29% of new benefit claimants were owner occupiers compared to 25% of existing claimants. In addition, only 13% of new claimants were social renters compared to a 33% of existing claimants.
Anybody looking for stories about Universal Credit on the Net will notice that papers, particularly the right-wing loony bin type, are full of clickbait stuff.
They are trying to appeal to the above people who must be looking around for some way to lessen the impact of being on the dole.
Universal Credit: Are you eligible for SDP payments of over £400 a month? Check now (Express)
Universal Credit claimants could receive an additional payment of £812 – rules explained (Express)
This stuff reminds me of the junk-mail you get in your In-Box from Dogsville USA, "New Benefit for Veterans!".
Our contributors by contrast noticed this a couple of days back.
The House:
Scrap Universal Credit and replace it with a system that offers a safety net for all
Labour has long been calling for changes to social security to avoid entrenching people into a cycle of poverty they cannot escape. We have been clear that the Government must adopt five urgent social security measures to provide immediate support to people affected by the coronavirus crisis:
Convert Universal Credit advances into grants instead of loans, ending the five-week wait.
Remove the £16,000 savings limit which disqualifies individuals from accessing Universal Credit.
Suspend the benefit cap.
Abolish the two-child limit in Universal Credit and Tax Credits.
Uprate legacy benefits to match the increase in Universal Credit, providing an immediate increase in Jobseeker's Allowance and Employment Support Allowance.
In the meantime people are struck with the existing system.
This means that a lot of people, a real lot, are having to adjust to things like this:
1.6 million households hit by £60 cut to benefits in just one month
The Tory government has been told that it can no longer ignore calls to turn Universal Credit advance payment loans into non-repayable grants, after DWP figures revealed that 1.6 million households saw their benefits slashed in £60 in just one month at the height of lockdown.

Two in five households on Universal Credit had money deducted from their claim in May, almost entirely to repay loans to the Department for Work and Pensions (DWP).

The shocking figures were obtained by SNP MP and Work and Pensions Committee member, Chris Stephens, in an answer to a written parliamentary question.

Other deductions to repay historic debt and overpayments were suspended in May but now they have resumed, it is likely that more than £1 billion in total will be deducted from Universal Credit claims this year, according to Feeding Britain – who have identified deductions from Universal Credit as one of the prevalent causes of food bank demand.
Well this chap is helping out:
Our Boss is spreading joy and light in a different way:
I watched Sky Arts yesterday.
It is about as entertaining as being stuck on Orford Ness in mid-winter drizzle.
I was not impressed….
'Very unlikely' Universal Credit will survive the Covid-19 pandemic
Welfare Weekly reports,
Redefining the State of Welfare argues it is very probable that Coronavirus will bring to a head discontent with the existing system that has been growing for some time and will lay bare its weaknesses, particularly that of its central element: Universal Credit.

As such, a major public debate or conversation over our welfare state is imminent and inevitable. One idea bound to garner support – and which has a "head start" – is a Guaranteed Minimum Income (GMI) and, in particular, one version of that: a Universal Basic Income (UBI).
Read the full article.
But bear this in mind.
Welfare Weekly is shy about saying too directly that the report, from the Institute of Economic Affairs (an 'ultra' free-market body funded by tax-dodging off-shore companies and various chancers, tobacco firms .  is by a right-wing free-market academic. The author, Steven Davis, is "co-editor with Nigel Ashford of The Dictionary of Conservative and Libertarian Thought (Routledge, 1991).
"The IEA supports privatising the National Health Service (NHS); campaigns against controls on junk food; attacks trades unions; and defends zero-hour contracts, unpaid internships and tax havens." They were also pro-Brexit, as were all business groups that rely on dodgy money moving around the world with as little regulation and taxation as possible (Right-wing think tank Institute of Economic Affairs issued with formal warning after Brexit report 'breached charity law'.)
That said, it is clear that there will be calls for wholesale change in the benefit system, including  a replacement to Universal Credit.
There are many reasons: the delays, the inability to deal with changing incomes, and the (so far) temporary effort to cover rents, which is unlikely to continue, the injustice of having one rate for UC claimants, and a lower one for those on 'legacy benefits', the injustice of claimants paying wildly different percentages of Council Tax across the country, and the Sanctions Regime, which may return with a vengeance. Not to mention that the very problematic future of the Welfare-to-work schemes and the private 'Unemployment Business' involved in 'training'….
Our contributors could add to this list…
In case anybody wants a guide to applying for UC,all its traps and pitfalls, and the present waivers for Job Search and the rest this is good.
Note this (which of course only applies to those getting the higher rate):
"concerns have been raised about the £1,000 boost (about £90 a month) only being in place for 12 months.
Shadow work and pensions secretary Jonathan Reynolds said: "If the Government believes this level of support is necessary during lockdown, why do they believe people will need less money when the (lockdown) ends and the normal cost of living would apply?"
Welfare Weekly continues,
Redefining the State of Welfare outlines two possible partial measures that could be introduced, that would be followed by a "recovery basic income" in which more substantive reforms would be made as part of a process of recovering from the pandemic and which would start the process of moving the system towards a GMI.

The main alternative, as outlined in the briefing, is that of Universal Basic Services: the state owns productive assets and uses them to provide a range of essential services either free of charge to the end user or for a flat rate and nominal fee (designed to regulate demand rather than fund the service).
That's true, but nobody had solved the simple problem that any Universal Income faces: we do not universal equal expenses, rents are not the same, disabled people do not have the same costs, and, frankly, why should the well-off get even more money?
By contrast, apparently this is the more typical IEA supporters'concern:
Many free-market liberals sceptical of a UBI are even more alarmed by the idea of UBS, on civil liberties grounds.
Hard to get that one. I suppose they mean the liberty of private companies to live off the public purse by drawing money from contracting out, or the freedom of people to get better health care if they can pay for it. Universal Basic Services would have to – at least its supporters think – mean upgrading, not downgrading. UBS would mean an end to privileged access, or would it? It could equally mean a 'basic' provision, and a better one for the better off…
But there's also plenty of problems for those who cherish equality. If everybody gets free access to basic services, including housing, does this include food, drink, transport? Most people would think that different needs still exist, not everybody is ever going to get them satisfied, until we have a society where "from each according to her/his abilities to each according to their needs". Anybody with greater resources to start with is bound to get more services. Not just fine wines and meals, but the rest of a better life-style.
The IEA report does make some sense if we look it as "blue skies thinking" without much regard to practical issues, not to mention the whole structure of the DWP/Job Centres….
We can perhaps only agree on this:
Moving to a UBI is not simply a matter of practicalities such as cost. It also raises fundamental questions about the way we live, how we as a society see ourselves, our institutions, and the relations between us – which again cut across conventional ideological divides.

The Coronavirus crisis therefore will almost certainly trigger a debate that will have an uncertain outcome. What seems very unlikely is that the status quo will survive the experience of the pandemic.
The report itself, Redefining the State of Welfare, ends by saying,
Major crises and interruptions to the regular course of events are always both a cause of and opportunity for reflection on how things might change.They have historically been the occasion for systematic welfare reform.

The Covid-19 epidemic has already begun a conversation, which is certainly going to continue, and with the idea of a GMI or UBI as one of its major elements. It is almost certain that the status quo in welfare will not survive this test, so this is a conversation that will have effect. What should not happen is for foundational questions to go unexamined or for one agenda to win by default.
Why would right-wing loony-bins back UBI?
Not for loony reasons.
Indeed the IEA are far from the kind of wild alt-right ranter against 'Globalism' some might across.
This looks like one possible explanation (the article is about the Adam Smith Institute in 2018  but applies to the IEA and now).
A right-wing think tank is now supporting Universal Basic Income – but they've missed the point
Once implemented, for example, it is easy to imagine a scenario in which leading conservative politicians and think tanks would argue that individuals will now have the "economic autonomy" with which to meet their own individual health care needs, resulting in a rapid withdrawal of funding for the NHS and social welfare, and the implementation of a US-style healthcare system. While a "basic" individual health care insurance policy might be affordable and calculated into a UBI payment, a traumatic life-changing injury or disease would push the burden of responsibility back onto the individual with no social safety net for protection beyond their personal payments.
Left-wingers have their own answers:
Thus, we should welcome the proposal for "Universal Basic Services" that researchers at UCL put out a few months ago. Generally much cheaper than a UBI, UBS offers something different: free housing, food, transport, education, forms of communication, healthcare and legal aid for all. Creating free, essential services – and not just distributing free money – could be the way forward.
We await our new Beveridge Report…
DWP Picture with Tasteless Cartoon Images of the Virus.
Our contributors, campaigners, including this Blog, have been critical of Universal Credit from its creation.
However careful and sensitive we wish to be it's impossible not to see ways in which UC has created difficulties for the enormous numbers of people now having to claim the benefit.
It's no good trying to cover this up.
The BBC reports,
Some people applying for universal credit for the first time have found themselves worse off after losing their existing benefit payments.

The system means legacy benefits such as tax credits are stopped at the point of application, even if the claim proves to be unsuccessful.
One applicant said his family was worse off "at the click of a button".

Universal credit claims have soared amid the coronavirus outbreak, with the next figures published on Tuesday.
It is obvious that these kind of difficulties are the tip of a giant iceberg of problems facing the new Universal Credit claimants.
The numbers claiming are set to rise and rise.
Faced with the crisis the DWP Minister, Therese Coffey, seems, on her twitter feed, to be more concerned with scoring political points against Keir Starmer and Sadiq Khan, and a "nice weekend on Suffolk Coast" than doing her job sorting out these kind of problems.
This, suitably grim Opera, based on an even grimmer poem about a cruel fisherman, a miserable tale located in a hamlet just next to Suffolk seaside town, Aldburgh, is our Minister's night-time entertainment.
She re-tweeted this…
"Peter Grimes is part of a collection of rural poems published by George Crabbe in 1810 called 'The Borough'. This poem explores the criminal psyche."
Old Peter Grimes made fishing his employ,
His wife he cabin'd with him and his boy,
And seem'd that life laborious to enjoy:
To town came quiet Peter with his fish,
And had of all a civil word and wish.
He left his trade upon the sabbath-day,
And took young Peter in his hand to pray:
But soon the stubborn boy from care broke loose,
At first refused, then added his abuse:
His father's love he scorn'd, his power defied,
But being drunk, wept sorely when he died.
I did this poem for 'O' level English literature…..