From Disabled People Against Cuts. (signaled via the Void)
Disabled People Against Cuts have called a Revenge Tour beginning on April 18th and including visits to the constituencies of Esther McVey and Iain Duncan Smith.  Please help spread the word.  From their website:
A fortnight of Fight Back and telling politicians throughout the UK what we think of them and what they MUST do if they want our votes.
Everywhere from April 18th – May3rd. Select your favourite politician or issue to campaign on.
Some funding is available for travel bursaries with priority given to members.
April 23rd (Thursday) National DPAC will be going to Wirral West constituency to visit Esther McVey. Meet noon at the Job Centre, Market Road, Hoylake.
Esther's constituency is very marginal and at the moment she looks set to lose her seat. We want to help facilitate that.
April 25th (Saturday) National DPAC will be going to Chingford to visit Iain Duncan Smith. Meet 2pm outside Chingford Rail station. Trains from Liverpool Street.
Please get in touch with us at mail@dpac.uk.net to let us know if you want to go to one or more of these events or would like help with travel costs.
Please also arrange your own events and send us details.
Join and share the facebok page.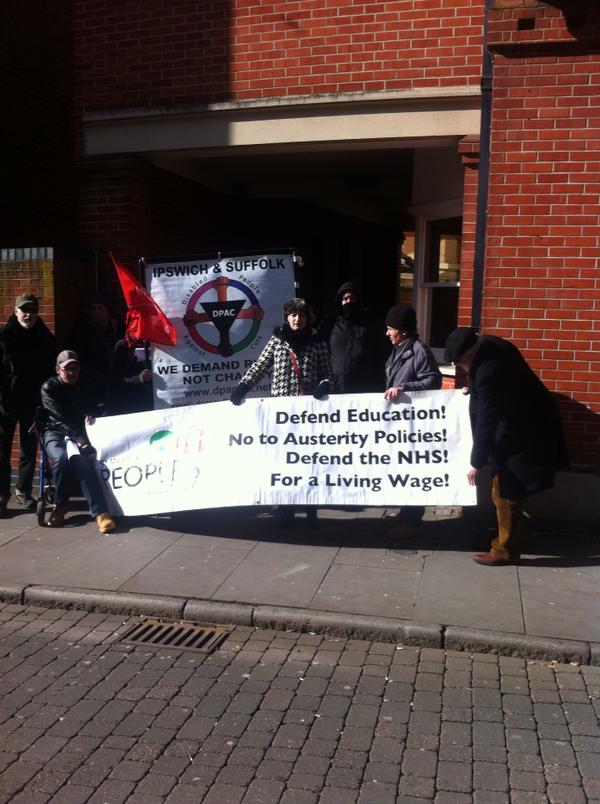 DPAC Protest in Ipswich with Suffolk People's Assembly.