Archive for the 'Liberal Tory Coalition' Category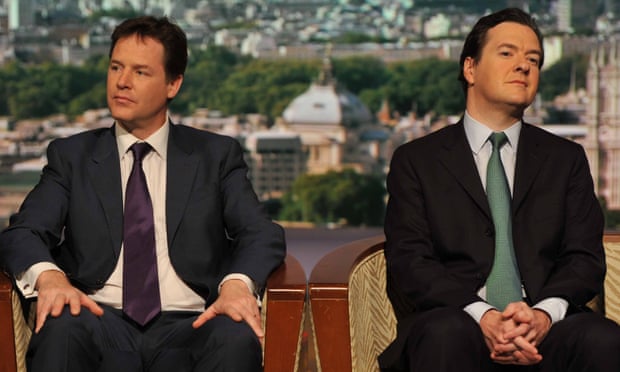 Clegg and Osborne Enjoy a Special Moment Together. 
This says it all .
Clegg: Osborne casually cut welfare for poorest to boost Tory popularity (Guardian today)
Exclusive: Former deputy PM says 'cynical' ex-chancellor was not bothered about human consequences.

Nick Clegg has accused the former chancellor George Osborne of casually cutting the benefits of the poorest people in society because he believed taking the austerity axe to welfare would boost Conservative popularity.

In a candid interview looking back on his five years as deputy prime minister in the Tory-Lib Dem coalition, Clegg said he found the behaviour of his senior Conservative partner "very unattractive, very cynical".

"Welfare for Osborne was just a bottomless pit of savings, and it didn't really matter what the human consequences were, because focus groups had shown that the voters they wanted to appeal to were very anti-welfare, and therefore there was almost no limit to those anti-welfare prejudices," he told the Guardian.

Speaking before the publication of his anticipated political memoir, written after his party was reduced to eight seats in last year's general election, Clegg hit out at David Cameron and his Conservative partners in government. He said the former Tory leader or the chancellor – "I honestly can't remember whom – looked genuinely nonplussed and said: 'I don't understand why you keep going on about the need for more social housing – it just creates Labour voters.' They genuinely saw housing as a Petri dish for voters. It was unbelievable."
See the Comments. (4080 at the time of writing this post).
For example:
This doesn't surprise me. The vermin's support base practically put the bunting out whenever cuts are aimed at the unemployed, single mothers or working poor but cry like babies when the nice to have freebies are taken away for the affluent old.

The Tory support base are nasty pieces of work. There is a section of the electorate who'll vote Tory not in spite of them being a hateful class war party with no compassion for the weakest but because they are a hateful classwar party with no compassion for the weakest.

These people complain when they are called out on their behaviour.
And,
 Its amazing what short memories some people have when it comes to state benefits.
He didn't cuts the £85bn in corporate welfare handouts
But did cut to Personal Independence Payments to raise £4.4BILLION to fund tax cut for the rich
In fact he consistently helped the rich – and he did it by hurting disabled people.