As Local Housing Allowance is Frozen DWP Minister Thérèse Coffey Gets £1,885 for her London Pied à Terre.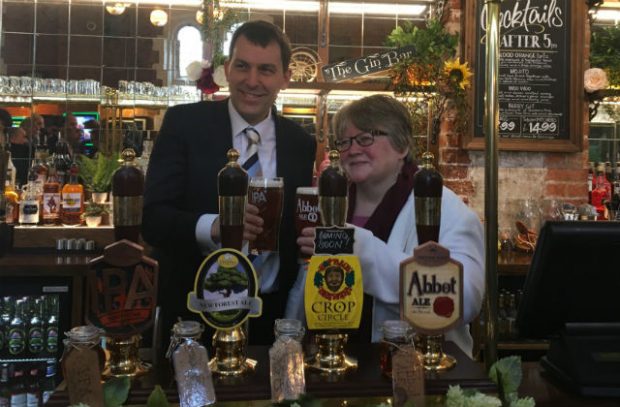 Coffey Celebrates Nice Little Earner for Tory MPs.
Welfare secretary Thérèse Coffey, whose department runs the LHA system, claimed £1,885 a month.
Revelation comes at same time as government freezes housing allowance, which could drive many tenants into debt.
A spokesperson for tenants' union Acorn said: "To commit to this [LHA] freeze at the same time as huge swathes of the government's own MPs are claiming extortionate amounts on expenses to pay rent on second homes is disgraceful and perfectly demonstrates the contempt with which they treat low-income people in this country – particularly given many of these MPs are claiming these expenses for second homes at the same time as raking in profit from homes they are renting out to tenants, while already taking home salaries far beyond what most people could ever imagine."

The Tory MP claiming the highest rent expenses is Helen Whately, minister for social care. Despite earning £113,612 as an MP and minister, she claimed £3,250 in housing rent from the taxpayer each month between April and November 2020 – £26,000 in total during those eight months.

If Whately claims £3,250 a month for the whole of 2020/21, she will receive £39,000 towards her rent during the financial year. This is higher than the estimated average annual pay of her constituents, the average full-time earnings in the UK, the average nurse's salary – and over double the average full-time care worker's pay in 2019/20.
Suffolk Coastal, Coffey's Constituency, is within commuting range of London.
This is the background:
Benefits system increasing homelessness in London, research finds.
A report from Homeless Link, titled Homelessness and welfare benefits in London, found that both the frozen Local Housing Allowance (LHA) and the benefit cap mean people claiming benefits cannot afford the housing that is available in the capital.
The report notes that the number of single people claiming Universal Credit in London increased by 88% between March, when the COVID-19 pandemic first hit the UK, and August last year.
Meanwhile, an analysis found that 24 of the 32 boroughs in London do not have enough shared private rented accommodation to house those claiming the housing element of Universal Credit or housing benefit.
Across those 24 boroughs, only 54% of shared private rented accommodation would be affordable to those claiming benefits for their housing, the analysis found.
At the start of the COVID-19 pandemic, chancellor Rishi Sunak reversed a multiyear freeze on the LHA rate, which determines how much housing benefit private renters receive, to ensure benefits covered the lowest third of rents in a local area.
117 Responses