Food Bank Britain Faces Bleak Winter.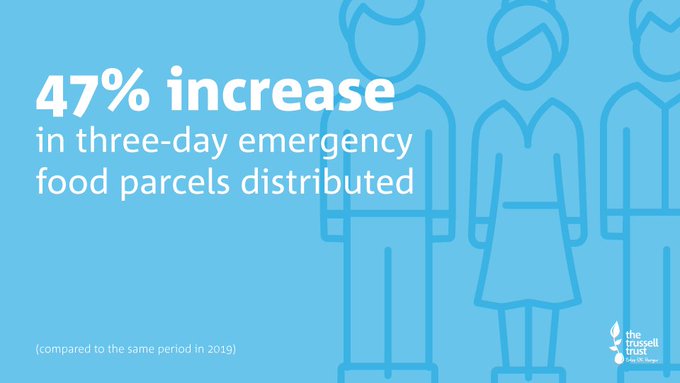 Food banks report huge surge in demand for food parcels amid Covid pandemic
This is no surprise.
Most things like this you can see if you care to look, right bang in your area (obviously not in IDS's manor).
As this Blog has mentioned there is a queue of people outside the Seventh Day Adventist Church in  this area waiting for food on a Sunday.
This is outside of the main local Food Bank network. FIND foodbank
It is just a lot more visible to anybody in the centre of the town.
Trussell Trust reports that it has already helped more than a million people affected by the Covid pandemic.
More than a million food parcels have been handed out families and individuals in crisis since the start of the Coronavirus pandemic earlier this year, according to new figures from the UK's largest food bank network.

The Trussell Trust, who operate more than 1,200 food bank centres, says it has helped to support over 1.2 million households who have been negatively affected by the economic fallout, caused by the outbreak.

It includes 470,000 food parcels given to parents to feed their children, a 52% rise on last year, and is equivalent to 2,600 food parcels for children being given out every day since the start of the pandemic.
There is also an article by James Bloodworth which is really really worth reading:
The Government has U-turned on free school meals. But moralising about people's diets won't help

When I was researching a book on low-wage Britain, I stumbled across an article in the Daily Mail about a woman who managed to survive on £1 a day. "Frugal Kath Kelly, 51, ate at free buffets, shopped at church jumble sales and scrounged leftovers from grocery stores and restaurants," ran the story. "She even collected a staggering £117 in loose change dropped in the street."

The story was written in admiring tones — Kath Kelly was presented as a sagacious and resourceful example to the poor. The underlying message was that the lower orders were feckless and stupid. Instead of sourcing and preparing healthy ingredients, they chose to plonk themselves in front of a television set and inhale pot noodles and multipacks of crisps.
…..
For those on low wages or benefits, poverty is the thief of time. Being poor invariably consists of countless hours spent waiting around for public transport, bosses, landlords or public sector bureaucrats. And that's before one adds up the additional time it takes to care for a family. Even if it can be done relatively cheaply, preparing a healthy meal invariably takes longer than putting a pizza in the oven.
….
We no longer dictate the food those on unemployment benefits must consume (though the argument that we ought to is a frequent saloon-bar trope). But a peculiar moral tone to our conversations about food persists. This is not confined to one political tribe. Nowadays liberals too are often heard laying down pious strictures as to what the poor should eat and drink. Sugar taxes have been introduced and junk food advertising is set to be banned before the 9pm watershed. Newspapers such as The Guardian have called for the government to go even further in terms of regulating what people eat.
147 Responses