Universal Credit Is Not Working – House of Lords Report.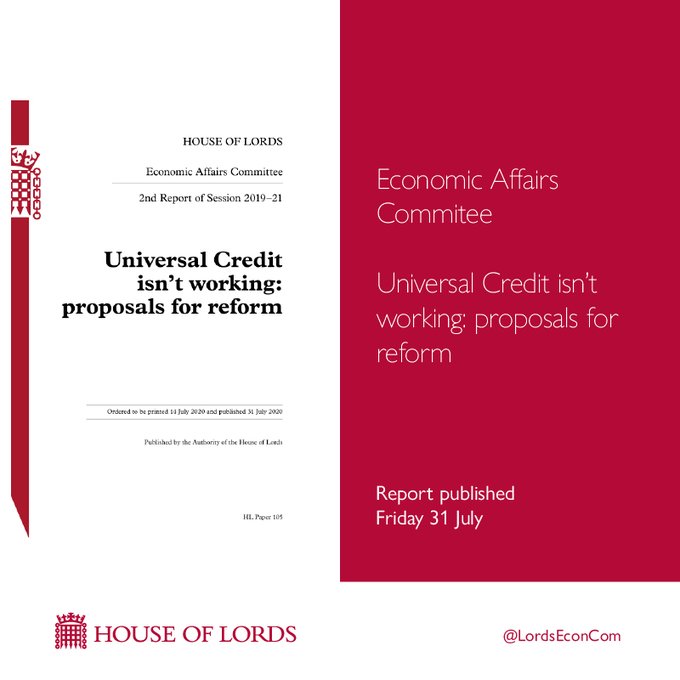 After having posted about mass unemployment looming people have been speaking more and more about redundancies and the prospect of being out of work. You don't have to have family or friends who are affected, just look on the Web, and here (one of our contributors excepted).
It is seriously worrying when secure jobs are under threat.
These things tend to work out in ever-expanding rings.
Now people face the prospect of joining the inner circle of hell, the dole, and specifically Universal Credit.
Their Lordships have produced this report which is making a splash.
The reason is obvious, as this Sky headline underlines,
Universal credit 'harms the most vulnerable', says major report amid surge in claims

Some 3.2 million people made new Universal Credit claims between the start of the lockdown in March and mid-June.
The BBC covers the story
Universal Credit 'failing millions of people', say peers
Universal Credit is "failing millions of people", especially the vulnerable, according to a new report from peers.

The Lords' Economic Affairs Committee said it agreed with the government's aim for the scheme – to bring together multiple benefits into one payment.

But it criticised its design, blaming Universal Credit for "soaring rent arrears and the use of food banks".

Welfare delivery minister Will Quince said the government was "committed to supporting the most vulnerable".

But he said the scheme had "defied its critics in unprecedented and unforeseeable circumstances" during the coronavirus pandemic, adding: "The case for Universal Credit has never been stronger."
Reactions are beginning to tumble in.
One poverty charity, the Joseph Rowntree Foundation, said the report "reinforced the scale and urgency of reforms needed".

And Labour said the system was "simply not working", instead "pushing people further into poverty and debt".
Note well this bit.
The Lords' report said cuts to social security budgets over the last 10 years had caused "widespread poverty and hardship".

As a result, the committee said Universal Credit needed "urgent investment just to catch up and provide claimants with adequate income".

The peers called on the government to make the rise in payments due to the coronavirus crisis permanent.

They also called for a non-repayable two-week grant to be introduced to cut the current five-week wait for a claimant's first payment.

The government said urgent payments were already available, but peers said the standard five weeks "entrenches debt, increases extreme poverty and harms vulnerable groups disproportionately".
So, Universal Credit is a problem.
Let's begin with the beginning, with the money you have to live on.
Coming up to my Pension I notice that even the increased UC payment is far below Pension Credit.
It would also perhaps be better if this report came from other people  than those who Daily Allowance (£150) alone (excluding their other revenues, paid in guineas or  gold sovereigns)  is nearly the JSA rate for a fortnight.
This is what their Lordlyships say,
Lords Select Committee.
The Economic Affairs Committee publishes its report 'Universal Credit isn't working: proposals for reform', which calls on the Government to make substantial changes to universal credit in order to protect the most vulnerable.
"Most people, including our Committee, broadly agree with the original aims and objectives of Universal Credit. However, in its current form it fails to provide a dependable safety net. It has led to an unprecedented number of people relying on foodbanks and not being able to pay their rent.

"The mechanics of Universal Credit do not reflect the reality of people's lives. It is designed around an idealised claimant and rigid, inflexible features of the system are harming a range of claimant groups, including women, disabled people and the vulnerable.

"Universal Credit needs more money to catch up after 10 years of cuts to the social security budget. It requires substantial reform to its design and implementation, the adequacy of its awards, and how it supports claimants to navigate the system and find work.

"The five-week wait for a first payment must be replaced by a non-repayable two-week grant to all claimants. The monthly payment calculations which can result in big fluctuations to claimants' incomes should be fixed for three months. Historical tax credit debt needs to be written off.

"The punitive nature of Universal Credit has not worked. It punishes the poorest by taking away their sole source of income for minor infractions. It needs rebalancing, with more carrot and less stick, particularly as large numbers of claimants will have ended up on it because of events completely out of their control."

Other findings

The Committee's other key findings and recommendations include:

The Government must prioritise helping people into work, particularly with the increase in unemployment that the Covid-19 pandemic is causing. All claimants should have a work allowance, at a higher rate than now, to allow them to keep more of their award as they move into work.
The Government should consider reducing the taper rate to ensure that the poorest in society do not pay higher marginal effective tax rates compared to the richest in society.
The conditionality requirements on claimants who can look for, or prepare for work, has been increased significantly over recent years. Less emphasis should be placed on obligations and sanctions. Instead, there should be more support to help coach and train claimants to find jobs or to progress in their current roles. Conditionality should be adapted to accommodate changing labour market conditions, including at the local level, particularly in the light of the economic impact of the Covid-19 pandemic.
The UK has some of the most punitive sanctions in the world, but there is limited evidence that they have a positive effect. Removing people's main source of support for extended periods risks pushing them further into poverty, indebtedness and reliance on food banks. There is a substantial body of evidence which shows that sanctions harm people's mental health. The Government should evaluate the current length and level of sanctions. It should also expedite its work on introducing a written warning system before the application of a sanction. Sanctions must be a last resort.
The Government is doubling the number of work coaches in response to potential levels of high unemployment. This may not be enough to support people to find work in a stagnant labour market with high levels of competition for jobs. A cap should be introduced on the number of cases for which each work coach can be responsible.
Paying awards on a monthly basis does not reflect the way many claimants live. It causes unnecessary budget and cash flow problems. All claimants should be able to choose whether to have Universal Credit paid monthly or twice monthly.
Including childcare support in Universal Credit was a mistake. Paying costs in arrears has been a barrier to in-work progression and in some cases, it has been a disincentive to work. The Government should remove childcare support from Universal Credit and be made into a new standalone benefit paid in advance.
ITN carried this story a couple of days ago,
Food banks report 'unprecedented demand' during Covid crisis as unemployment predicted to rise to 10% by the end of 2020
Food banks experienced their "busiest month ever" during the coronavirus crisis as families faced a loss of income due to job losses or furlough schemes, the Trussell Trust has said.

The food bank network saw an 89% increase in demand for emergency food parcels in April compared to the same period in 2019.

The figures included a 107% increase in food parcels sent to children with the number of families seeking help almost doubling since last year.

The Independent Food Aid Network (IFAN) reported similar increases reporting 175% more emergency food parcels given out in the UK during April 2020 compared to last year.
322 Responses