As Universal Credit Documentary Airs Tonight, System "completion not expected until 2024".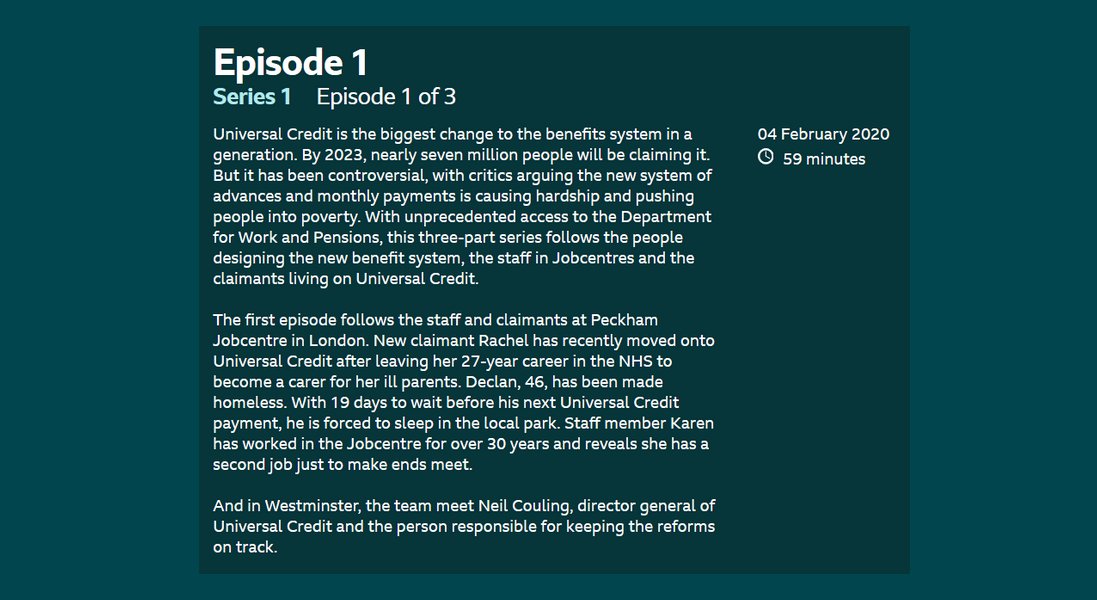 Tonight.
Latest news…
Universal Credit: Welfare system to be delayed again with completion not expected until 2024
The Independent reports,
Late implementation will cost taxpayer a further £500 million over five years.
The completion of the government's troubled Universal Credit welfare scheme has been put back yet again, at a cost of £500 million.

Slower-than-expected transfers of claimants from existing benefits mean the date of completion of the roll-out has been put back by nine months to 2024.

When first announced by Iain Duncan Smith as a replacement for a range of benefits in 2010, Universal Credit was due to be fully implemented by 2017.

But it has been beset by a series of delays, and welfare delivery minister Will Quince today announced that more time was needed to transfer the final 900,000 claimants.

Universal Credit was implemented first with new claimants, or those whose circumstances had changed, with the more complicated transfer of individuals from existing benefits left until later.

The Department of Work and Pensions attributed the latest delay in part to the robustness of the labour market, which has meant that fewer people than expected experienced a change in circumstances, leaving 900,000 more people than expected claiming the old benefits.

Mr Quince said: "Universal Credit is the biggest change to the welfare system in a generation, bringing together six overlapping benefits into one monthly payment and offering support to some of the most vulnerable people in society.
Here is one reaction:
And another:
All eyes will be on this tonight:
At Peckham Jobcentre in London, Rachel has recently moved onto Universal Credit after leaving her 27-year NHS career to become a carer for her ill parents.
The Guardian preview:
Universal Credit: Inside the Welfare State
9pm, BBC Two

Designed to streamline benefits payments and make them easier to navigate, universal credit has met with fierce opposition since its protracted and troubled rollout. This three-part series opens in Peckham Jobcentre, where more than 1,000 people visit each day, including former NHS worker Rachel, who is living precariously during the five-week wait for her first universal credit payment. It is a humanising look into the real-life consequences of political choices. Ammar Kalia
The Shocking Reality Of Living On Universal Credit
……a harrowing three-part BBC documentary series which puts universal credit under a magnifying glass. Universal Credit: Inside The Welfare State focuses on Jobcentres in Peckham, Toxteth and Bolton. As well as senior civil servants and MPs, we hear from those directly affected by the most controversial change to the benefits system in a generation. Some of the most powerful stories involve women dealing with mental health issues, redundancy, raising their children alone and working under temporary contracts, all while adapting to universal credit.
Somebody has other things on her mind:
53 Responses