Benefits Freeze is "over" but cut of 6% stays – future halt to rises not ruled out.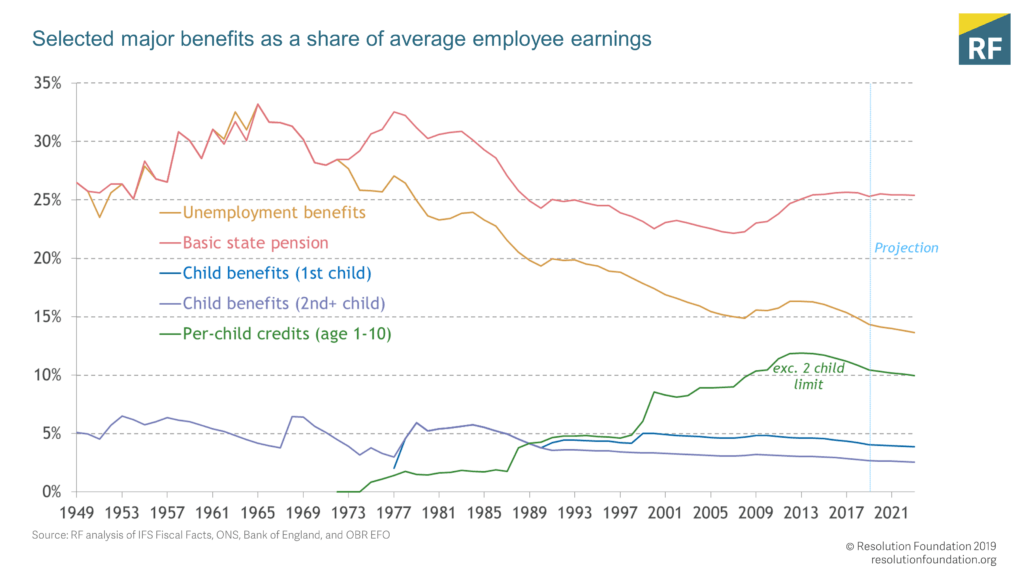 Working-age benefits are set to continue to their relative decline (Resolution Foundation).
Last week this news item marked Thérèse Coffey, first Parliamentary intervention in her "dream job" as Work and Pensions Secretary.
Freeze imposed in 2015 was planned to last until end of 2019-20 financial year.
The government has refused to commit to ending its freeze on benefits despite a promise to turn the page on a decade of austerity.

The work and pensions secretary, Thérèse Coffey, said she could not give a definitive answer about whether the freeze on most working-age benefits and tax credits would continue beyond its initial four-year term.

Imposed in 2015 by chancellor George Osborne, the benefit freeze was planned to last until the end of the 2019-20 financial year. However, Coffey said talks were ongoing about what the government would do next and she left the door open for a possible extension.

Answering questions from MPs on the Commons work and pensions committee, she said: "I don't think anybody should make any assumptions by default, but we're looking very carefully right now on what we can do on benefits going forward from 2020. I can't give you a definitive outcome on what we will do."
The electronic dog collar disciplinarian did not taker account of this – as the article continues,
Inflation figures published earlier on Wednesday indicated that benefits could rise by 1.7% from April if the freeze is lifted. The Office for National Statistics (ONS) said inflation remained unchanged in September, with the consumer price index (CPI) holding steady at 1.7%.

The inflation reading for September is used by the government to uprate the value of benefit payments each year, as well as state pensions and business rates.

The Resolution Foundation think tank said the welfare freeze had cut the value of benefits by 6% in real terms since 2015, leaving the average poor couple with children £580 a year worse off.

It said the social security safety net was continuing to be eroded as wages and pensions rose by more than double the rate of benefits.
This is the Resolution Foundation report, well worth reading.
The benefit freeze has ended, but erosion of the social security safety net continues
The major working-age benefits will rise in cash terms in April 2020, for the first time in five years. They will increase by 1.7 per cent, based on new figures released today – assuming no change in government policy. But while the benefit freeze has now ended, its effect of significantly weakening the social security safety net has not.

Further data, also released this week, means that the state pension will rise by a higher 3.9 per cent. The difference between the two increases highlights the fact that working-age benefits will continue to be eroded in value relative to earnings and pensions. This policy approach comes despite households with children typically having lower incomes than other groups, and higher poverty risks.
They continue,
The 'benefit freeze' is over.

We now know that CPI inflation was 1.7 per cent in the year to September. This figure is particularly important as it determines (among other things) how far many benefits will rise next April.

Remarkably, for a range of benefits – including Child Benefit, Universal Credit, (non-disability) Tax Credits, Housing Benefit limits, Jobseeker's Allowance, Income Support, and Employment and Support Allowance (except the support group component) – this will be the first cash increase in basic entitlements since April 2015, thanks to the benefit freeze introduced by then Chancellor George Osborne.

After adjusting for price increases, this benefit freeze has cut the real level of those benefits by 6 per cent, and in many cases that has come on top of earlier real cuts.

It is of course a good thing that the freeze is coming to an end. (Though, to be clear, the freeze was always due to come an end in April 2020 – there has not been any recent policy change.)

But, while the direction of travel is no longer downwards, working-age benefits are clearly now stingier than they were pre-freeze, or indeed pre-austerity (even putting aside any wider considerations, such as sanctions or waiting periods). In fact, the real value of basic out-of-work support in 2019-20 is – at £73 a week (£3,800 a year) – lower than it was in 1991-92, despite GDP per capita having grown by more than 50 per cent since then. Even more starkly, child benefit for a second child or beyond is worth less in 2019-20 than when it was (fully) introduced in 1979. It seems a rising tide does not always lift all boats.

….

Although the benefit freeze and departmental austerity are ending, this is not the end of working-age welfare cuts

The question of whether we could and should do more to support household incomes through working-age benefits (the answer to both is yes) seems particularly pertinent when the age of austerity has come to an end for departmental spending, and when the likely upcoming election may feature some very expensive promises on other spending and tax cuts.

But despite the end of the benefit freeze, the turning point for departments, and the abandoning of previous fiscal rules, we shouldn't forget that some benefit cuts continue to be rolled out. As Figure 4 shows, the two-child limit in particular has some way to go, as it applies only to those born after April 2017. The slow roll-out of Universal Credit, although a positive overall, will also create many losers as it continues over the next few years.

When it comes to working-age benefits, it is clear that austerity is not yet over.
Coffey's stout denial of poverty continues.
And here.
95 Responses