Abuse of Claimants, DWP Manager, "We should nominate one person to throw a grenade in."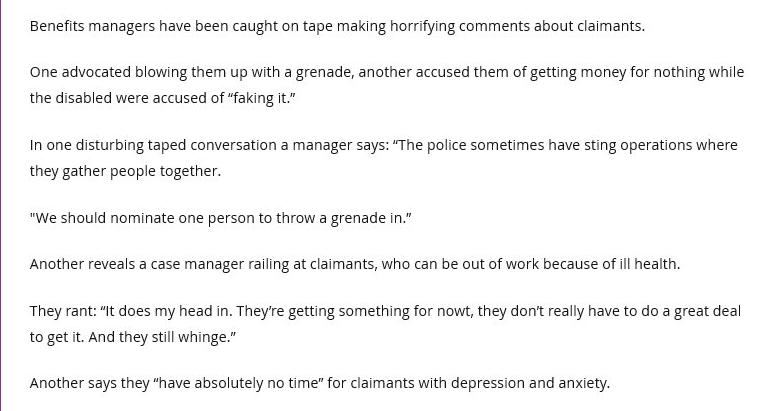 Universal Credit staff taped making disgusting comments about claimants
Mirror.
EXCLUSIVE: One member of staff was recorded saying disabled people were "faking it" to get government cash
Benefits managers have been caught on tape making horrifying comments about claimants.

One advocated blowing them up with a grenade, another accused them of getting money for nothing while the disabled were accused of "faking it."

In one disturbing taped conversation a manager says: "The police sometimes have sting operations where they gather people together.

"We should nominate one person to throw a grenade in."

Another reveals a case manager railing at claimants, who can be out of work because of ill health.

They rant: "It does my head in. They're getting something for nowt, they don't really have to do a great deal to get it. And they still whinge."

Another says they "have absolutely no time" for claimants with depression and anxiety.
Today the incompetent  lazy bones managers  at the DWP are shown up.
DWP Universal Credit: 700 'suspected errors' flagged by one council in 18 months
Mirror.
EXCLUSIVE: Labour-run Tower Hamlets demanded the DWP halt the benefit's rollout after compiling the figures for 18 months
More than 700 "suspected errors" in Universal Credit have been flagged in 18 months by a single town hall.

Labour-run Tower Hamlets began compiling the figures in April 2018 over fears the Department for Work and Pensions (DWP) was not dealing robustly enough with problems.

Since then the deprived London borough's officers have reported 728 cases to the DWP – identifying £335,000 in alleged overpayments and £215,000 in underpayments.

Officials claimed some cases took months and several attempts to contact the DWP before they were resolved.

The Borough's mayor John Biggs said: "The roll out of Universal Credit should be halted. It's failing our most vulnerable residents and pushing them into hardship.

"It's simply not good enough that these blunders continue."

Deputy Mayor Rachel Blake added: "The continuing errors we are seeing due to Universal Credit show it's not fit for purpose.
Not to mention the present mess find ourselves in:
This has always struck people as inevitable.
Poverty is rising for all groups – even those in work – according to a new financial inclusion monitor report.
Research from the University of Birmingham and the University of Lincoln shows nearly 1.6 million people falling behind with council tax payments, with six in ten people in the poorest fifth of the population reporting they are in problem debt – mainly council tax payments, rent or utility bills.

Nearly 1 million people are behind with their rent, while over a 1 million people are behind on water bills.

The 2019 Briefing, found that nearly 2.2 million people report having been contacted by bailiffs and nearly one million experiencing bailiffs breaking the rules.

A growing number of personal insolvencies were also highlighted, with over 70,000 Individual Voluntary Arrangements (formal alternative to bankruptcy) made in 2018, up from 40,000 in 2015.

Karen Rowlingson, Professor of Social Policy and Deputy Director of the Centre on Household Assets and Savings Management (CHASM) at the University of Birmingham and co-author of the report, said: "The government is saying that austerity is over but our research shows that millions of people are still struggling to pay essential bills.

"Much more needs to be done to increase income levels to help people make ends meet."
Electric Dog Collar Shock Coffey is on a high:
79 Responses