Thérèse Coffey, a Right-winger in Charge of the DWP and Universal Credit.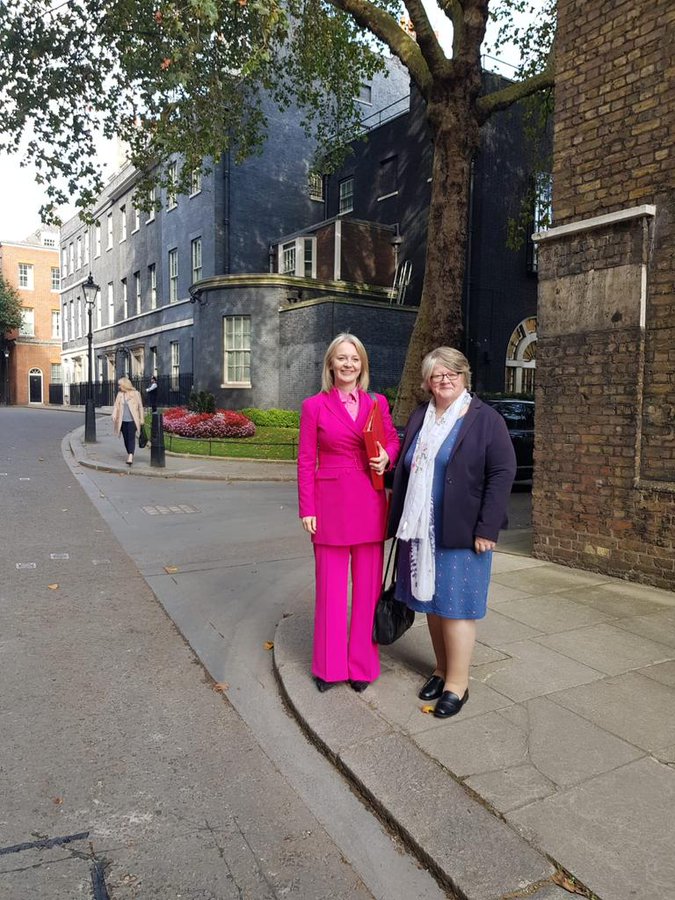 Our New Boss with 'Mate' Liz Truss.
Coffrey is an ardent Catholic Traditionalist, which, informed sources tell this Blog, helped get her a shore-in by the former MP for Suffolk Coastal Mr John Gummer.
For those not familiar with Suffolk Coastal – this writer's parents were involved in the Labour Party there after retiring and moving from North London – the constituency is 'solidly conservative" both big and small C, with some pockets of resistance in places like Leiston and a few wards in, say, Felixstowe.
Gummer used to do very little locally, except from a tour around his fief at election times, looking like a character out of a P.G. Wodehouse novel, gracefully blessing the people.
"God bless the Squire and this Relations, and Keep us in our Proper Stations."
This has not changed.
These are the new MInister's most relevant views reported in the local press, the East  Anglian Daily Times,
Following Mrs May's resignation, Dr Coffey backed Boris Johnson's Tory leadership bid, saying he had "the mojo to make Brexit happen and he can reach out to many parts of the country to deliver a better, brighter Britain".
Here are some of the features of Coffey's manor. Like many parts of the country, lost a lot of its council housing years ago. While there are now plans to build actual council houses, much is in the charge of these chancers, Flagship Housing. In what is now East Suffolk Council they are the main people offering places to live for "social housing" "affordable housing".
This business, claiming the status of a social enterprise, engaged in empire-building across the East of England, is loathed by many of its tenants.
Its main concern is making money out of poor people.
We're Flagship Group. We provide homes for affordable and market rent, and for sale across the East of England. We maintain our own housing stock and support the communities they're part of. We do this through our housing arm of the business Flagship Homes, our repairs and maintenance specialists RFT Services, and our gas and boiler specialists Gasway.
This is their latest scandal (August 2019)
'Callous' care cuts blamed after bodies left rotting in retirement properties for month
Neighbours have urged Suffolk County Council to reinstate funding for wardens and sheltered accommodation following the tragedies at Mussidan Place in Woodbridge, which is owned by Flagship Housing.

The latest body was found on August 8 after a neighbour noticed the man's kitchen was infested with flies. Residents believe he had lain there since June, when they first complained about a bad smell. They said they were shocked by the death – but it was not the first to go unnoticed.

Another body was found in February. Neighbours said the dead man's relative told them it had been there since November last year. They said the bodies would have been found sooner if not for budget cuts stripping away wardens who used to check up on residents.

Valerie Kersey, 74, said: "There's been a lot of reaction since the latest death. You feel guilty, thinking you should have noticed, and you feel angry. It shouldn't happen. We've been through it twice now."
But I digress….
Just before Parliament was suspended, Boris Johnson appointed one of the most hard-line and divisive women to replace Amber Rudd as Secretary of State for Work and Pensions.

Her voting record reveals a tranche of reactionary views, likely to be offensive to the gay community, women, pensioners and non-smokers. She would also like millions of Europeans who live in the UK to have no right to stay here.

Cigar-smoking Therese Coffey, MP for Suffolk Coastal, would like to lift the ban on smoking in public places, bring back limitless betting odds on addictive gambling machines, and is an opponent of gay marriage.

As a former member of the Commons' Culture, Media and Sport Committee, in the past she has defended Rupert Murdoch over the phone hacking inquiry and was a staunch supporter of Rebekah Brooks, the former News of the World editor and the current CEO of News UK, who she claimed was a victim of "a witch hunt".
Further extracts:
Coffey opposed gay marriage in Britain in 2013, following up this year by voting against a Commons measure to extend the right of gay marriage to Northern Ireland. She also supports parents who want to withdraw their children from sex education in schools.

On human rights, she voted both to repeal the EU Fundamental Charter of Rights and the Human Rights Act. She is in favour of allowing discrimination against Indians of lower caste and also wants the human rights watchdog, the Equality and Human Rights Commission, to lose some of its powers.

On Europe, although she voted Remain, she has since been hostile to Europeans from both the EU and the European Economic Area (EEA) living here after a 'no deal' Brexit. She voted against giving them and their families residential rights, but made an exception for the Irish.

On benefits and pensions, she is a firm supporter of the so-called bedroom tax, under which disabled people have to fund for themselves any extra bedroom for a carer. She does not believe that people who are long-term disabled need higher benefits, wants pensioners in work to pay National Insurance, and supports cutting the welfare bill.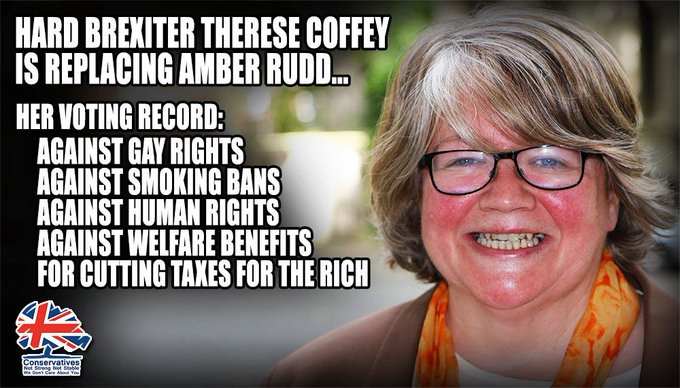 137 Responses