Sanctions Regime Scandal Continues As Calls Made for Root-and-Branch Reform of the System.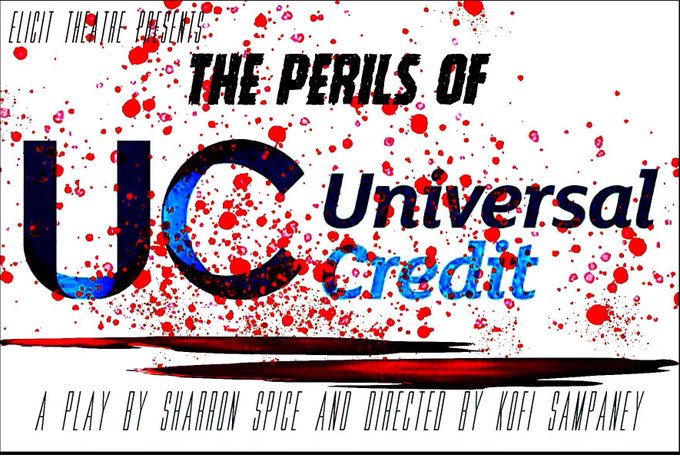 There's lot to Dramatise about Universal Credit…..
Perhaps it's just us lot, but the sanctions regime really sticks in the craw.
This is in the Daily Record.
Universal Credit sanctions imposed on 256,000 claimants as charity demands halt to harsh regime

Citizens Advice Scotland demanded an immediate halt to the harsh benefit sanctions regime after a quarter of a million people across Britain were penalised in a year.

The Department for Work and Pensions published a report confirming 256,000 sanctions between May last year and April for people on Universal Credit.

It comes days after a woman said she had thousands of pounds cut when she missed an appointment because she suffered a miscarriage.

Mhoraig Green, from Citizens Advice Scotland, said: "We have long raised concerns about cases where people have had their benefits unfairly sanctioned, leaving them without any income for a sustained period, causing them to require crisis support including food bank referrals."

In Scotland, the network of Citizens Advice offices helped people with sanctions 1273 times in the past financial year.

Earlier this week, Danielle John's story sparked revulsion after she revealed a 229-day sanction was imposed because she
forgot to inform her work coaches about a miscarriage suffered the day before an appointment.

A DWP spokesman said: "It is only right that we expect some claimants to meet certain agreed commitments in exchange for their benefits.

"We want to ensure sanctions are effective and support claimants, which is why we constantly review them and have announced an end to single fixed-period sanctions lasting more than six months."
Benefit sanctions statistics to April 2019
This is from the Background to the Report,
There are four sanction levels in UC: –
• Lowest Level: Failure to attend or take part in a Work-Focused Interview. The sanction lasts until the claimant attends or takes part in one, or moves to either the Working – no requirements or No Work Requirements conditionality regimes.
• Low Level: The sanction lasts until the claimant does what they previously failed to do and were sanctioned for (e.g. failing to attend a training course) or because either the requirement is no longer appropriate or an alternative compliance condition has been met, plus 7, 14 or 28 days for the first, second or third low level sanction in any 12-month period.

• Medium Level: The sanction lasts 28 days for the first sanction in any 12 month period, and 96 days (approximately 3 months) for a second medium level sanction. Medium level sanctions apply, for example, where the claimant has to meet the work availability requirement, but has failed to be available to attend an interview or start work.

• High Level: The sanction lasts for 96 days (approximately 3 months) for the first sanction in any 12-month period, 182 days (approximately 6 months) for a second high level sanction and 1095 days (approximately 3 years) for a third.
Universal Credit Sanctions Official Statistics
Which lead to this, apart from the Play above
this is extremely interesting:
Selection of Recommendations.
Recommendation: The DWP needs to abolish the 5 week wait for Universal Credit.
Recommendation: The DWP needs to urgently comply with the findings of the High Court, that people paid monthly but whose earnings for two months fall into one assessment period should be treated as having been paid for the period when their wages were earned, rather than the date they were received.
Recommendation: People who are self-employed should be able to request 3-monthly assessment periods for earnings and costs. This would even out sporadic payments and fit with reporting requirements for Making Tax Digital, reducing bureaucracy for micro businesses.
Recommendation: The rigidity of monthly assessment periods needs to be urgently reviewed. People who are paid on a different schedule should be able to average their earnings. Those who have a change of circumstances during the assessment period should have the option to average out the impact
Recommendation: Claimants should be paid twice-monthly by default as they are in Northern Ireland, and in pilots in some Jobcentres, with the option to be paid monthly if they wish.
Recommendation: All claimants should have the option of direct payments to their landlord from the start of the claim.
Recommendations: Benefits should rise by 2% above inflation for each of the next 4 years in order to restore their value to 2015 levels.
A minimum standard of income for benefits claimants should be assessed and implemented by the DWP for all elements of Universal Credit.
Recommendation: The value of Local Housing Allowance should be restored to accurately reflect the lowest 30% of market rents in every area.
 Sanctions.
The DWP's UC Full Service Survey showed that 11% of claimants had been sanctioned, of whom 18% had been sanctioned more than once.
These are far higher rates than JSA or ESA.
Recommendation: The DWP should publish a list of common circumstances that constitute 'good reason' for breaching the claimant commitment. There needs to be a standardised sanctions process across the country to reduce reliance on judgement and increase fairness and accountability in the application of sanctions.
Recommendation: All DWP staff and work coaches should receive training on the definition of 'good reasons' for claimants not to be issued with a Universal Credit sanction. This should include an 'other circumstances' category where judgement can be applied. The training must also ensure that DWP staff are aware of and follow standardised procedure in relation to sanctions. This should be followed up with a requirement for decision makers to ensure that these procedures have been applied before sanctions are implemented.
Recommendation: Remove fixed term sanctions – sanctions should end when claimants have complied with their requirements. Sanctions should also end if the claimant becomes unable to comply, for example due to becoming unwell or having a new baby.
There's a lot more: read it!
Followed by:
119 Responses