Universal Credit Call-Handlers Voting on Strike.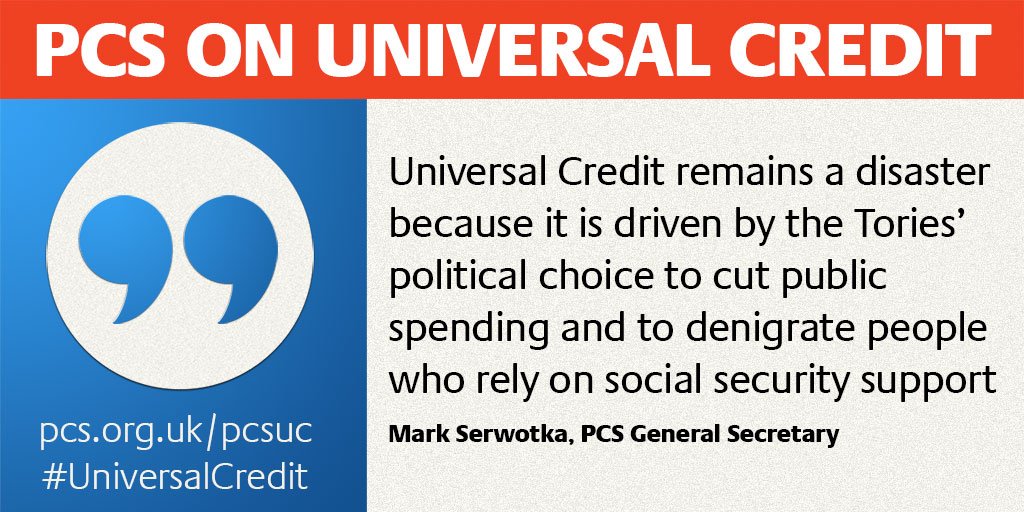 Universal Credit call handlers will vote on whether to hold a major strike after being treated with "contempt".
The Mirror reported this a few days ago.
It follows numerous articles on the PCS site, and – in person – a speech from a PCS representative in Ipswich which outlined the problems.
Up to 295 Department for Work and Pensions (DWP) agents in Wolverhampton and Walsall are poised to walk out for two days in a row over heavy workloads.

The PCS union says the system is crippled by "severe under investment, staff shortages and criticism from claimants on how they are treated".

Chiefs are demanding 5,000 new staff, full contracts for fixed-term workers, an end to "management by statistics" and a limit on the number of phone calls each case manager has to handle.

It comes after top Tories heaped praise on rank-and-file staff in their defence of the six-in-one social security shake-up.

PCS general secretary Mark Serwotka said the strike ballot – which runs to February 25 – must be a "wake-up call" to ministers.
Civil Service World gives a more extensive report,
PCS to ballot DWP staff for strike action over 'unmanageable' Universal Credit workloads
 on 13 February 2019 in 
Union sets out five demands to cut workload of staff at Universal Credit service centres in Wolverhampton and Walsall
The ballot could lead to two days of strike action next month at the Wolverhampton and Walsall service centres, with up to 295 staff being balloted for both strike action and action short of a strike.

The union said that the rollout of the government's flagship welfare reform, which will merge six existing working-age benefits into one payment, has made some DWP staff's workloads unmanageable.

PCS has made five demands of DWP to ease the pressure. These include hiring 5,000 new staff nationwide and permanent contracts for fixed term staff to increase capacity as more people transition onto the new benefit system. It also wants the department to limit the number of phone calls per case manager, commit to service centres rather than contact centres, improve staff consultation, and a implement quality-focused working environment, with an end to management by statistics.

The union's general secretary, Mark Serwotka, said: "The possibility of a strike by Universal Credit staff should serve as a wake up call to ministers who have repeatedly insisted Universal Credit is working well for workers and claimants when the opposite is in fact the case.

"Our members have not taken the decision to ballot lightly but the responsibility for the breakdown in industrial relations lies squarely with the government, who want to run this service into the ground while treating staff with contempt."

The ballot will close on 25 February.

(we will be watching for like 'awks…)

Responding to the announcement, a DWP spokesperson said the department was determined to give all employees, including those delivering Universal Credit, the necessary resources to carry out their roles successfully, including manageable workloads.

The size of a case manager's workload depends on a number of factors, including their experience and the complexity of the caseload, they added.

"We are disappointed that PCS has chosen to take this course of action and planned meetings with the union are ongoing," the spokesperson said.

"Our top priority remains assessing and making payments to customers. We are comfortable with current staffing levels and will monitor and reallocate resource where necessary."
In the meantime the misery of Universal Credit continues,
Controversial changes to the benefits system are leaving Welsh councils with hidden costs, it has been claimed.
BBC.
Universal credit aims to make claiming simpler by combining several benefits.

But 16 of Wales' 22 councils said the UK government is not covering the full cost of assisting claimants, including teaching IT skills needed to apply.

The Department for Work and Pensions (DWP) said councils can apply for reimbursement of additional costs, but councils denied that was the case.

The body representing councils, the Welsh Local Government Association (WLGA), and Welsh local government minister Julie James said the rollout of the benefit was not working.

Universal credit has to be applied for online, and will eventually replace housing benefit, income support and other payments.

At the moment councils can reclaim some money for each person they help who needs support with digital skills and budgeting to cope with the new system.

Wales' 22 councils estimated the total bill for providing that help was more than £1.2m last year – even after claiming payments from the DWP.
Protest:
Universal Credit protest banner leads to 'offensive weapons' argument before meeting
Teeside Live.
A small group of Labour supporters hung a banner over the balcony before Redcar and Cleveland's Borough Council meeting.
February's meeting of Redcar and Cleveland's Borough Council went on for more than three hours – and didn't even cover its agenda.

Heated argument over protest

Even before councillors had taken their seats, there was a heated exchange in the public gallery.

A small group of Labour supporters had hung a Labour Party banner over the balcony which read "STOP UNIVERSAL CREDIT".

But, with the banner secured to the balcony with rope weighted down on one side by a hammer tied and a chisel on the other, one member of the public took objection to the display.

"Get rid of these offensive weapons – they've been put here by the Labour Party," he said.

"We have a right to protest," said one of the protesters.

"Not with offensive weapons you don't," objected the man.

In the end, an officer solved the problem by removing the tools and securing the ropes with tape.

Universal Credit should be rolled back says council leader

In her opening address, council leader Cllr Sue Jeffrey, once again called for the controversial roll-out of Universal Credit should be postponed.

But because it takes five weeks to receive a payment after making a claim, hundreds of families in Redcar and Cleveland were left facing a Christmas with no money.

She said: "As you know, despite our pleas to the Government, on November 28 Universal Credit full service was rolled out in the borough of Redcar and Cleveland which meant claimants were going to be dealing with new claims over the Christmas period."

She said the DWP hadn't yet provided figures of how many people had made new claims for Universal Credit over Christmas but added that the council's own records suggested around 2,100.

She said there had been an 80% increase in requests for personal budgeting support and 52 residents who approached the council for help with the new online system.
Picture of Offensive Weapon:
18 Responses