Universal Credit Registering Online (Gov.Uk Verify) Causes Chaos.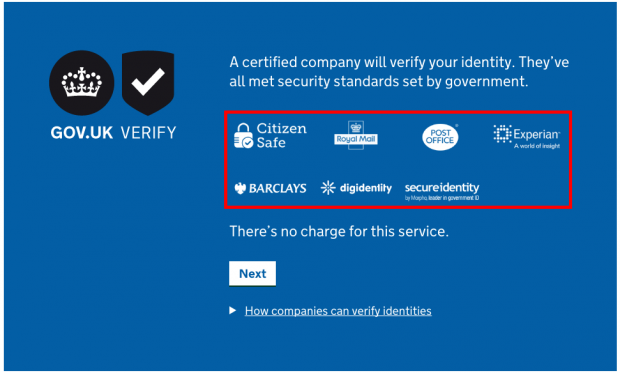 Certifiable Company Causes Benefit Misery.
GOV.UK Verify is a secure way to prove who you are online.

It makes it safe, quick and easy to access government services like filing your tax or checking the information on your driving licence.

When you use GOV.UK Verify, you don't need to prove your identity in person or wait for something to arrive in the post.
Despite the easy-peasy, quick and safe assertion, this happened earlier this year,
"Hundreds of thousands of benefits claimants could be unable to register for the new Universal Credit (UC) digital service because of problems using the government's online identity system Gov.uk Verify, according to new figures that show barely a third of UC users successfully use Verify."
And,
MPs point to Verify as one of universal credit problems

UKA.

Committee report says slow take-up of identity assurance mechanisms is hold back the digitisation element of the DWP's flagship programme

The GOV.UK Verify service is not being used as widely as expected in claims for universal credit and is contributing to delays in the digitisation of the process, according to a new report by the House of Commons Work and Pensions Committee.

It has pointed to the problem in its latest project assessment review for universal credit, the Department for Work and Pensions' (DWP) flagship programme for the consolidation of state benefits.

Verify, the online identity assurance platform developed by the Government Digital Service (GDS), was identified as a possible mechanism for claimants to prove their identities in 2015 trials of the digital service. But the report says that by March of last year only 30% of claimants were able to complete the process for Verify, compared with an original projection of 80%.

DWP responded by developing an in-house system named Prove your Identity, and in July of last year said that this and Verify combined could achieve a verification success rate of 50%. A third option working to a lower assurance standard, Verify LOA 1, has also been developed with GDS, but there is still a perception that digitisation is moving too slowly.

Subsequently, the reliance on face-to-face processes to authenticate claimants' identities is likely to continue, which in turn undermines the chances of DWP achieving its promised efficiency gains.

Additional issues

This has been one of handful of problems affecting the roll out of the digital service supporting universal credit: an assurance and action plan in March of last year also pointed to issues around automation, IT performance and management information, and said that operational targets were not being met. Subsequently, the digital service is now operating with more staff and fewer claimants than DWP had expected.

Overall, the report says there have been chronic delays and revisions in the implementation of universal credit since it was conceived in 2010, and that the digital service is being rolled out much more slowly than forecast: now at 10 Jobcentres per month rather than an earlier plan's rate of 60.
Bryan Glick (Computer Weekly) wrote in March,
The government's major project experts warned as early as 2015 that performance problems with the Gov.uk Verify identity assurance system would have a "material effect" on the business plan for Universal Credit.
This is on Friday: (BBC. 22nd of June)
Jenny Lewis has never owned a passport or a driving licence – and it meant she had to wait months to receive her benefit money.

The documents are needed to apply for Universal Credit online but Jenny said cars and holidays are luxuries she cannot afford.

Delays in her application left her "degraded" and looking for food.

The UK government said "arrangements are in place" to support people who cannot apply online.

"The system is terrible, it's stupid – if you can't afford to go abroad you're not going to get a passport, if you can't afford a car you're not going to get a driving licence," said Jenny, from Newport.

Staff at the Pobl Group, which provides care, support and housing in the Newport area, said the Department for Work and Pensions (DWP) is wrong to believe most people will have a passport, driving licence or even access to the internet.

They believe only around a third of people are registering for Universal Credit online and it is causing a backlog for face-to-face appointments.
The article continues all too believably,
Kath Hopkins, Moneysaver Project Officer with the Pobl Group, said the "vast majority" cannot apply online.

"Most people on low incomes don't have photographic identification," she said.

"Why would you have a passport or driving licence – you can't go on holiday, you can't afford to buy a car.

"Without that you can't go through the online process and we're finding that as an advice organisation we haven't been able to help one single person verify their identification online".

She added: "Some people have been going to high cost lenders, and some people have been going to loan sharks because of this delay".

There is concern that this delay is in addition to other delays in the Universal Credit system. It can take more than a month to receive your first payment after submitting an application.

The issue was raised recently in the House of Commons by Newport East MP Jessica Morden, who called on ministers to review and speed up the process for initial Universal Credit claims.
This is her question: Jessica Morden (Newport East) (Lab)
Constituents who cannot afford a driving licence or a passport cannot do an initial online verification of their universal credit claim, meaning that they have to wait up to two weeks in order to be seen for a personal appointment. That is driving people to see loan sharks in some cases, so will the Minister look at it?
This is the feeble reply,
I will look at it, but if the hon. Lady would come forward with specific cases, that would make it easier.
The DWP Alternative Facts Department (Artificial Intelligence Bureau)  gets space to issue a stout defence of their system.
A DWP official said it was working to ensure its Verify identity scheme is "an effective and secure means to confirm someone's identity when they make a claim to full Universal Credit".

They said it is expected that most people will use the Verify scheme it when they first make their online claim.

"In a minority of cases where it's not possible for claimants to have their identity confirmed through Verify arrangements are in place to support those people," said the DWP spokesperson.

The UK government department said a complimentary service called "Prove Your Identity" has been trialled in a number of sites, with a view to rolling out the service later in the year following a review.

The official added: "We are rolling Universal Credit out successfully across the country and we've made a number of improvements.

"We've introduced 100% advances to support people before their first payment, removed the seven waiting days and implemented two weeks' extra housing support for claimants moving onto Universal Credit."
74 Responses