Stop the Roll Out of Universal Credit! Protests on December the 2nd.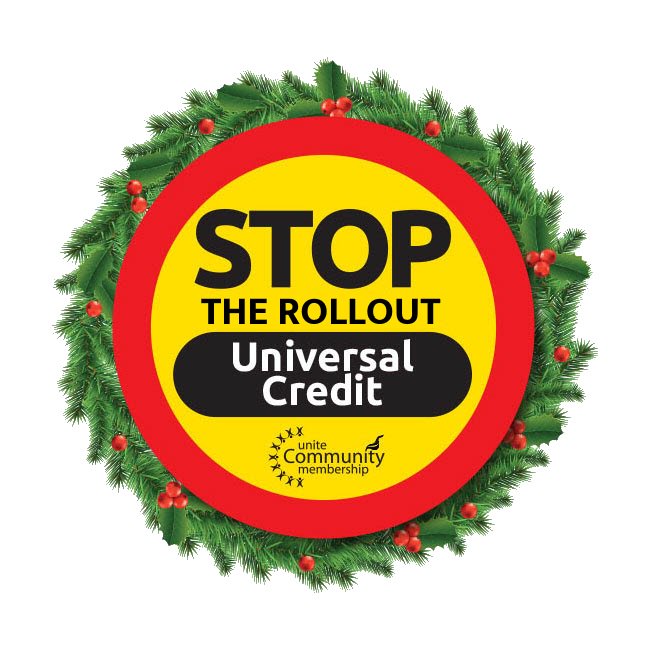 Organising  has  begun.
 Unite Community Day of Action for Universal Credit on December 2nd.
Contact: community@unitetheunion.org to find out where your local action is or to offer your help.
Please do your bit and share the articles to your networks. Get the word out so we can maintain the pressure on this Tory Govt.
Solidarity comrades.
Latest news stories, BBC.
The Scottish government is calling on the chancellor to stop the rollout of Universal Credit to enable "fundamental flaws" to be fixed.

Finance Secretary Derek Mackay has written to Philip Hammond asking for improvements to be made to the payments system in his autumn Budget.

He said a delay in payments had caused hardship to families across Scotland.

The UK government said the vast majority of people were paid their Universal Credit in full and on time.

The controversial measure, which is being rolled out across the UK, brings six existing benefit payments into one – but critics have claimed the six-week wait some people have for their first payment is contributing to a rise in debt, rent arrears and evictions.

In his letter to the chancellor, Mr Mackay said the announcement by the work and pensions secretary to offer Universal Credit advances upfront would "do nothing to fix the fundamental design flaws with Universal Credit".

He said: "The Universal Credit system is fundamentally flawed and causing unnecessary hardship and suffering to families across Scotland.

"It is vital that the UK government addresses these failings and that the roll-out is halted until the problems are fixed.

"I strongly urge the chancellor to use the autumn Budget to pause the roll-out, reduce the first payment wait time to a maximum of four weeks, move to a twice-monthly payment system and reverse cuts to work allowances.

"These measures would help ease financial pressures and stop pushing more families into poverty."
Telegraph,
Theresa May faces revolt over Universal Credit as MPs prepare to vote on reducing wait times

Theresa May is facing a second revolt over the roll-out of one of the Government's key welfare reforms after ordering her MPs to abstain on an earlier vote.

The Sunday Telegraph understands that more than a dozen Conservative MPs are intending to back a cross-party motion this week demanding that ministers reduce the waiting period for Universal Credit payments.

The Democratic Unionist Party, whose MPs are propping up Mrs May's Government, is also believed to be considering supporting the motion.

The vote is likely to cause embarrassment to the Prime Minister in a week when she is attempting to reassert authority over her party after losing two Cabinet ministers in the space of a week.
66 Responses