Campaign to Get Rid of Ex-DWP Minister Iain Duncan Smith.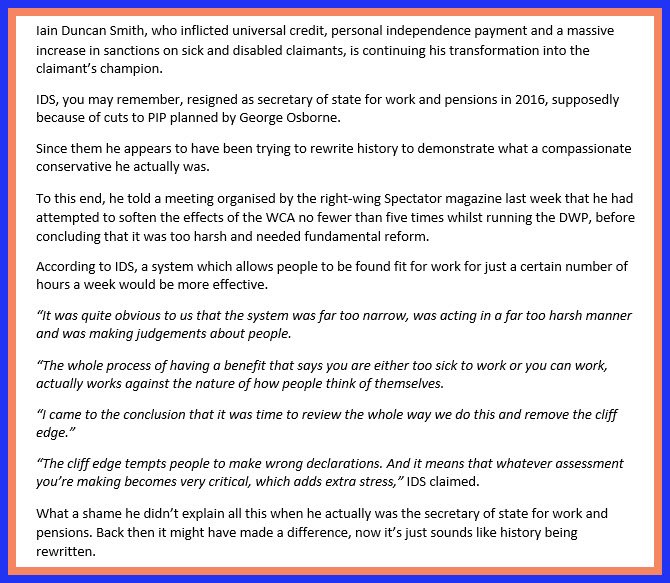 It was my privilege over the weekend to meet some Labour Party members from the constituency of our old friend, Iain Duncan Smith.
They told me of this (in reality rather more vividly),
THE CONSERVATIVES are calling for "help" as over 500 Labour supporters prepare to launch their campaign to 'Unseat Iain Duncan Smith'.

According to a letter, believed to be from the local Tory association, the Conservative MP is preparing himself for a fight from the "hordes of Momentum".

While the Chingford and Woodford Green MP increased his vote share by 1.2 per cent at last month's general election, his 2015 majority fell from 8,386 to 2,438.

For 47 years the area has remained Tory, but Labour now has its sights set on turning the whole of Waltham Forest red.

The campaign will see left-wing columnist Owen Jones and Labour's losing candidate Bilal Mahmood head to Hatch Lane, in Chingford, this Sunday – and 500 people are set to join them.

Another 2,400 people said they are 'interested' in attending the event called 'Unseat Iain Duncan Smith – Campaign for Labour'.
I informed them of how we lot feel about our former Boss.
His crimes are too numerous to list, though his legacy, for the disabled, and for anybody caught up in Universal Credit, ensures they are far from forgotten.
Our Ace Reporters have covered Duncy's attempts to wriggle out of his past,and call to "revisit the whole idea of work and sickness benefit".
Though this has been in the news not too long ago, still banging on about 'low value people'.
This time it's European migrant workers,
Meanwhile Doug points out that "50 new areas are marked for UC to begin in October."
94 Responses