Tax Giveaway to Wealthy as Benefit changes 'could push 200,000 children into poverty'.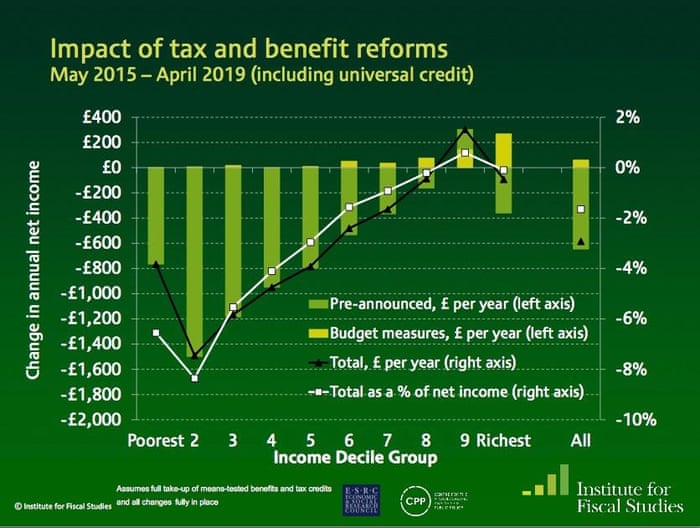 Osborne's Help the Rich Punish the Poor Policies Set to Get Worse.
Two stories, two worlds.
Sunday, the Observer.
Wealthy get 80% of rewards from tax and welfare changes introduced by George Osborne that begin to come into effect this week.
The richest will reap 80% of the rewards from the tax and benefit changes that start to come into effect this week, while the poorest will become worse off, according to detailed analysis by the Resolution Foundation.

The independent thinktank's research shows that the effect of £2bn of income tax cuts and more than £1bn of welfare cuts will add up to a huge transfer of wealth from low- and middle-income households to richer ones.

The reforms, set in train by former chancellor George Osborne, run directly contrary to the political mantra of Theresa May, who has said she wants to govern in the interests of everyone and "not just the privileged few".

The changes include raising the personal tax allowance from £11,000 to £11,500; lifting the threshold for higher-rate tax from £43,000 to £45,000; freezing all working-age benefits; removing the family element (£545) from tax credits and universal credit for new claims or births; and applying a two-child limit to new claims or births in the tax credit system.

David Finch, senior economic analyst at the Resolution Foundation, said: "The overall package amounts to a £1bn net giveaway from the public purse. But the skewed nature of this generosity means that better-off households will receive four-fifths of the gains, while the poorest third of households will be worse off overall."

Finch said that reductions in the generosity of universal credit, which will have the effect of reducing work incentives, would affect relatively few families this year. But as millions more move on to the new system, the effects on the living standards of those on low incomes would become much clearer.
Today, from the BBC,
Benefit changes 'could push 200,000 children into poverty'
Changes to benefit rules coming into force this week could push 200,000 more children into poverty, say campaigners.

From Thursday, payments for some benefits will be limited to the first two children in a family.

The Child Poverty Action Group and Institute for Public Policy Research say some families will be almost £3,000 a year worse off under the new rules.

Ministers say they are determined to tackle the root causes of disadvantage and make work pay.

The changes affect families who claim tax credits and Universal Credit – which is in the process of being rolled out and is due to replace tax credits completely by 2022.

The new rules mean that children born after Thursday 6 April into families where there are already two or more children will no longer be counted in benefit payments to their parents, under either tax credits or Universal Credit.

And from autumn 2018, families making new claims under Universal Credit will only receive payments for their first two children even if they were born before Thursday.

However, children already receiving Universal Credit or tax credit payments will not lose them for as long as their family's existing claim continues.

And Child Benefit, which is separate, will be unaffected.

The latest official figures show that 872,000 families with more than two children were claiming tax credits in 2014-15.

And a similar number of families are likely to lose out under the changes, the researchers suggest.

In 2014-15, two thirds (65%) were working families and 68% had no more than three children, say the researchers.

Based on those figures, the researchers calculate that once the new policy is fully implemented an additional 100,000 adults and 200,000 children could face poverty.
56 Responses