Rent Arrears Soar in Universal Credit Pilot Scheme.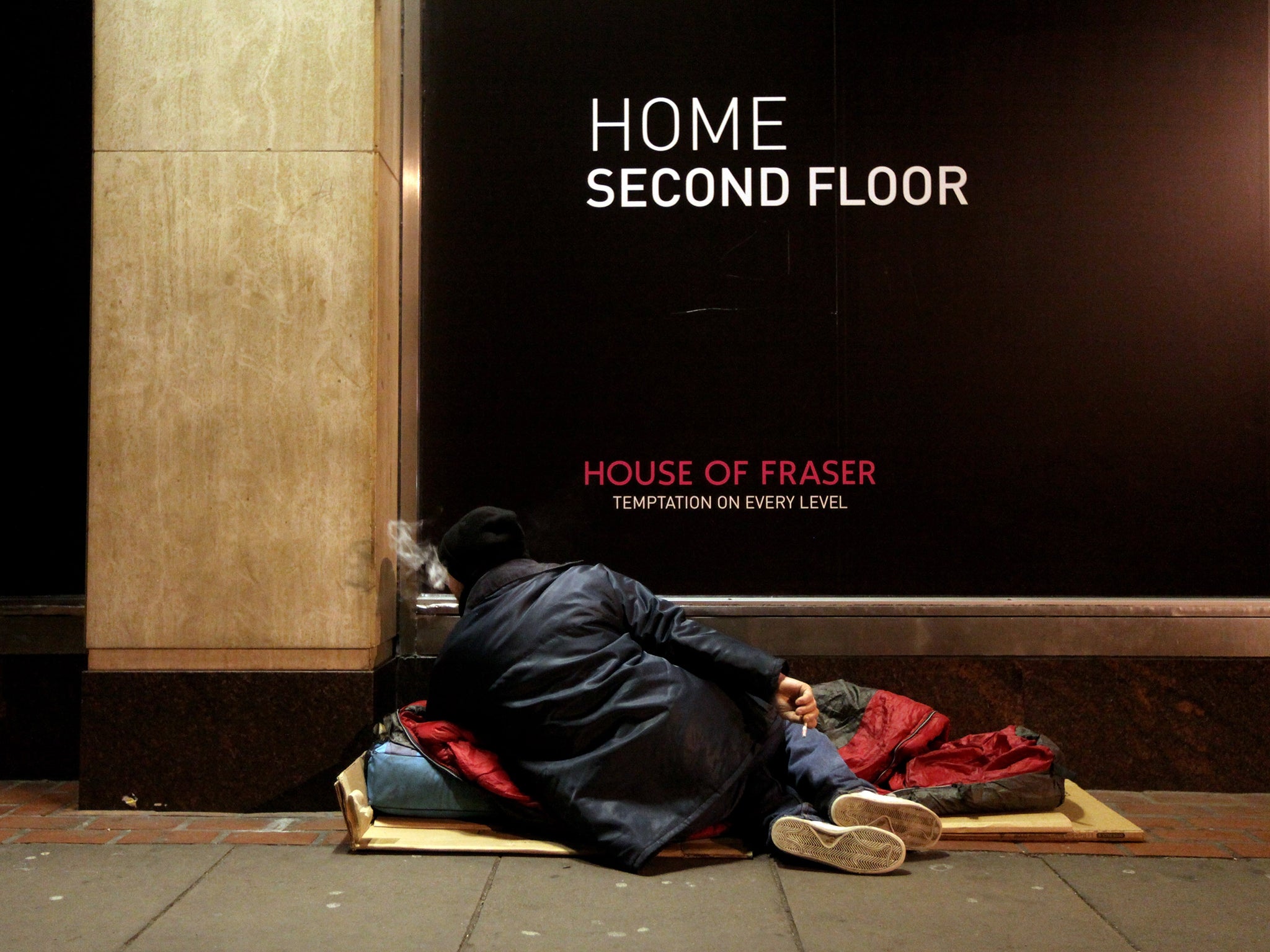 Rise in Homeless Numbers Threat from Universal Credit.
This morning the BBC news had a story about homeless people.
It covered the case, a happy case, of a man who'd been helped into accommodation.
The idea that getting somewhere to live is the first step to getting back on your feet is not, perhaps, original, but this may help many people in a desperate situation.
But as it is, and as the report noted, the number of rough sleepers has not stopped growing.
I only have to walk a few metres from the library in Ipswich to see those affected.
One reason?
The broadcaster did not fail to mention that people blamed the tough conditions imposed on Jobseekers, the Claimant Commitment, proof of looking for work, and all the rest that we know all too well.
Not always easy to fulfil for many people, they become extremely hard for anybody with the kind of problems associated with those on the streets.
If they could get JSA under any conditions.
With the menace of sanctions to deal with as well.
Now the threat of living without a roof over your head hovers over a whole new set of people, as the Scottish paper, the Herald reports.
You can guess where this one comes from.
Warning as rent arrears soar after Universal Credit pilot is rolled out in Scotland

A LEADING Scots housing body has warned that increasing numbers of people on benefits are at greater risk of homelessness as rent arrears soar under a controversial new benefits pilot scheme being rolled out across Scotland.

The Chartered Institute of Housing in Scotland (CIH Scotland) has warned that the new Universal Credit to date has led to tenants finding it increasingly difficult to pay their rent.

And the organisation has also raised fears of a return to the old 'No DSS' culture that restricted access to the private rented sector for many benefit claimants during the 1980's.

Welfare Reform Impact, a recent report published by the HouseMark consultancy group showed the average rent arrear debt of a Universal Credit claimant was £618 compared to average non-UC arrears of £131.

MPs have already launched an official inquiry into Universal Credit amid growing concerns that design flaws in the new benefits system are leaving thousands of low-income claimants facing eviction and reliant on food banks.

Holyrood's Social Security Committee has already met with administrative staff and claimants in the Musselburgh pilot area and heard about unacceptable delays of eight or nine weeks in being paid benefits, pushing people into rent arrears. Committee members also heard local jobcentres are ill-equipped to effectively support claimants.

The single payment replaces six benefits – income support, jobseeker's allowance, employment support allowance, housing benefit, child tax credit and working tax credit – and is paid directly to claimants.
I doubt if this has escaped our Newshounds either:
Landlords are more likely to accept potential renters who own pets than people claiming benefits, a BBC investigation has found.

Analysis of some 11,000 online listings for spare rooms found all but a few hundred stated benefit claimants were not welcome.

Campaign groups say it is "naked discrimination" and are calling for a change in the law.

Landlords say more social housing needs to be built.

The BBC England data unit analysed listings on the website SpareRoom, looking at London and 18 other towns and cities across England.

Out of 11,806 adverts for rooms to let, just 2% were open to people on benefits.
The website's listings showed not a single vacancy for a benefit claimant in Bournemouth, Exeter, Leicester, Liverpool, Norwich, Oxford or Reading.
Plymouth had the highest rate of acceptance, but even that was just 10% of rooms, 15 out of 144.
Across the 19 areas with the most available rooms, there were twice as many lets that accepted pets as accepted housing benefit claimants.

It is a similar pattern on a letting agent website.

On OpenRent.co.uk, just 580 out of 3,342 listings accepted people on benefits.

The websites specify "No to DSS" in flatmate preferences. DSS is the acronym for the Department of Social Security, which was replaced in 2001 by the Department for Work and Pensions.
Important Update:

47 Responses