Work Capability Changes Announcement on Monday.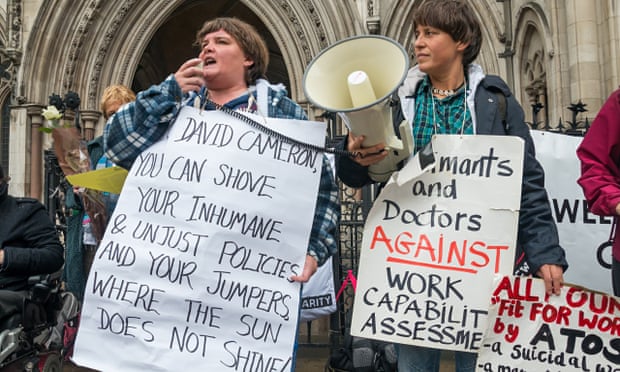 Work Capability Assessment Campaigners. 
Earlier this year this happened,
Criticism as £30-a-week disability benefit cuts go ahead March.
Peers have backed down in their battle with MPs over cuts to disabled people's benefits after ministers invoked special powers to push them through.

The government was twice defeated in the House of Lords over a £30 a week cut to Employment and Support Allowance (ESA) for certain claimants.

But it is set to go ahead after peers deferred to the elected Commons.

Ministers claimed "financial privilege" to assert the Commons' right to have the final say on budgetary measures.

Ministers argue the changes will encourage people to get into work, but this is strongly disputed by opponents.
Then at the start of October this happened (BBC),
Tens of thousands of people claiming the main benefit for long-term sickness will no longer face repeated medical assessments to keep their payments.

Work and Pensions Secretary Damian Green said it was pointless to re-test recipients of Employment and Support Allowance (ESA) with severe conditions and no prospect of getting better.

More than two million people receive ESA, which is worth up to £109 a week.

The move has been welcomed by charities supporting those with severe illness.
Now this there is this:
Work capability assessment overhaul for disabled BBC.
The scheme that assesses claimants of disability benefits faces a major overhaul, following claims by a charity that it is "fundamentally flawed".

A consultation on reforming the Work Capability Assessment will be announced on Monday.

Ministers want claimants to be assessed in a more "targeted and personalised" way to help more people find jobs.

The charity Scope, which had criticised the current assessment scheme, said it welcomed the planned changes.

It said disabled people needed "expert, tailored employment support".

Both Employment Support Allowance, which is paid to more than two million people, and the assessment, were originally introduced by Labour and then expanded by the coalition government.

The consultation – to be launched by Work and Pensions Secretary Damian Green on Monday – follows the announcement that people with severe conditions will no longer face reassessments for their benefits.

It will examine how people receiving ESA can be helped back into employment without having their benefits put at risk while they search for a job.
Note this is already problematic since nobody has yet been able to show exactly what this 'help' is. and how it….helps.
Mr Green said: "A disability or health condition should not dictate the path a person is able to take in life.

"No one wants a system where people are written off and forced to spend long periods of time on benefits when, actually, with the right support they could be getting back into work.

"The proposed changes… will focus on improving opportunities and raising aspirations while making sure those people who most need support from the government receive it."

Former work and pensions secretary Iain Duncan Smith, who spearheaded the government's welfare reforms for six years before resigning in March, said: "ESA is a part of the benefits system left over from the last Labour government and is in real need of reform.

"These proposals are directly taken from a full plan for reform that we at the DWP were close to completing before I resigned.

"The purpose was to get rid of the binary choice that you were fit for work or not fit for work. My plan covered all the areas announced today and went further in proposing some other positive changes."
Note:  more bald faced lies from the man responsible for this:
 In September 2013 leaked documents showed that Duncan Smith was looking at "how to make it harder for sick and disabled people to claim benefits". Duncan Smith was advised that it would be illegal to introduce secondary legislation, which does not require parliament's approval, in order to give job centre staff more powers to make those who were claiming Employment and Support Allowance undertake more tests to prove that they were making a serious effort to come off benefits and find a job. The powers being discussed also included "forcing sick and disabled people to take up offers of work." DWP staff would also have the power to strip claimants with serious, but time-limited health conditions, of benefits if they refuse the offer of work
Is this true?
BBC political correspondent Eleanor Garnier said the move signalled a clear change of approach from that of David Cameron's government, which tightened and reduced welfare spending.
This certainly is.
Shadow work and pensions secretary Debbie Abrahams called for the assessments to be scrapped, saying they caused "needless misery and stress" for thousands of sick and disabled people.

She said the government's approach was "ideologically driven with the sole purpose of targeting the most vulnerable in our society to pay for their austerity plans, painting disabled people as scroungers and shirkers, whilst making no impact on the disability employment gap".
We await more comment from this quarter:
Citizens Advice said it dealt with 25,000 issues around Work Capability Assessments last year, saying the reforms should make the test "fair, consistent and right first time".

MS Society chief executive Michelle Mitchell said: "We are keen to help create a system that makes more sense.

"However, it must be recognised that many people with long-term progressive conditions will simply be too unwell to work and no amount of extra employment support will change that."

Phil Reynolds, from the charity Parkinson's UK, told BBC Radio 5 live he "cautiously welcomed" the new move, but that his organisation had been trying to highlight the issue for a long time.

"We continue to hear examples of people with really serious conditions, like Parkinsons, who are put in that 'back to work' group because the assessment fails to recognise that a person's condition will only get worse," he said.

"It's really important that anything that comes out of this leads to positive improvements and a more sensitive assessment."
83 Responses