Iain Duncan Smith's Ipswich Visit Ruined.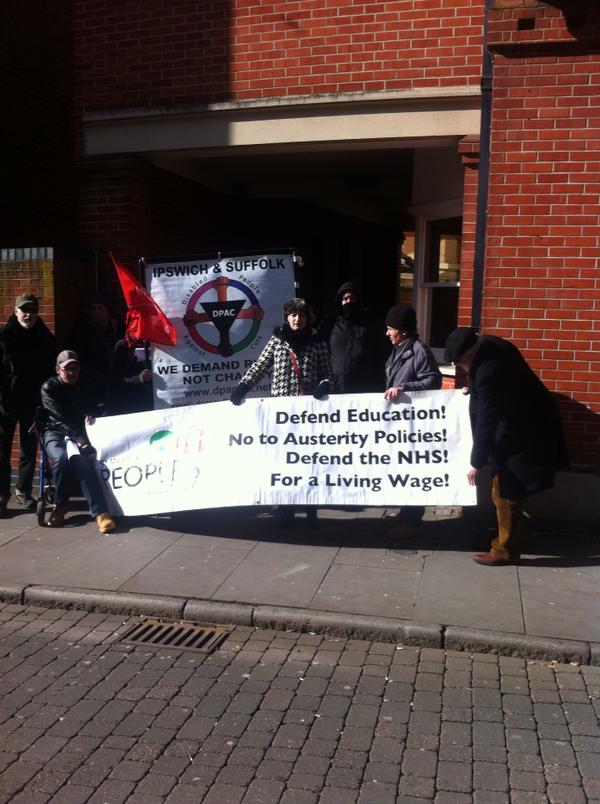 Ipswich Protest Last Year.
Somebody (okay, Martin from Disabled People Against Cuts, DPAC)  spoilt Iain Duncan Smith's Big Day Out (Friday) at Kesgrave, by Ipswich – a venue you can only get easily with your own transport.
Former minister launches Vote Leave campaign in East Anglia

Former minister and Conservative Party leader Iain Duncan Smith was the keynote speaker at the event at Kesgrave Hall – and was joined by business leaders and politicians from other parties.

Among those at the rally was UKIP MEP Patrick O'Flynn, a key backer of the Vote Leave campaign.
A protester in a wheelchair was removed from the meeting after heckling Mr Duncan Smith over his policies when he was Secretary of State for Work and Pensions.
On BBC Look East that evening their were pictures of the stewards roughly bundling Martin out of the Great Man's meeting, shouting his opposition to the hate-ridden polices which Iain Duncan Smith has inflicted on millions.
Duncan Smith was not the only horror there.
UKIP is keeping quiet about it at the moment but in 2013 these were their policies about the unemployed:
UKIP don't just loathe migrant workers.

They hate the unemployed here as well.

We are, UKIP says, "a parasitic underclass of scroungers". (The Void)

They want this policy,

Require those on benefits – starting with Housing and Council Tax Benefit recipients in private rented homes – to take part in council-run local community projects called 'Workfare' schemes. The schemes will be in addition to council jobs.

The Void comments that it is now hard to find the policy document that says this.

But more evidence keeps coming in of their views,

We have this,

"Some long-term benefit claimants would be banned from using their benefit cash to buy cigarettes, alcohol or satellite TV subscriptions under proposals due to be presented at the UK Independence party's spring conference on Saturday.

The proposed ban on paying for satellite TV comes only a fortnight after it was disclosed that Rupert Murdoch, the chairman and biggest shareholder of News Corp, had met the Ukip leader, Nigel Farage, for the first time, prompting speculation that the Sun may support the party."
Which reminds us of this on Welfare Weekly's site:
Would leaving the EU worsen or improve the lives of poor and disabled people?
Results so far: Worsen 59% Improve 21% Don't know 20%
38 Responses