Ian Duncan Smith Resigns: Parting is such Sweet Sorrow….
Iain Duncan Smith: Parting is such Sweet Sorrow.
David Cameron says he is "puzzled and disappointed" after Iain Duncan Smith quit as work and pensions secretary.

Mr Duncan Smith said the latest planned cuts to disability benefits were "not defensible" in a Budget that benefited higher-earning taxpayers.

In response, Mr Cameron said they had "collectively agreed" on the proposals, before deciding on Friday to have a rethink to "get these policies right".

Stephen Crabb has been named as Mr Duncan Smith's replacement.
Iain Duncan Smith has lost his latest attempt to keep potentially damning Universal Credit documents secret.

There is a good chance the reports will reveal his department were misleading the public about the progress of the programme.
Reported Vox Political yesterday.
The background is given by Natalie Bloomer on Politics co uk.
So just what does IDS have to hide? We can only guess but there is a good chance the reports will reveal his department were misleading the public about the progress of the programme. To find out a bit more it's worth looking back to what was happening around the time the FOI requests were being dealt with.

In November 2011 the DWP issued a press release announcing that over one million people would be claiming universal credit by April 2014, with 12 million claimants moving onto the new benefit by 2017.

The following year, the DWP's Annual Report and Accounts showed that the programme had progressed well. Then in September of that year, the BBC carried a story on concerns raised by the Local Government Association about the implementation of Universal Credit and in particular about the IT system. A spokesperson for the DWP responded at the time by saying: "Universal Credit is on track and on budget. To suggest anything else is incorrect."

….

Speaking to Politics.co.uk after the ruling, Collins said he believed disclosure of the papers would have undermined the information coming out of the DWP at the time: "It's frightening that government departments can spend hundreds of millions of pounds on IT projects such as Universal Credit with the true facts staying hidden for years, because these internal assessment reports are always kept confidential"

Slater says he first requested the documents because the timescales given by the DWP on Universal Credit were laughable. Although he is happy with the tribunal's latest ruling he believes there is every chance IDS will appeal the decision once again.

The DWP say they are carefully considering the Tribunal's decision. A spokesperson said:

"Universal Credit is rolling out successfully and is available in 95% of jobcentres with over 32,000 people making a claim to it last month."

Whether they decide to appeal again remains to be seen. One thing is for certain though, the more IDS fights publication, the more it looks as if he has something to hide.
Stephen Bush in the New Statesman comments,
No, Iain Duncan Smith's resignation isn't part of a cunning plan.
As exciting as it would be for people like me, Iain Duncan Smith simply isn't clever enough to have thought this many moves ahead. This is the man who is the chief architect of the universal credit, which was supposed to have been rolled out in October 2013, and in March 2016 has been rolled out to the grand total of 141,100 people – and by "people", I mean "single men without dependents", the only group whose claims are simple enough to be processed on the universal credit.

This is the Secretary of State who has wasted so much money on failed policies that the government is able to claim – entirely truthfully – that the money being spent on disabled people has gone up, even though not a single penny has gone to disabled people while countless billions have been lavished on IT systems that don't work and a benefit reform that will never be implemented.

This is the man who as leader of the Conservative party mistook a spoof poster – "It rains less under a Conservative government" – for the real thing, happily posing underneath it. This is the man who Osborne described as "not clever enough" after watching him present on his welfare reforms in the last government. This is the man who, despite having been the longest-serving Secretary of State at the Department for Welfare and Pensions, leaves it having implemented nothing and done nothing.

It is certainly true that this is a man who has been waiting for an excuse to walk out of the government since the Autumn Statement in November 2015, when Osborne moved the tax credit cuts into the universal credit rollout – a sign that, as far as the Treasury was concerned, the universal credit will never happen. As civil servants in the DWP have observed, Duncan Smith has been a broken figure since that setback, one that would have been obvious if he had had any grip on his department.

Resigning as part of a plan? As exciting as that would be, Iain Duncan Smith simply isn't good enough for that.
Crabb was trustee of Pembrokeshire foodbank charity, Pembrokeshire Action To Combat Hardship, based in his parliamentary constituency.In early 2014 This connection to PATCH caused some controversy and raised questions over Crabb's sincerity towards foodbank users when on 18 December 2013, at a parliamentary debate he voted against the publication of a 2013 investigation into foodbanks use and UK hunger and in the same motion voted against the call for the government to implement measures to reduce UK foodbank dependency.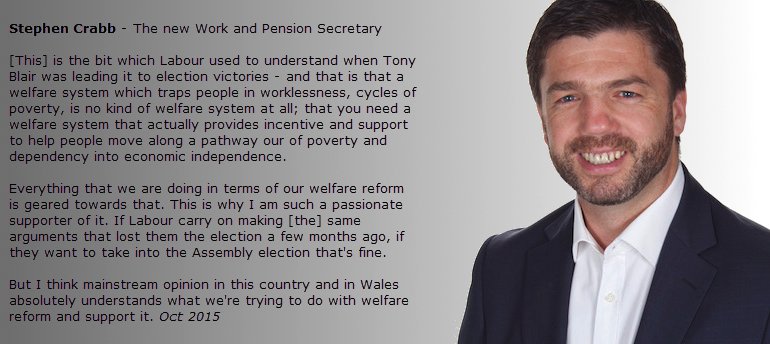 91 Responses